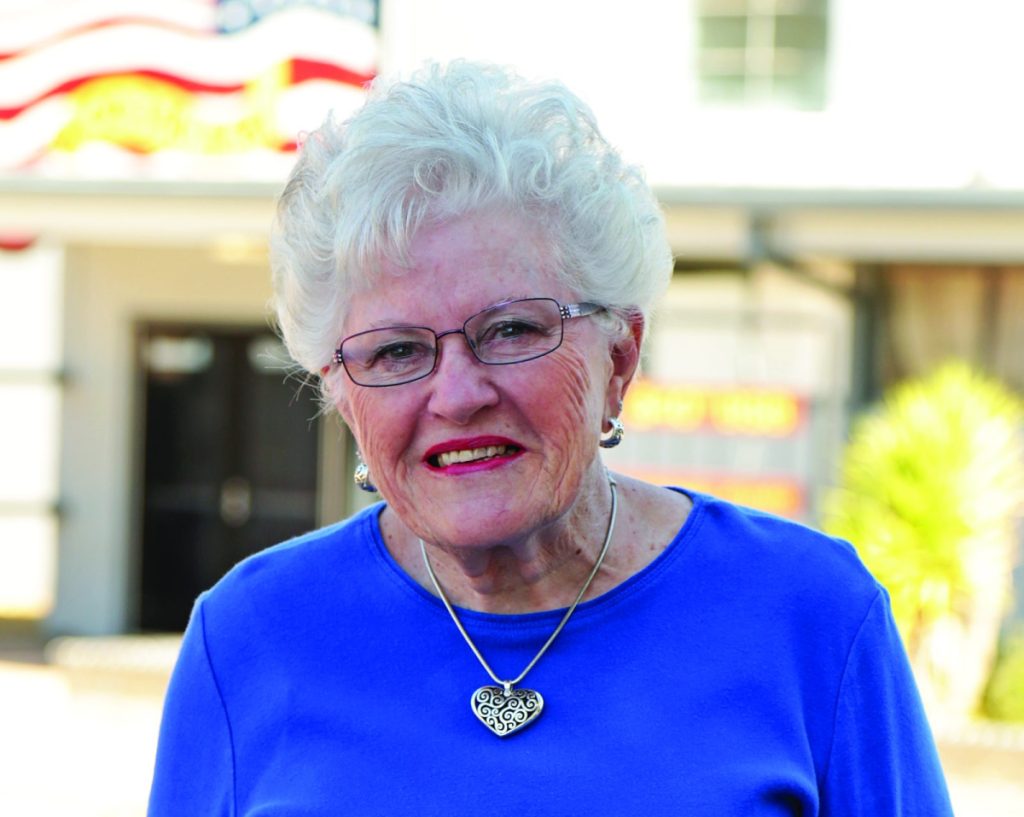 Carol and Paul Porter, and I drove to Santa Maria Airport on October 4 to greet the Honor Flight Central Coast participants as they returned from Washington D.C. There must have been 500 or so supporters of the veterans and their guardians. An aisle was formed for them to walk through as we waved flags and chanted, "welcome home." It was truly emotional for everyone. 
The veterans represented all of the services. They were from the Korean War, and my husband was one of them. There were 84 veterans from the Vietnam War. Each veteran had a guardian who helped them on the three day trip. I know you will be reading and hearing more about this trip in the days to come.
Our three sons, Doug, Dave, and Dan, and our daughter-in-law, Michele, were guardians on the trip, and they could not say enough about how well-organized it was and how proud they were to have been able to escort a veteran. They visited all of the veteran memorials, the Tomb of the Unknown Soldier, Arlington Cemetery, the Naval Academy, and more.
advertisement

The Mission of Honor Flight is "to safely fly our Veterans to Washington D.C., to experience the Memorials that were built in their honor." Honor Flight CCC is a 501(c)(3)Non-Profit Organization and receives no government funding.
For information about how you can become involved or to make a donation to Honor Flight Central Coast California, visit HonorFlightCCC.org
This week's recipe will steal the spotlight at any fall breakfast or brunch.
Sour Cream-Pumpkin Coffee Cake
Ingredients:
Streusel:
1 cup packed brown sugar
1/4 cup all-purpose flour
2 teaspoons pumpkin pie spice
1/3 cup cold butter
1 cup chopped pecans
Batter:
1/2 cup butter, softened
3/4 cup sugar
3 large eggs
1 teaspoon vanilla extract
2 cups a;;-purpose flour
1 teaspoon baking powder
1 teaspoon baking soda
1 cup (8 ounces) sour cream
Filling:
1 can (15 ounces) solid-pack pumpkin
1 large egg, lightly beaten
1/3 cup sugar
1 teaspoon pumpkin pie spice
Directions:
Preheat oven to 325 degrees. For streusel, in a small bowl, combine brown sugar, flour and pumpkin pie spice. Cut in butter until crumbly. Stir in pecans; set aside. In a large bowl, cream butter and sugar until light and fluffy. Beat in eggs, one at a time, and vanilla. Combine flour, baking powder and baking soda; add to creamed mixture alternately with sour cream. Spread half of batter into greased 13×9-inch baking dish. Sprinkle with half of streusel. Combine pumpkin, egg, sugar and pumpkin pie spice; drop by tablespoons over streusel and spread evenly. Top with remaining batter and streusel. Bake 45-50 minutes or until a toothpick inserted in center comes out clean. Cool on a wire rack. 15 servings
Note: You can make your own pumpkin pie spice by combining 2 teaspoons cinnamon, 1 teaspoon ginger, and 1/2 teaspoon each of ground nutmeg and cloves or allspice. Use in recipes that call for the spice blend. Enjoy. Cheers!