Love of West Coast Swing style brought Brazil native to California to dance and teach
ATASCADERO — Local dance instructor Rogerio Storani is bringing weekly Salsa, West Coast Swing, and Zouk classes to the Atascadero Agricultural Hall.
Storani, who was born and raised in São Paulo, Brazil, made his way to California because he fell in love with a dance style with origins in the state.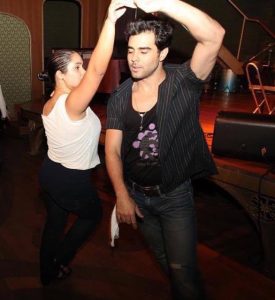 "To be honest, I've been dancing for more than 15 years, but I fell in love for West Coast Swing, and the best place you know, like for you to learn and compete and teach and whatever, you know to improve your West Coast Swing dance skills, it's here in California," Storani said. "West Coast Swing, it's born here, so this is the best place. That's what brought me here to West Coast."
Storani teaches classes and hosts social dances in the historical Atascadero Agricultural Hall, which was built in 1915. It's one of the original "Colony" homes in Atascadero and was renovated by the Atascadero Grange #563 in the 1940s and used as a USO dance hall during World War II.
"I teach here in Atascadero [at the Agricultural Hall] every week," he said. "So I have weekly classes here in Atascadero every Wednesday and Thursday night. I host, one Saturday a month, a different workshop, bringing like different instructors, promoting and providing them with a party, with different kinds of music and everything. I'm teaching Salsa, West Coast Swing, and Zouk classes. And I do have beginners and Intermediate levels."
The Saturday social dances change dates every month due to the availability of the Agricultural Hall, which Storani rents for both his classes and the dances.
"I got here in California almost four years ago. Before COVID, I was teaching; I was working as instructor in San Luis Obispo," he said. "But then, since COVID hit our place there in SLO, they shut down, and we couldn't, you know, come back to teach.
"So, I was trying to find a different place to start the classes again. And then I found this place here in Atascadero. Now I'm renting the hall, and I'm hosting my classes and my socials over here. I started, I think, the project here in Atascadero; I started September last year. I think the first classes I start September from 2021."
All of Storani's beginning classes are free to the public, while his intermediate-level classes are $10. And after every night of classes, there's a weeknight social for students to practice what they've learned.
"You can learn Salsa, you can learn West Coast Swing, and you can learn Zouk as well for free," he said. "And the socials during the week are free as well."
Currently, Storani does not have a website for his dance classes, but you can find information about them on his personal FaceBook page: www.facebook.com/rogerio.storani or A-Town Swing Dance's FaceBook page: www.facebook.com/groups/crestonswingdance/
"I hope we bring more people to this." Storani said. "We need, you know, more people practicing dancing and having a healthy life. It's better for us."