Car show, Dancin' in the Streets event helps car-themed weekend draw record-breaking crowds
ATASCADERO — Central Coast residents rolled down to the streets of downtown Atascadero for the 30th Annual Hot El Camino Cruise Nite, which kicked off the city's Cruisin' Weekend on Friday, Aug. 18, at 6:30 p.m. Five hundred classic cars, golf carts, a group of ladies on scooters, and even a tractor cruised down El Camino Real from Curbaril Avenue, all the way down to Traffic Way.
The festive and fun cruise night was led by Atascadero's motorcycle officers, and interim Chief of Police Joe Allen and Deputy City Manager Terrie Banish behind the wheel of Atascadero's famous 55 Chevy Police Car.
"For Cruise Nite, having Dr. [Alexander] Castellanos play the national anthem at Ted Miles was new, and we stopped (for a brief pause) the cruise there. It was amazing," stated Banish.
advertisement

Though most of the cars and other unique vehicles that passed down El Camino Real were driven by locals, the Hot El Camino Cruise Nite pulls in cars from all over California. Out of the 500 cars cruising down El Camino Real, 145 of them were driven by non-residents and brought in from out of town. The event also brought in tourists, who wanted to get some hometown vibes mixed in with their classic car viewing.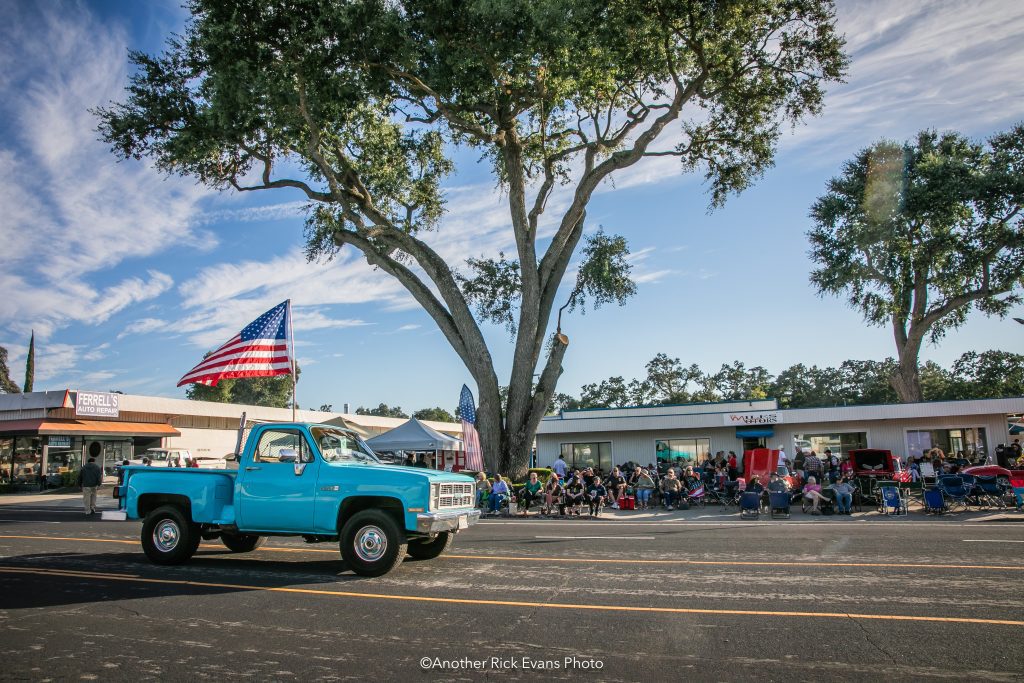 "All cars are amazing," added Banish.
The fun didn't stop with the cruise: The next morning, Saturday, Aug. 19, at 10 a.m., the 32nd Annual Mid-State Cruizers Car Show overflowed the Atascadero Lake Park until 3 p.m. The car show sold out and featured 231 antique cars from 44 different cities and towns for car enthusiasts to enjoy.
"This year, our registrations blew up. We normally have about 200 entries. We shut off our online registration almost two weeks before the show at 225 vehicles. We then told anyone interested to arrive at the park the day of the show and be placed on a waitlist. At 10 a.m., depending on the space available, we may be able to let them in. We couldn't guarantee they would be able to enter. We had six vehicles do just that, and they were all able to enter," stated Mid-State Cruizers President Roy Barba. 
The festivities continued with the 7th Annual Dancing in the Streets for everyone with dancing feet from 5 to 8 p.m. The newest addition to the weekend features a bunch of local bands who play on stages set up throughout the downtown. There were also food trucks to nosh at and adult beverages galore. And all the downtown businesses were open for shopping. Not even the rain could stop the party, which drew record crowds.
"It was the largest attendance we have had yet," Banish said. "We doubled our adult beverages, and most food vendors sold out. I would estimate well over 7,000 total across the evening from 5 to 10 p.m. Usually, it's about 5,000."
The talent this year included entertainment from the community, including a performance from the Motion Academy of Dance. Musical performances included The Tipsy Gypsies, The Vibe Setters, Burning James Band, Molly Ringwald Project, and Steppin' Out Band.
"Tipsy Gypsies and Molly Ringwald Project were new, and we were excited about that," added Banish.
Next year, Cruisin' Weekend will be back on Aug. 16 and 17, 2024, so keep an eye out.
Photo 2: Interim Chief of Police Joe Allen drives Atascadero's famous 55 Chevy Police Car at the 30th Annual Hot El Camino Cruise Nite. Photo by Rick Evans
Feature Image: A classic car shows off its hydraulics in front of City Hall at the 30th Annual Hot El Camino Cruise Nite. Photo by Rick Evans