The event raised approximately $25,000 for Charles Paddock Zoo
ATASCADERO — Over 700 animal lovers flocked to Charles Paddock Zoo on the evening of Saturday, April 30, from 5:30 to 9 p.m. for the 8th Annual Brew at the Zoo.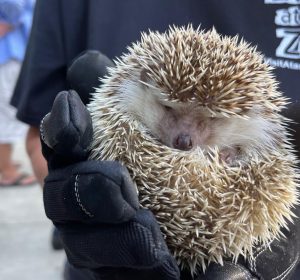 "The 8th Annual marks the first Brew at the Zoo post-COVID and the most successful one yet," said Atascadero Deputy City Manager Terrie Banish.
The event, which is put on by The City of Atascadero and Charles Paddock Zoo, raised approximately $25,000. All proceeds will go directly to the zoo and will help fund its ongoing conservation and educational outreach as well as its many projects.
After two years of going virtual, Brew at the Zoo was back and in person, utilizing the new Zoo Garden Event Center.
"The Zoo Garden Event Center was a surprise for many as it was the first event of this size to be held there and the first time we used it as it was designed with four food trucks, a band, and the ability to sit and enjoy," Banish said. "It really expanded the event nicely, and many commented on how nice of an area it was. Also, both bands, Garden Party and The Vibe Setters, were new, and event-goers really enjoyed them."
Twenty craft breweries, wineries, cider houses, and more participated in the event: Owl's Brew, Tin City Cider, Figueroa Mountain Beer, Ancient Peaks Winery, Ballast Point Brewing Company, Bristol's Cider House, Cali Squeeze Seltzer, Central Coast Brewing, Firestone Walker Brewing, Flying Embers, Kilo Kilo Brewing, Lone Madrone Winery, MEA Wine, Oak and Otter Brewing Company, Santa Maria Brewing Co., SLO Cider Company, Tent City Beer Company, Topa Topa Brewing, Vino Vargas Winery, and Wild Fields Brewhouse all provided alcohol for the event.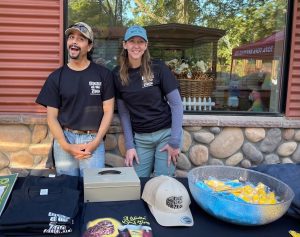 There were also games to play, a dance contest, and a hula-hoop contest sponsored by Medina Light Show Designs. And to top it off, the Party Animals costume contest.
"There were a group of meerkats and a group of 'Party Farm Animals' and a host of others from wildcats to bears to even the 'Human Bean,'" Banish said of the costumes.
Food vendors for the event included Beachwalk BBQ, Yabba Dabba Dogs, Paso Catering, Huatulco Tacos, The Granary, Paradise Shaved Ice, Carndonagh Kitchen, and handmade candy from Oh SLO Good.
"This event would not be made possible without all of our craft breweries, wineries, and adult beverage vendors coming out to support the Zoo," Banish said. "We truly appreciate them and all of our food vendors, entertainers, sponsors, and volunteers! Thank you to all who participated in one way or another! Whether you attended or worked the event, we appreciate everyone involved."
Look out for the 9th Annual Brew at the Zoo next year on the last Saturday in April 2023.