The Center for Disease Control does NOT recommend using face masks
SYMPTOMS
Symptoms of COVID-19 are similar to basic flu symptoms and may appear 2-14 days after exposure. These include fever, cough and shortness of breath.
Reports of illness have ranged from mild to severe. Cases tend to be mild for those who are young and healthy. For this reason, it is important not to panic.
If you are experiencing symptoms, separate yourself from people and animals and seek help from a health care provider. If symptoms become severe, call your doctor BEFORE visiting and inform them you are showing symptoms of COVID-19
PREVENTION
As there is not yet a vaccine for COVID-19, it is important to take preventative actions to help slow the spread. Here are some preventative measures you and your family can take:
advertisement

Wash hands often for 20-30 seconds with soap and water. If soap and water are not readily available, use alcohol-based hand sanitizer with at least 60% alcohol. Always wash hands with soap and water if hands are visibly dirty.
Cover your mouth when you cough or sneeze with a tissue or elbow
Avoid touching your face, especially eyes, nose and mouth
Avoid contact with people who are sick
Disinfect frequently touched surfaces such as phone screens and doorknobs
Stay home from work or school if you are feeling sick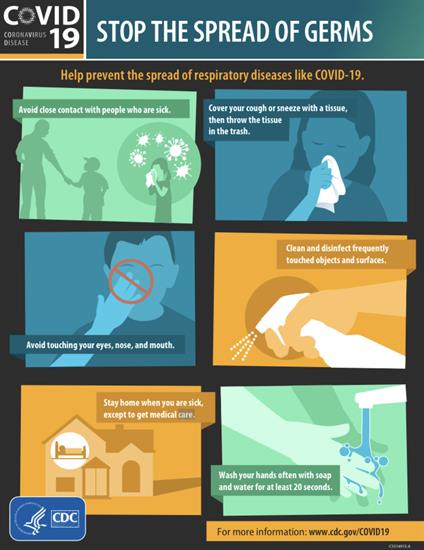 TRAVEL
The CDC recommends travelers avoid all nonessential travel to China, South Korea, Iran and Italy. If you are planning on traveling to these places, please enroll in the Smart Traveler Enrollment Program to receive updates for the duration of your visit.
Destinations with risk of community spread of coronavirus: China, Hong Kong, Iran, Italy, Japan, Singapore, South Korea, Taiwan, Thailand, Cruise Ship Travel in Asia.
While these recommendations are in place, it is important to also work together to eliminate the stigma and misinformation surrounding coronavirus that is affecting the Asian American community. The Asian American community is not at a higher risk of getting or spreading COVID-19.
CONGRESS TAKING ACTION
While the risk to American people remains low, it is still important to take preventive and precautionary measures to stay healthy. Congress is working to approve emergency supplementary funding to ensure federal, state and local governments have the resources needed to combat COVID-19.
Fighting coronavirus must be a bipartisan priority. With American lives at risk, there is no place for partisanship. Both the administration and congressional leadership must unify to combat the spread of coronavirus in the United States.
If you are interested in getting more information, view the CDC's profile on the coronavirus here.