Diane Ryan has planted over 1,000 daffodil bulbs on her property
ATASCADERO — Back in 2017, Atascadero local Diane Ryan decided to celebrate spring and the daffodils she's been planting since 2012 with an annual Daffodil Luncheon. On Wednesday, March 8, Ryan, her neighbors, and her friends gathered together after a two-year break to celebrate her daffodils once again.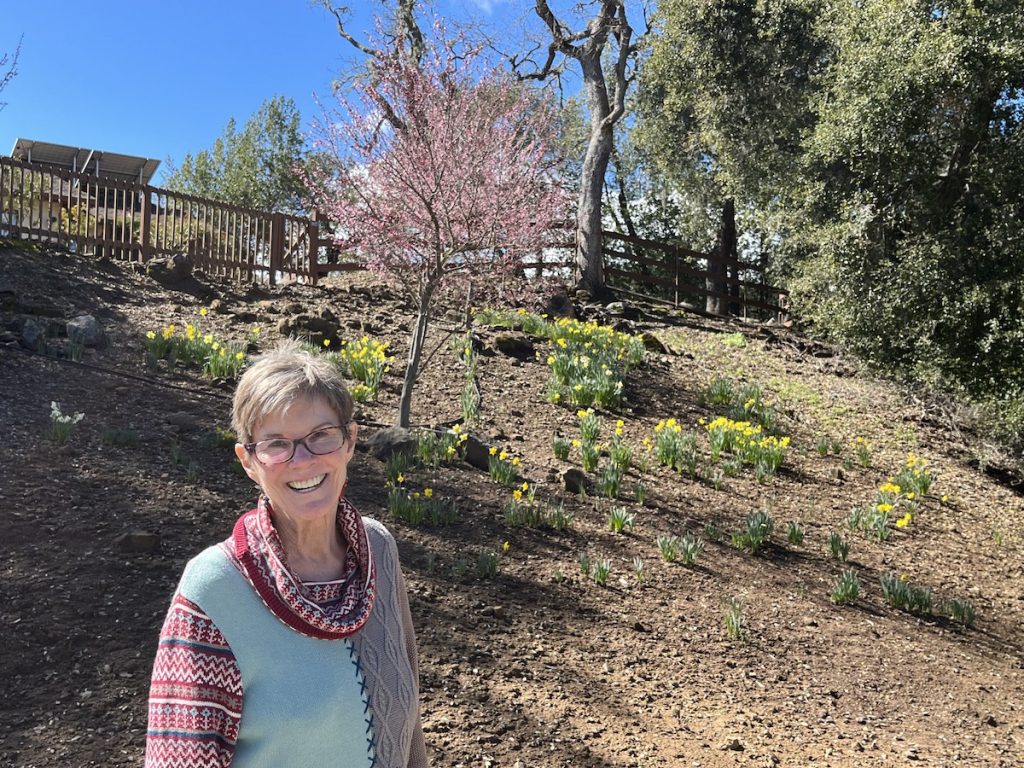 Ryan and her husband moved to Atascadero almost 11 years ago, after a stint in Paso Robles once they retired. Before that, the couple lived in Southern California in the Pasadena area.
"We retired in 2007, and I said, 'I'm going back home to San Luis [Obispo] County for retirement.' Because I lived up here in North County in another life, years ago, in the 70s, I loved it up here largely because of the weather elements that are really conducive to growing bulbs. And with Atascadero being Daffodil City, I said I'm going to get a project going," stated Ryan.
advertisement

The first daffodil bulbs were planted back in 2012. Ryan says she assumed she'd just put a small patch of the hearty yellow flowers at the top of the hillside of her property, but to this day, she hasn't stopped. Every year, she buys 100 bulbs from Breck's, and the (primarily yellow) bulbs ship to her straight from Holland before she plants them in November.
"I've put something in every year that we've been here. They don't all survive, but they also multiply," Ryan said. "It's hard to really keep a tally of what I've got going on over there, but it's just a fun thing that I started doing. It's kind of grown into this little luncheon with my friends and neighbors. That makes it fun."
Ryan has planted at least 1,000 bulbs since moving into her Atascadero home. And though she's lost some to erosion since they also multiply, there's still close to that number on her hillside, if not more. She added that some bulbs have also moved around a bit due to squirrels because while they don't eat daffodils, they move them while burying nuts.
"They've ended up in spots that I never planted, so I love that. You know, that's just nature," she added.
She also stated that her daffodil crop is an exciting way to look at the winters the area has had since she started growing them.
"It really makes a difference on when the bulbs come and how vibrant their blooms are," Ryan added. "This luncheon always used to be on the Wednesday before St. Patrick's Day. By mid-March, they're usually in full bloom. Last year with our winter being a little different, they came really early. They were struggling, and so I moved this luncheon up a week."
Five years after Ryan's first planting, in 2017, the Daffodil Luncheon officially kicked off as a way for Ryan to share her beautiful daffodils with the important people in her life.
"I decided I didn't want to be the only one enjoying this, so I asked a few of my girlfriends up," Ryan said.
In 2018, Ryan almost didn't host the luncheon due to her cancer diagnosis, but her friends didn't want to miss the get-together.
"This is typical Atascadero for me," she said. "The next year I had gotten cancer, and I was in chemotherapy during the time of the luncheon. Of course, I'd lost my hair and was not well. I put out a little email saying I have to cancel the luncheon this year. They all responded, 'no, we're bringing brown bags. We're coming up anyway. You don't do anything, lay on the couch, and we're bringing brown bag. We're still having the Daffodil Luncheon.' And they did. It was really, really nice."
The group also got together for a Daffodil Luncheon in 2019 and snuck in their last luncheon right before the lockdown in 2020. This is the first Daffodil Luncheon since the start of COVID, and the invite list keeps growing. However, Ryan's house doesn't really fit more than 25 or 30 guests.
"People from the neighborhood. Long time friends. New friends. It's a good way to bring people together," continued Ryan on the people she invites.
The luncheon celebrates the friendships in Ryan's life while also sharing her deep love of her favorite bloom.
When asked what her favorite things about daffodils are, Ryan responded:
"I think their reliability. You know, they can be counted on to be one of the first flowers of spring. They always show up, and they stay a while. That's what I like. Some of these have an almost three-month blooming span, so I love that. They pop up and remind you that spring is coming, and then they usually stay for the start of the season. I think they're very worthwhile, and they're so pretty."