Road remains closed from Winchester Canyon Rd to hwy 1
SANTA BARBARA — On Monday, Oct. 11, at approximately 2:10 p.m. near the Alisal Reservoir, the Alisal Fire started.
According to the Los Padres National Forest alert center, strong northwest winds pushed the fire south over the summit towards the Tajiguas Landfill and crossed Hwy 101 to Tajiguas Beach. As of Tuesday, Oct. 12, the fire has grown to approximately 13,400 acres with 5 percent containment and is burning 20 miles northwest of Santa Barbara within Refugio Canyon.
They go on to explain that the fire is burning in dense chaparral and grass and being pushed by strong winds growing at a rapid rate of speed. Fire behavior is extreme with wind-driven runs, uphill runs, and backing. Significant fire activity continued late Tuesday into Wednesday morning with critically low fuel moisture and wind-driven fire runs. Sundowner winds remain gusty from the northwest to the north over the fire area.
advertisement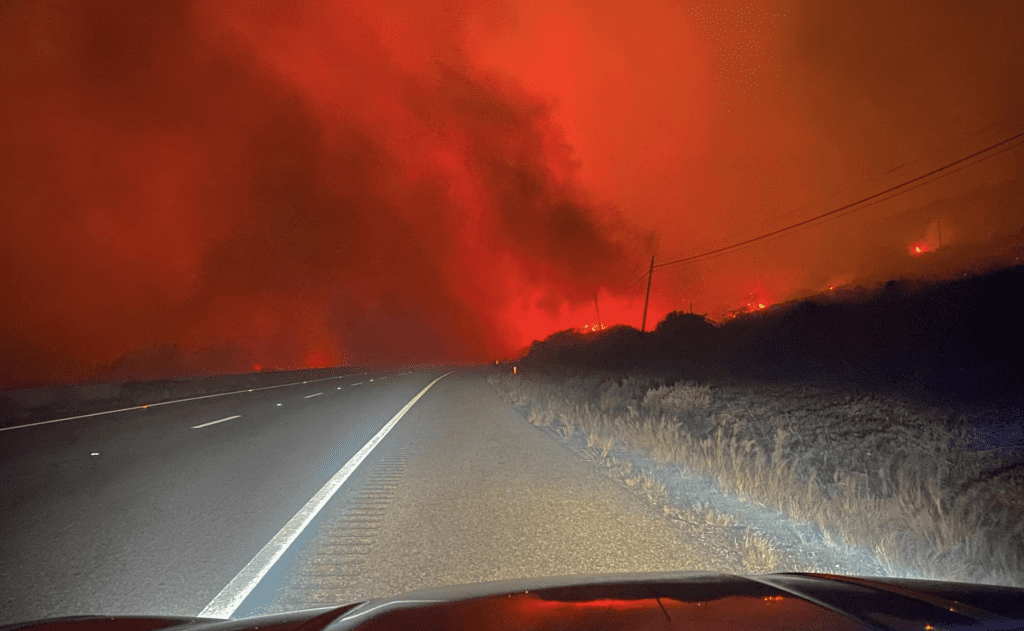 Firefighters plan for evening winds to likely become more northeasterly to easterly then weaken overnight. Southwest winds are likely to develop Wednesday morning, which may turn southeasterly in the early afternoon before becoming northwesterly as the Sundowners strengthen Wednesday evening.
Smoke is visible throughout southern Santa Barbara County, including the Santa Ynez Valley and along the Gaviota coastline. The US Forest Service is the lead agency responding to the fire with assistance from Santa Barbara County Fire. More than 765 firefighters are on-site. The overall strategy is to engage firefighters to minimize the fire size, eliminate the fire threat to CA Highway 101 (to reopen both north and southbound lanes), protect residence and infrastructure, historic and cultural resource threats in the area.
Officials say that the main constraint has been heavy winds that have limited safe access to suppress the fire and limited the use of aircraft to engage and support fire suppression. However, firefighters have been able to engage along West Camino Cielo on the north side of the fire.
Highway 101 remained closed into Wednesday morning from Highway 1 at Las Cruces and Winchester Canyon/Cathedral Oaks Road in Goleta. Pacific Railroad and Amtrak lines are closed from Gaviota to Goleta.
Due to the Alisal Fire, the Santa Barbara County Sheriff's Department has issued the following:
Evacuation Order for Arroyo Hondo Canyon, Refugio Canyon, and the area between El Capitan Beach State Park and West Camino Cielo. Please leave the area immediately.
Evacuation Warning for the area east of El Capitan Beach State Park, west of Dos Pueblos Canyon Rd, and south of West Camino Cielo. ADDITIONAL Evacuation Warning Issued at 3:15 p.m. on Oct. 12 for the area east of Calle Mariposa Reina, west of Arroyo Hondo, and south of W Camino Cielo
Road closures in the area are causing congestion on the 154 as travelers take the alternate route.
Alternate routes are highway 154 and I-5, both of which will have heavier than normal traffic.
HAZMAT or commercial vehicles over 65 feet are not permitted on SR-154 and should use I-5 only.
Residents of Santa Barbara County can receive emergency text alerts by texting their zip code to 888777, or by visiting ReadySBC.org