Brandon Oakley was arrested on Jan. 11 and booked into SLO County Jail
ATASCADERO— On Tuesday, Jan. 11, Atascadero PD made an arrest in connection with an armed robbery that took place last month.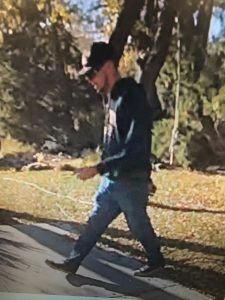 Earlier this month, the police were able to identify a suspect in the case and arrested 38 year old, Brandon Oakley of Paso Robles in conjunction with the robbery.
The robbery took place in the afternoon on Saturday, Dec. 18, 2021. A woman was approached in her garage on the 9000 block of Coromar St. by a man. She reported that the man pointed a black handgun at her and demanded that she give him her purse. When the woman handed the man cash, he ran away.
Oakley has been booked into the San Luis Obispo County Jail. He is charged with robbery and is held on a $60,000 bail.