A portion of the creek bank next to Lift Station #5 failed due to storm damage in January
ATASCADERO — On Wednesday, Feb. 1, at 2 p.m., the Atascadero City Council met for a special virtual meeting to discuss the Emergency Contract Award for the Atascadero Creek Slope Stabilization Project at Lift Station #5. Councilmember, Charles Bourbeau was not available to attend the meeting.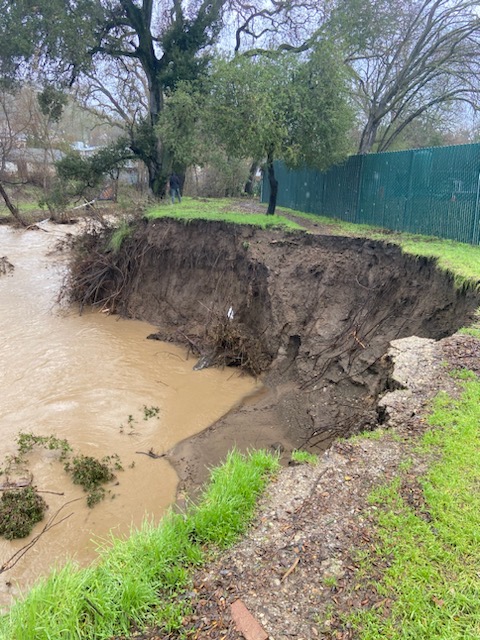 "During the [Jan.] storms, a significant portion of the bank of Atascadero Creek became unstable and eroded and fell into the creek. Very very close to Lift Station #5," stated Public Works Director Nick DeBar at the meeting.
The City of Atascadero is still under an emergency declaration given by City Manager Rachelle Rickard on Monday, Jan. 9, and ratified by the council at their meeting on Tuesday, Jan. 10.
advertisement

Usually, a project costing more than $200,000, due to California Contract Code, Section 22035, requires all public contracting work exceeding $200,000 to go through a public bidding process. However, there is an exception to the rule during emergencies.
"It allows the Emergency Services Director, in our case, Rachelle Rickard, the City Manager, to allow that work to proceed under emergency order. Being a clear and present and imminent danger to public safety, our Emergency Services Director ordered this work to go ahead and proceed," added DeBar.
Lift Station #5, which is behind the Atascadero Community Center, is the old county treatment plant. The Lift Station pumps a majority of the city's sewage to the treatment plants. It makes it critical that the station doesn't fall into disrepair or sustain damage that makes it unusable.
The work on stabilizing the creek slope started at the end of Jan. The public contracting code requires that the emergency action be approved by the city council no later than 14 days after the action. So the special meeting was called.
The work will cost approximately $263,000. Michael Frederick Paving Company is the general contractor on the project. Earth Systems Pacific and Terra Verde Environmental Consulting are also working on the project.
The recommendation was for the council to ratify, by review and determination, that there is a need to continue the Emergency Services Director's authorization to contract with Michael Frederick Paving Company, Earth Systems Pacific, and Terra Verde Environmental Consulting to complete emergency Atascadero Creek Slope Stabilization Project at Lift Station #5, pursuant to City's Purchasing Policy and Public Contract Code Section 22050.
The motion passed unanimously with the four council members who were in attendance.
The next regularly scheduled city council meeting is Tuesday, Feb. 14, at 6 p.m.