Public Service Recognized on the Steps of City Hall
ATASCADERO — On Tuesday, Jun. 22, the Atascadero City Council members stood on the steps of City Hall and issued a formal proclamation in support and appreciation of Atascadero's first responders.
At their regular meeting on Tuesday, Jun. 8, the City Council had received and read many emails from Atascadero citizens who expressed their frustration and disappointment with the removal of signs and banners meant to support law enforcement officers.
City Manager Rachelle Rickard addressed the matter and thanked the community for their support of law enforcement officers.
advertisement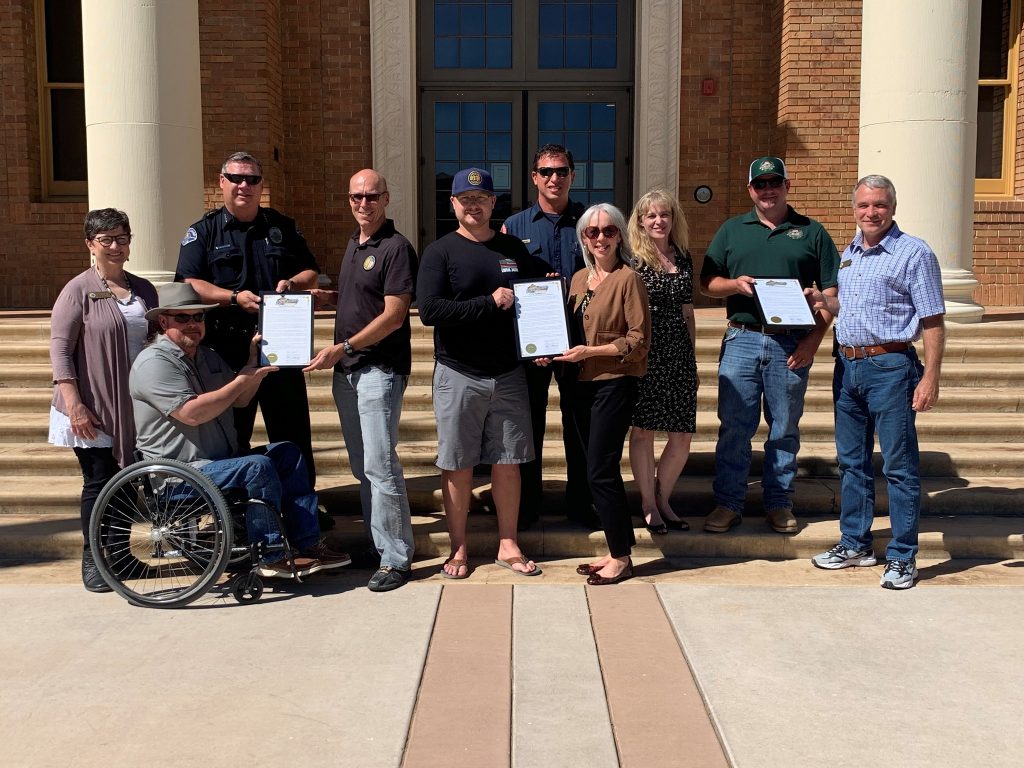 "The city's sign ordinance does allow us to take down signs placed by the public, but we must do so in a manner that's consistent with the first amendment," said Rickard.
She went on to explain that, according to the first amendment, the content of the signs must remain irrelevant in the decision to leave it up or take it down. As a result, city council can not determine one sign to be a "good" sign that they like and another to be a "bad" sign that they do not like.
Rickard continued, "so if we allow signs to remain up that praise and thank our first responders, we must
also afford equal access and protection to those signs that degenerate or demean our first
responders and our public safety personnel. So it was with the express purpose of truly supporting our first responders that the city will not allow any sign or message to be placed on public property and will not allow it to remain, regardless of the content".
Each council member took time to express their personal support and respect for Atascadero's law enforcement officers and first responders.
The meeting ended with Council Member Dariz making an individual determination "to direct staff to prepare a proclamation to be read at the next council meeting thanking and appreciating the men and women that make Atascadero safe, secure, and a great place to live."
Each Council Member expressed their full support of law enforcement and of Council Member Dariz's individual determination. Police Chief Bob Masterson was asked for his opinion, to which he expressed
his approval and gratitude. The council voted 5-0 to approve.
The proclamation recognizes the "extremely hazardous situations" and the "supreme efforts made of all of our first responders."
The proclamation ends with "Now, Therefore, the City Council of the City of Atascadero hereby proclaims the sincerest respect, honor, support, and gratitude for all of our Atascadero's First Responders, for everything that they do to keep our community safe from harm."