Event provides a platform for local businesses that are hiring to meet potential employees
ATASCADERO — A citywide job fair is planned for Wednesday, Sept. 29, from 3 p.m. to 6 p.m. at Sunken Gardens in front of Atascadero City Hall. The job fair is a joint effort by the Atascadero Chamber of Commerce and Eckerd Connects and is sponsored by the Department of State Hospitals—Atascadero.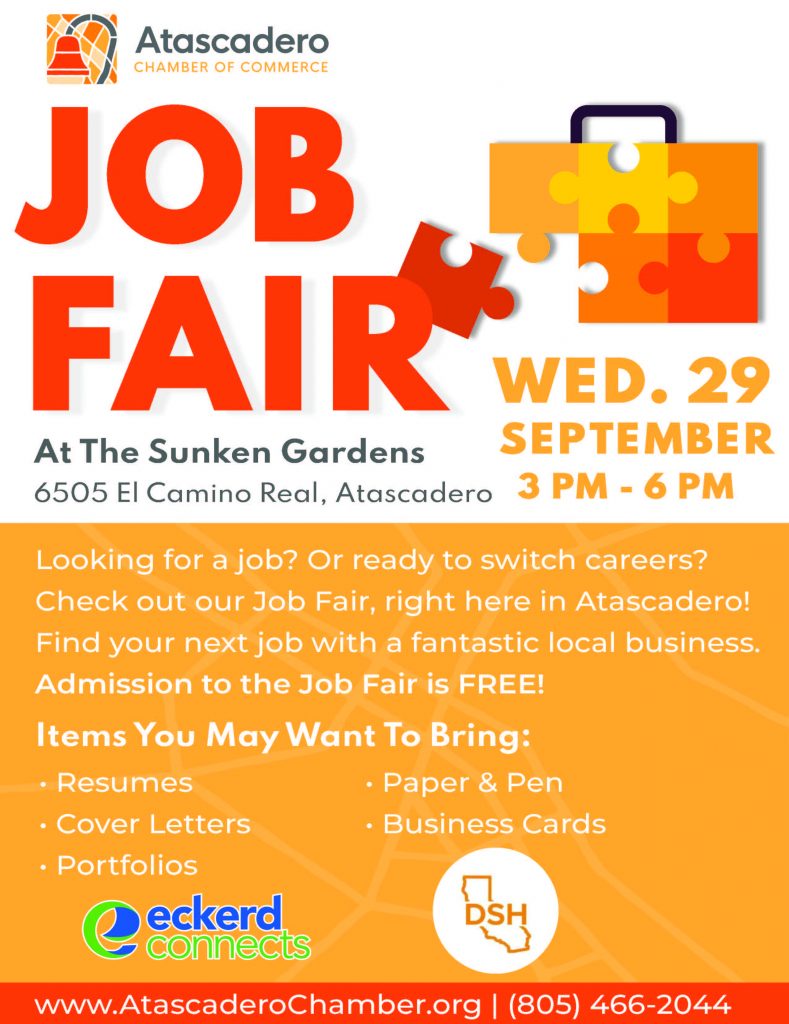 The event provides a platform for local businesses that are hiring to meet potential employees. The job fair also provides a place for job seekers to discover new employment opportunities. All businesses in the Atascadero area are eligible to participate and invited to visit atascaderochamber.org to register. Participation is free, but companies must register by Sunday, Sept. 26.
"The Chamber is always looking for ways to support the business community, and right now, we know that our members have an immediate need for additional employees so that they can maintain operating hours or grow their business. The Job Fair is a win-win for businesses and for folks looking for employment," Atascadero Chamber of Commerce CEO Josh Cross said.
advertisement

People attending this free event will have the opportunity to speak to business representatives about job openings and skills required to secure a position.
Job seekers can view the list of participating organizations at atascaderochamber.org.
Allison Schiavo of Eckerd Connects said "There are great local employment opportunities right now and we have a vast database of job seekers whose unemployment benefits will soon expire, so this is the right time to partner with the Chamber to bring people together. Lack of talent is a huge issue locally and a contributing factor preventing businesses from fully reopening."
Allison Schiavo is also the Area Manager for America's Job Center of California, in San Luis Obispo County.
At America's Job Center, staff are available Monday through Friday, virtually and in person, to help people prepare to put their best foot forward to employers at this event.
For more information, visit eckerdconnects.org/slo or call (805)286.8530. 
The job fair will be held at the Sunken Gardens, located on 6505 El Camino Real in front of Historic Atascadero City Hall. This event coincides with the Atascadero Farmer's Market. Job seekers can stop by anytime between 3 p.m. and 6 p.m.
Contact Dawn Smith with questions at (303)968.7049 or dawnsmithincali@gmail.com.