Reggae legend, Pato Banton, headlined the concert on Saturday night
By Christianna Marks
ATASCADERO — Excitement was in the air over the weekend at the very first Atascadero Fall Festival. Roughly 15,000 people flocked to the Atascadero Sunken Gardens to enjoy carnival rides, live music, local vendors, and amazing street food. The Atascadero Fall Festival, put on by En Fuego Events and presented by the City of Atascadero and Visit Atascadero, was a free event for the whole community!
"We've done three of these [Fall Festivals]. We did one in Solvang, we did one in Buellton, this is by far the biggest one we've ever done," said event organizer and owner of En Fuego Events, Andres Nuno.
advertisement

The Sunken Gardens were taken over by the event, so much so, that it spilled into the streets on either side of the square, mainly to accommodate the 12+ carnival rides that kids and adults alike lined up to ride. Carnival passes could be purchased upon arrival, and it was evident that people put them to good use. The Ferris Wheel in front of City Hall was the standout.
"That line to get on the Ferris Wheel was so long. It was adults; it was kids; it was teenagers. What they were telling us was; one, there's a Ferris Wheel in front of City Hall, and two, they just wanted to get up and see the view and see City Hall from a different perspective. We knew they [The Ferris Wheel and Swings in front of City Hall] were going to do good, but we didn't know how well they were going to do," Nuno said.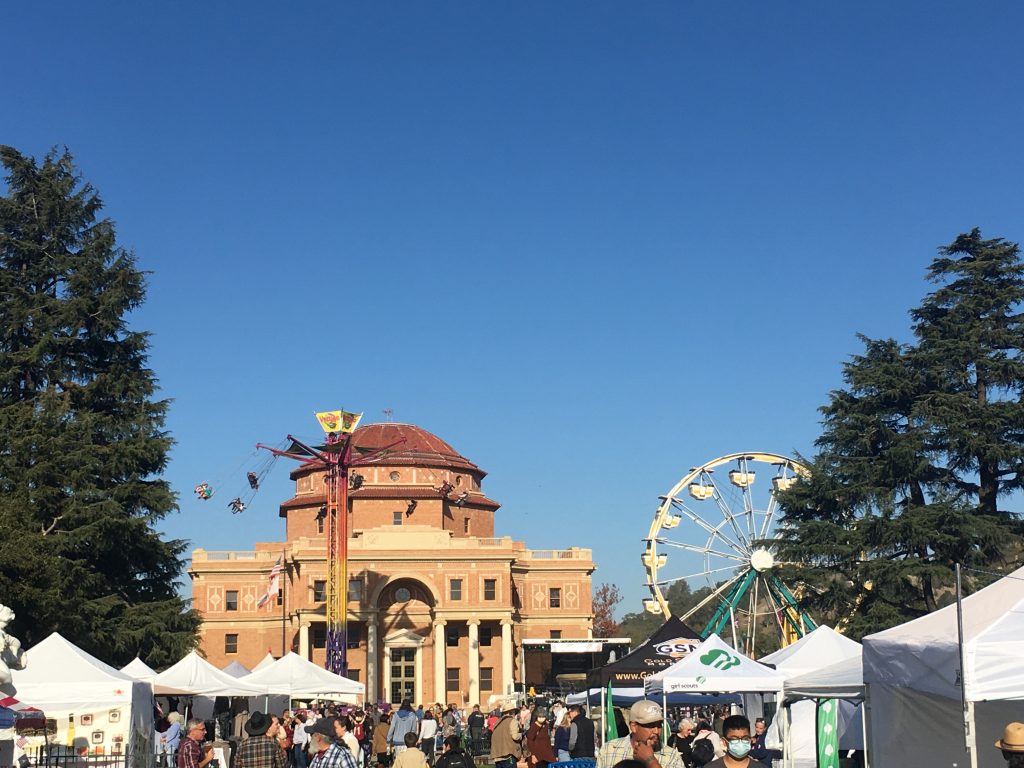 Attendees also gathered around two stages at the festival to listen to free concerts from both local
and non-local bands of all genres for all three days of the weekend. Local teens were also featured in the lineup, competing in a Battle of the Teenage Bands. Jumpstart, a classic-rock cover band out of Santa Barbara, took home the big win!
The Fall Fest's musical headliner, Pato Banton, played the evening of Saturday, Nov. 20, to an enthusiastic sea of people in front of the main stage.
"Pato Banton, who is an absolute living legend, one of the last few reggae legends that you can still see perform live, delivered one of the most positive and engaging performances that we could have expected out of this event," said Traffic Records owner Manuel Barba, who was in attendance.
The Festival also featured food and adult beverages from loads of local businesses. And there was even a mini craft beer and wine fest called Suds in the Sunken Gardens on Saturday, Nov. 20.
"It [Suds in the Sunken Gardens] was a huge success this time around, and I know that the visiting Breweries that came out enjoyed it," said Nuno, who was also the event organizer for the Central Coast Craft Beer Festival.
Between the music, food, booze, and rides, there was something for everyone to participate in without breaking the bank.
"[It was] nice to see all the families down there, all the smiling faces. That's why we work so hard to bring these events to the city, because it really does create the memories that we want to create, and that's really what our City Council is focused on, wanting to make sure that we're doing events that are unique to Atascadero," said Deputy City Manager, Terrie Banish.
The Atascadero Fall Festival is set to return next year and will be held on Nov. 18, 19, and 20 of 2022.
For more information on the Atascadero Fall Festival, visit atascaderofallfest.com.