Exquisite Poison is released on Thursday, Aug. 4, by Phantom House Press
ATASCADERO — Atascadero News' very own Christianna Marks has a short story publishing in an anthology releasing today — Thursday, Aug. 4.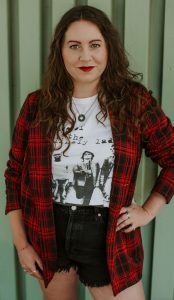 "Exquisite Poison" is an anthology — a collection of short stories — published by Phantom House Press (PHP). Started by a husband-and-wife team in 2021, it is an independent book publishing company.
The founders said, "Phantom House Press was born out of the fog dwelling between genres. We are a house for the hybrid, the pioneer, and the peculiar. If an author's work doesn't quite seem to fit other places, they might just find a home in our house."
advertisement

When PHP announced its intentions to publish the anthology, it asked writers to send in their samples for a chance to be featured in the published book.
"We wanted a collection of works from authors who write in various genres, all pointing toward the same theme — simply to highlight the beauty and diversity of all genres and genre-crossovers," the founders explained.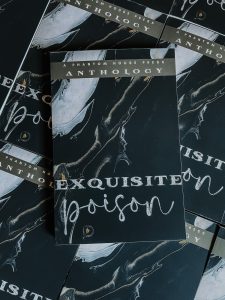 Writers for Exquisite Poison wrote under a specific theme with the following synopsis:
"We've picked their poison, and made it count. Something they can't live without. Whether it be sweet or quietly deadly, we've overwhelmed them with a medley.
It's more than they can bear — Read on if you dare. Exquisite Poison is a collection of poems and short fiction in an array of genres. The 'poison' can be an actual toxin of death, an addiction, a heady love story, a compulsion … read on and find them all."
Marks' story was chosen out of several entries. Her short story, "Snake Skin and Pleather," takes place in the early 2000s and suspiciously ties in the anthology theme of poison.
The "Snake Skin and Pleather" synopsis reads:
When Cathy saw The Huntsmen perform live for the first time she left everything behind to stalk the band on their 2000 North American Tour. Now, six months later, even though they've never spoken, she's more in love than ever with lead guitarist, Robb Barr. The only problem; his very pregnant wife, and band-mate, Georgie.
You can find the "Exquisite Poison" anthology at Amazon, Barnes & Noble, or through Phantom House Press and wherever books are sold.
For more information on Phantom House Press, visit phantomhousepress.com/
You can follow Marks' writing adventures on her Instagram, here @bluebowgrl
Amazon — amazon.com/Exquisite-Poison-Phantom-House-Press/dp/B0B71CCPXQ/ref=sr_1_1?crid=2RI7FJ9G9VNB0&keywords=Exquisite+poison&qid=1659408196&sprefix=exquisite+poison%2Caps%2C219&sr=8-1
Barnes & Noble — barnesandnoble.com/w/exquisite-poison-phantom-house-press/1141835758?ean=9798201880774
Phantom House Press — phantomhousepress.com/store-1/p/exquisite-poison-anthology-pre-order