Eagle Scout Robert (Bob) James Wilkins Jr. honored as Honorary Scoutmaster for BSA Atascadero Historical Troop 51
ATASCADERO — On Tuesday evening, Oct. 3, Boy Scouts of America Troop 51 in Atascadero gathered for its Quarterly Troop Court of Honor Awards and Recognitions Ceremony. The event, held at Atascadero Lake Park Pavilion within the Doug Moore Meeting Facility, affectionately known as the "Scout Hut," was an occasion filled with awards and recognitions.
The evening was made special by the presence of distinguished guests, including Atascadero Mayor Heather Moreno, Los Padres Council BSA Scout Executive/Chief Executive Officer Carlos Cortez, Cuesta District Scout Executive April Wright, Cuesta District Unit Commissioner Emil Mesko, Cuesta District Eagle Scout Board of Review Board Member Juanita Zungia, Eagle Scout Troop 51 Robert (Bob) James Wilkins, and family members, as well as retired Cuesta District Committee Member Ken Gouff.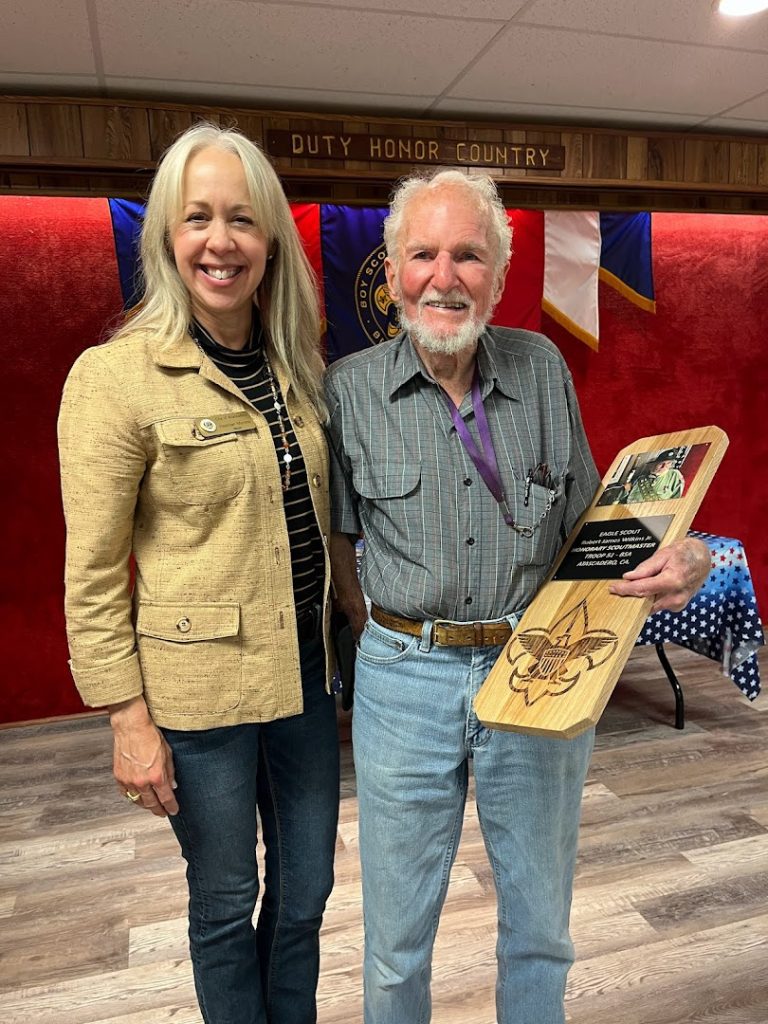 The event kicked off with the presentation of rank advancements to 13 Scouts. Troop 51 Scoutmaster and Eagle Scout Justin Moya, and Senior Patrol Leader and Life Scout Sebastian Domminic Marano, proudly handed out badges to deserving scouts who had advanced in rank. Among them, Thomas Cummings earned his Scout Badge, while Connor Genereux, Danial Pullen, and Dean Hakanson achieved the Tenderfoot Rank. Others, including Arron Conover, Alexander Kendricks, Archer Cummings, Robert Pullen, Dylan Moya, Nathan Stephens-Smith, Ethen Prescott, and Jack Small, reached various milestones on their journey toward the prestigious Eagle Scout Rank.
advertisement

In addition to rank advancements, Troop 51 Scouts collectively earned an impressive total of 82 Merit Badges. These badges were earned during the Cuesta District 2023 Merit Badge Pow Wow held throughout July, August, and September, as well as during their attendance at the Annual Summer Camp 2023 at BSA Camp Whitsett.
The scouts of Troop 51 also made their mark on the national stage by achieving 23 individual BSA Special Achievement Awards. These awards recognized their dedication to outdoor activities, conservation efforts, and their commitment to the principles of scouting. Among the notable achievements were the Boy Scout World Conservation Project completed by Emmery Walls, National Outdoor Achievements by Isak Kania, Bryce Bowlay-Sutton, Damian Thomas Marano, Sebastian Domminic Marano, and David Small, and the National BSA Outdoor Award Gold Pins earned by Jordan Gaughan and Bryce Bowlay-Sutton. Special recognition was given to Emmery Walls for the BSA Outdoor Ethics, Dylan Moya and Nathan Stephens-Smith for achieving the Paul Bunyan Woodsman Award, and Emmery Walls for the Religious Emblem Award.
A significant highlight of the evening was the special recognition given to Eagle Scout Robert (Bob) James Wilkins Jr., who was named Honorary Scoutmaster for BSA Atascadero Historical Troop 51. Wilkins' connection to scouting runs deep, dating back to his early days as a Cub Scout and later as a member of Troop 51. He distinguished himself as a leader within the troop, ultimately earning the prestigious Eagle Scout Rank at the age of 15. His scouting experiences left an indelible mark on his life, shaping him into the leader he would become.
In addition to his contributions to scouting, Wilkins also served honorably in the United States Naval Reserves for 17 years, including deployments during the Korean War. He married his wife Bonnie and raised four children. Notably, he was elected as the first Mayor of Atascadero upon its incorporation as a city in 1979, earning the affectionate nickname "Mr. Atascadero." His tenure as mayor was marked by leadership and skills honed during his years as a scout, demonstrating the enduring impact of scouting on the lives of its members.
Wilkins' journey reflects great credit upon himself, Boy Scouts of America Troop 51 in Atascadero, his community, and our nation. His story serves as an inspiration to all scouts, highlighting the enduring values and leadership skills that scouting instills in its members, shaping them into responsible and accomplished individuals. Troop 51's Quarterly Troop Court of Honor was not only a celebration of past achievements but a testament to the bright futures that await these dedicated scouts as they continue their journey in the world of scouting and beyond.
Feature Image: Eagle Scout Robert James Wilkins Jr. (sitting at front) and (standing from left) Donald Luce of Boy Scouts of America Troop 51, Los Padres BSA Council Executive/CEO Carlos Cotez – Emil Mesko Cuesta BSA District Unit Commissioner. Photos courtesy of Troop 51