The ATownWithHeart campaign started in 2021 to promote businesses and create community
ATASCADERO — Once again, downtown Atascadero will be peppered with hearts this February. The campaign, known as #ATownWithHeart, was started in 2021 by local businesswomen and friends Janet Wallace and Jenna Hartzell.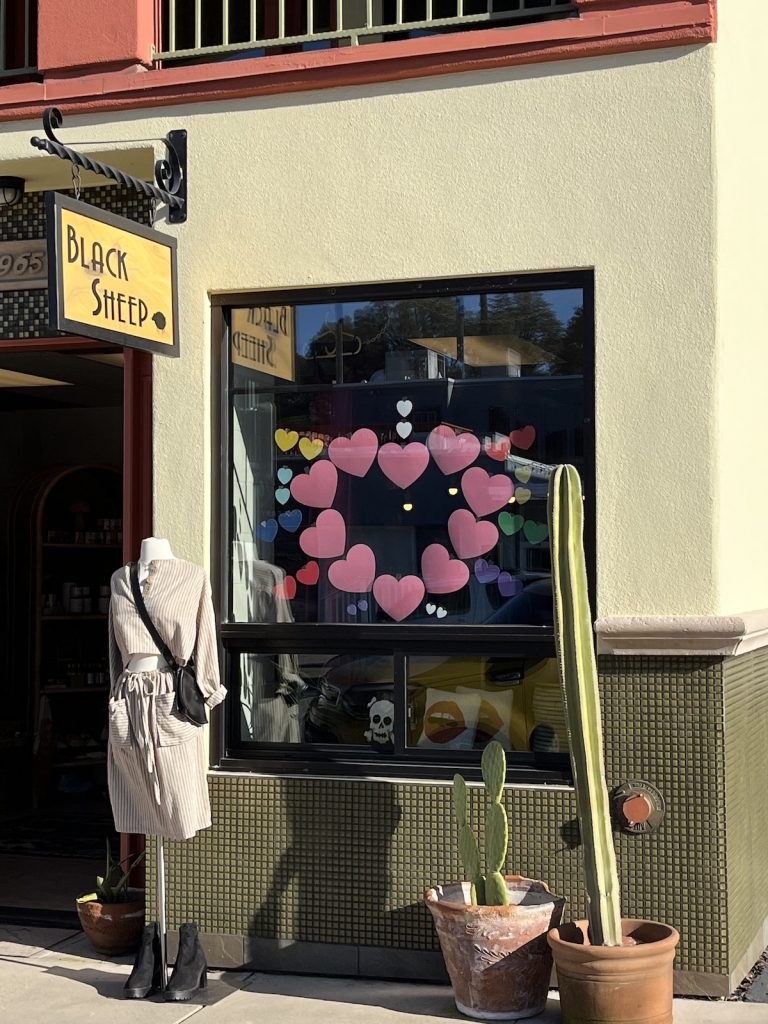 "I started the heart campaign during the pandemic," stated Wallace. "The hearts were meant to send a simple but heartfelt message that we love our downtown and are committed to ensuring it thrives. We also wanted to send a little love note to the Atascadero community for their ongoing support of local businesses. Last year [2022], the Chamber joined the campaign by assisting with the purchase of the hearts."
Originally, in 2021 Wallace and then chair of the Downtown Association teamed up to start the tradition. Together they donated $300 to buy 3,240 hearts to distribute to local businesses. Hartzell jumped into the Atascadero love fest and volunteered her artistic talents to design a scavenger hunt that year, the campaign's social media imagery, and banners for downtown. And thus, #ATownWithHeart was born.
advertisement

"The goal was (and is) to get our community to drive by or stroll downtown to feel the love," added Wallace.
In 2022, Wallace and Hartzell teamed up with the Atascadero Chamber of Commerce, which now provides the community with packs of hearts to display in their storefronts.
"The Chamber is great. As more and more businesses requested hearts, the Chamber made it possible to supply the thousands of paper hearts [needed]," said Wallace. "It's so nice for the businesses just to get a pack of hearts delivered for free — rather than asking busy business owners to go out and spend time and money to acquire hearts. Plus, even though each business adds their own flair, the continuity of hearts from window to window creates a lovely sense of community."
This year #ATownWithHeart is planning to have 4,000 hearts all over downtown Atascadero, and as of Monday, Jan. 30, 35 businesses had already received their packages filled with 80 hearts.
"I have always loved all things Valentine-y. Maybe it's because I have a February birthday, but I'm a big fan of hearts, love, red, and bows…I wear lots of heart earrings and heart sweaters and decorate my house with hearts year-round," Wallace said. "Plus, I've also always loved planning parties and events. The pandemic really put a damper on my party planning endeavors, so convincing the downtown businesses to put up thousands of hearts just seemed like a marvelous and worthwhile way to spread some love."
Every year the local businesses who participate decide how to use their hearts in their displays. This year Kula Vineyards and Winery are asking their customers to write the things they love most on their hearts, and some of the businesses, which will all be displayed on the #ATownWithHeart social media, have already gotten people asking for the locations of the businesses.
In an email to downtown Atascadero, Wallace wrote: "Here's a quick rundown: we fill downtown with paper hearts, visible from the street, for the month of February. There are hearts everywhere; parents can bring kids downtown to count hearts, businesses offer Valentine-themed specials, the town is dressed up for the Sweetheart Stroll … we show off that we are a town with a big heart."
Anyone can participate in the #ATownWithHeart campaign. It's as easy as decorating your storefront with hearts and spreading the love.
To see the displays and share your own photos, follow the campaign on their Instagram, @atownwithheart, and don't forget to use the hashtag #ATOWNWITHHEART.