The local brewery also landed three gold medals for their beers
ATASCADERO — Wild Fields Brewhouse reigned supreme at the 40th Annual Great American Beer Festival (GABF) this year. The festival and subsequent competition took place in Denver, Colorado, from Oct. 6-8.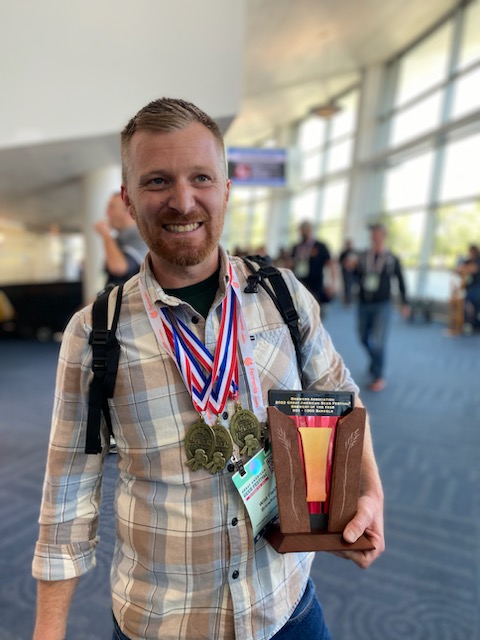 "This festival was the largest yet, with over 9,900 entries. It was a huge fest. There were 300 medals total awarded," said Wild Fields President and Co-Founder, Jacque Fields. "The way GABF works is there are beer guidelines, and so they will take all the categories of these beer guidelines; there are 98 categories in this competition, and they award bronze, silver, and gold in each one. These are medals to say that these are the best examples of each style from the country."
GABF is the biggest National Beer Fest and also the biggest National Beer Competition featuring beer from all over the United States.
advertisement

"I would say that it [GABF] is internationally recognized. People pay attention even if they're not here in the States. GABF is a pretty rad competition," added Jacque.
Last year Wild Fields Brewhouse participated in GABF for the first time, and their Pine Mountain Monolith (English Brown Ale) won gold in 2021 as well as this year.
Wild Fields brought home a total of three gold medals with their Magic Swirling Sip (Scottish Ale), Three Bridges (American Brown Ale), and Pine Mountain Monolith. They also walked away with Brewery of the Year in the 500 to 1,000 barrels of beer a year category. Brewery of the Year is calculated based on how many medals are won in your class.
"[It was] definitely a pretty awesome experience. I mean, you never go into a competition expecting to win," said Co-Founder and Head Brewer Ryan Fields. "At least I try not to, try not to get my hopes up, but it's always something that we spent a lot of time focusing on and really wanting to win. So it's definitely a pretty intense experience. There's a lot of suspense when you're sitting there."
Ryan, who was in Denver during the Fest, said that the Brewhouse submitted eight beers to the competition. The first four categories Wild Fields competed in came and went with no mention of the Atascadero favorite. Then after Ryan was preparing for a complete shut-out category, 72 out of 100, the Scottish Ale category rolled around, and that's when they won their first gold medal.
"It was a huge relief and a huge adrenaline rush of getting a gold in that. On my way up to the stage, I realized we also entered categories 74 and 75, which were coming up soon. So I held back and waited for those, and then both of those hit gold as well, which was just crazy because even winning one is an amazing accomplishment, so winning three is definitely unexpected and amazing," added Ryan. "Immediately after that third one, they announced that we were awarded Brewery of the Year this year, which is kind of like one of the highest honors you could get in the brewing industry as far as competitions and beer recognition goes."
He went on to say that it's been something Wild Fields has been striving for ever since entering the beer industry. Ryan has been brewing for other companies and entering beer into the GABF for years, but this is the first year he has won.
"It's pretty cool that the first time I was ever awarded Brewery of the Year was for our business," Ryan said of Wild Fields.
Wild Fields also broke a world record at the World Beer Cup in May of this year with four medals.
"Seven big medals at the biggest competitions in one year is definitely something we weren't expecting to accomplish," added Ryan. "We couldn't do it without our awesome team here and all our supporters and people that believed in us along the way even though things haven't always been easy or obvious that we were going to succeed."
Wild Fields has all four gold medal-winning beers on tap right now, including Atascadero Beach, which won at the World Beer Cup. They're calling it their Gold Medal Flight.
The Fields also mentioned that multiple other breweries from the Central Coast placed at the GABF.
"I think that's why people fall in love with this industry. It's competitive, but at the end of the day, it's really about us all just being better," continued Jacque.
On Oct. 16, Wild Fields Brewhouse will be holding an Outdoor Market, and Be the Match will also be there seeking bone marrow donors.