Josh Cross received the Russell J. 'Rusty' Hammer Memorial Scholarship Award
ATASCADERO — Atascadero's very own Chamber of Commerce President and CEO, Josh Cross, was awarded the Russell J. "Rusty" Hammer Memorial Scholarship Award. He won the award at the Western Association of Chamber Executives (WACE) annual conference in Sacramento on Tuesday, Feb. 14. The yearly conference had close to 500 chamber members in attendance, representing 18 states and Canada.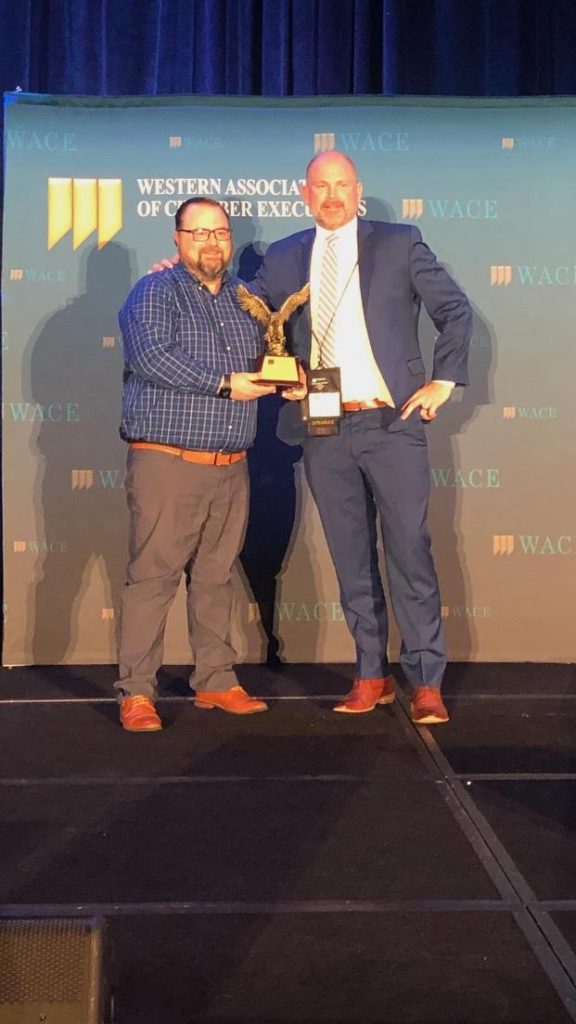 "Russell 'Rusty' Hammer was a rising star in the Chamber world, having led the LA Chamber and Sacramento Chamber," stated Cross. "Sadly, his life and career were cut short in 2008 after a several-year battle with leukemia. The award is given in his honor to a CEO who best exemplifies excellence and professionalism but also to someone who accepts that they don't have 'all the answers' and strives for continuous self-improvement."
Before coming back to his native Atascadero roots, Cross worked in San Luis Obispo as an urban developer for the RRM Design Group, followed by becoming the director of economic development at the Paso Robles Chamber of Commerce. He took the position of the president and CEO of Atascadero's Chamber of Commerce in September 2020.
advertisement

"I haven't really shared this before, but when I first joined the Chamber in September of 2020, I took the role at 75 percent pay due to the uncertainty of the pandemic economy," Cross said. "But, I believed so strongly in the mission and potential of this Chamber that I knew it wouldn't be long before our finances recovered. Sure enough, we were successful in pursuing all kinds of funding opportunities, including PPP, ERTC, grants, and sponsorships.
"It also helps that the business community rallied around our Chamber by continuing to invest in our mission of 'Empowering OUR Businesses Community.' I should mention that Julie Matthews, director of membership, has been instrumental in elevating the number of members from around 400 in 2020 to over 660 today. This number is unusually high for a community of our size, and we're not done growing. These additional investments have allowed us to grow our staff from two to four. We have also been fortunate enough to partner with the SLO County Workforce Development Board and SLO County to add four grant-funded staff. These additional staff are working on exciting programs like Jr. CEO, Shop Local Bonus, Get Your Business Online!, and Workforce Development Solutions."
Cross has also been hugely instrumental in getting the Chamber's BridgeWorks co-working space up and running. As well as launching a Jr. CEO program for kids in elementary and middle school, the Chamber has a couple of other programs in the pipeline for 2023.
"I'm most excited about the Jr. CEO program, Get Your Business Online program, and Workforce Development," added Cross.
Cross also stated that he and the Chamber board are working on two other programs that will be released in the fall. He also added that he couldn't have done everything in the last couple of years or earned the Russell J. "Rusty" Hammer Memorial Scholarship Award without his excellent staff or his Board of Directors.
"I was truly shocked," Cross says about receiving the award. "There are so many amazing Chambers doing important work around the western United States, including those here on the Central Coast, that it was truly humbling to be recognized."