The zoo's tiger Mederu celebrated his 15th birthday
ATASCADERO — Saturday, April 29, was a busy day at the Charles Paddock Zoo, starting with its tiger, Mederu's, 15th Birthday Party from 11 a.m. to 1 p.m. where everyone was invited, and then slipping in the 9th Annual Brew at the Zoo where adults came out from 5:30 to 8:30 p.m.
Mederu's 15th birthday party included fun for all ages. From a happy birthday sign kids could write on, making tiger striped T-shirts and headbands, and giving Meredu a birthday gift in front of the crowd.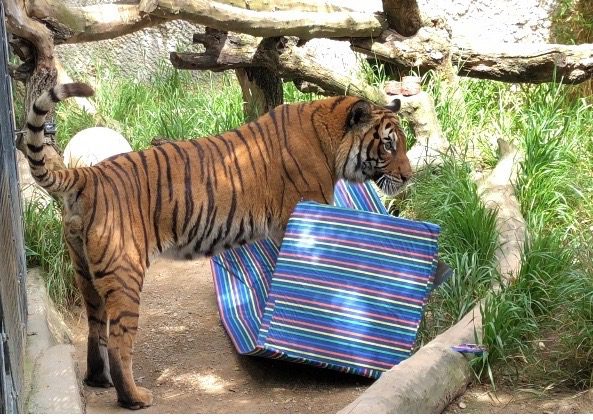 "I've been working with Mederu for about five years, and he's been here for just about 14 years," said Mederu's keeper Crystal Crimbchin.
advertisement

Mederu was born in San Diego and brought to Atascadero as a cub, where he has lived ever since.
"It's a different experience every single day because his attitude is different every day, but he's a good boy," Crimbchin said. "He normally will do all of his training in the morning, and then I hide some food for him so he comes out and does a little bit of enrichment while he hunts for his food, and then he naps the rest of the day. He's very similar to a house cat."
Crimbchin has worked with other big cats prior to Mederu and says that he's one of the more vocal tigers she's ever met and that his verbal cues are for the benefit of the people who take care of him at the zoo.
Malayan tigers like Mederu are critically endangered, with less than 300 left in the wild, so hosting things like birthday parties are a fun way for the Charles Paddock Zoo to teach people about them.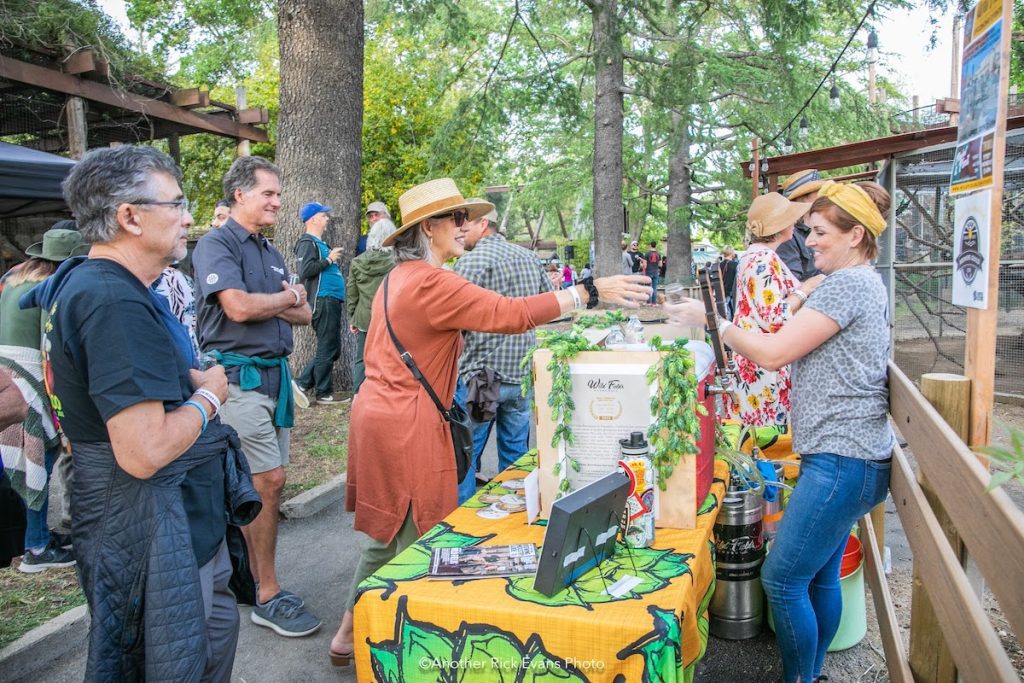 The fun didn't stop there. After hours, the zoo opened up for its 9th Annual Brew at the Zoo, with all proceeds benefiting the Friends of the Charles Paddock Zoo.
"The 9th Annual Brew at the Zoo was our best one yet," said Deputy City Manager Terrie Banish. "It was the best in attendance, best overall experience with plenty to do and people enjoying the entertainment, the Zoo, and the overall vibe."
This year's Brew at the Zoo was a record breaker, with almost 800 animal lovers coming out to have fun dressing up as their favorite animals, raising money, listening to great music, and enjoying an adult beverage or two.
"We had a fantastic collection of adult beverage vendors this year," Banish said. "Ancient Peaks Winery, Black Market Spirits, Bristols Cider, Cali Sueeze, Calwise Spirits Company, Central Coast Brewing, Eberle Winery, Firestone Walker Brewing, KiloKilo Brewing, Lone Madrone Winery, MEA Wine, Oak & Otter Brewing, SLO Cider Company, Spent Grain Brewing, Tarantula Hill Brewing Co., Tent City Brewing, Tin City Cider, Wild Fields Brewing."
Brew at the Zoo also brought in over $22,000 to help the zoo with their conservation and educational efforts, as well as to keep their animals happy and healthy.
The evening also boasted live sets from the bands the Vibe Setters and Garden Party, while Manuel Medina of Medina Light Show Designs was emcee. And there was also hula hoop, dance, and costume contests.
Brew at the Zoo will be back for its 10th year on Saturday, April 27, 2024.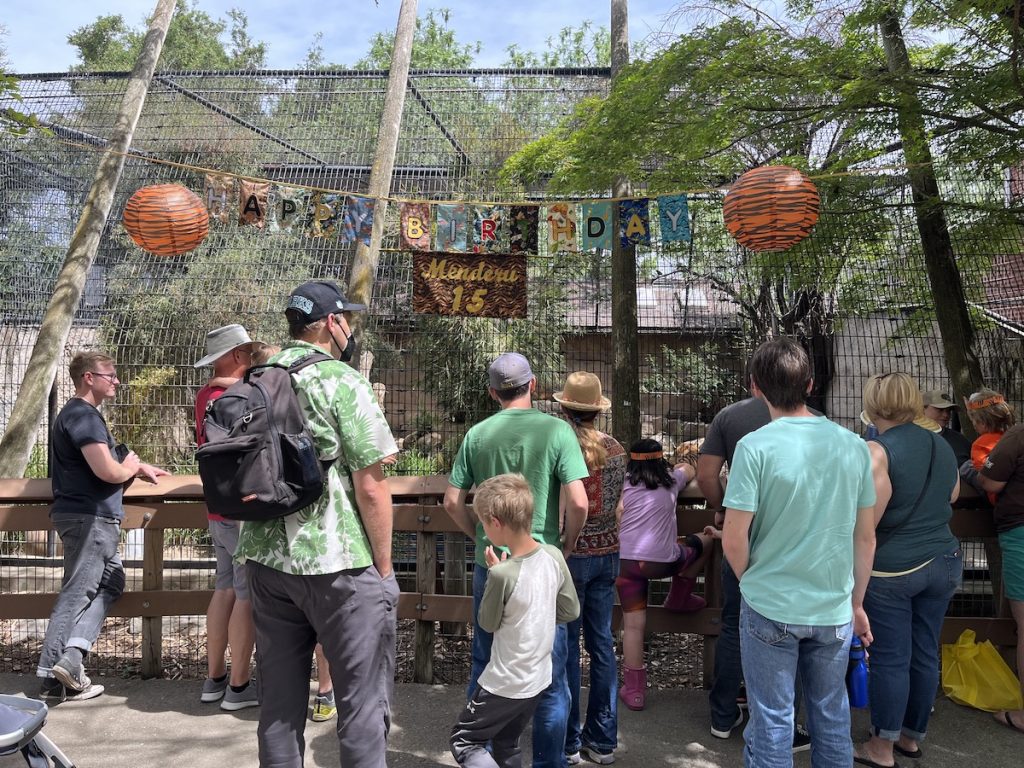 Feature Photo: Members of Pyles and Associates dressed up at Charles Paddock Zoo's Brew at the Zoo. From left are Megan Pyles, Ashleigh Nunez, Ines Osorio Soto, and Marina Wesner. Photo by Rick Evans.