Lewis has almost 30 years of city government experience
ATASCADERO — City employees, friends, neighbors, and local business owners from throughout Atascadero came out to support Atascadero's new City Manager Jim Lewis as he took his oath of office on the morning of Monday, July 10.
"Welcome here to historic City Hall on this very celebratory occasion as we swear in our newly appointed City Manager, Mr. Jim Lewis," said Mayor Heather Moreno in her opening speech. "We are thrilled to have Jim [Lewis] return to Atascadero, his hometown, after serving as the City of Pismo Beach City Manager for the last 10 years. Jim Lewis brings to this position more than 28 years of city government, over 20 years of executive management and project management, and he has previously served as the City of Atascadero assistant city manager and director of economic development for eight years."
advertisement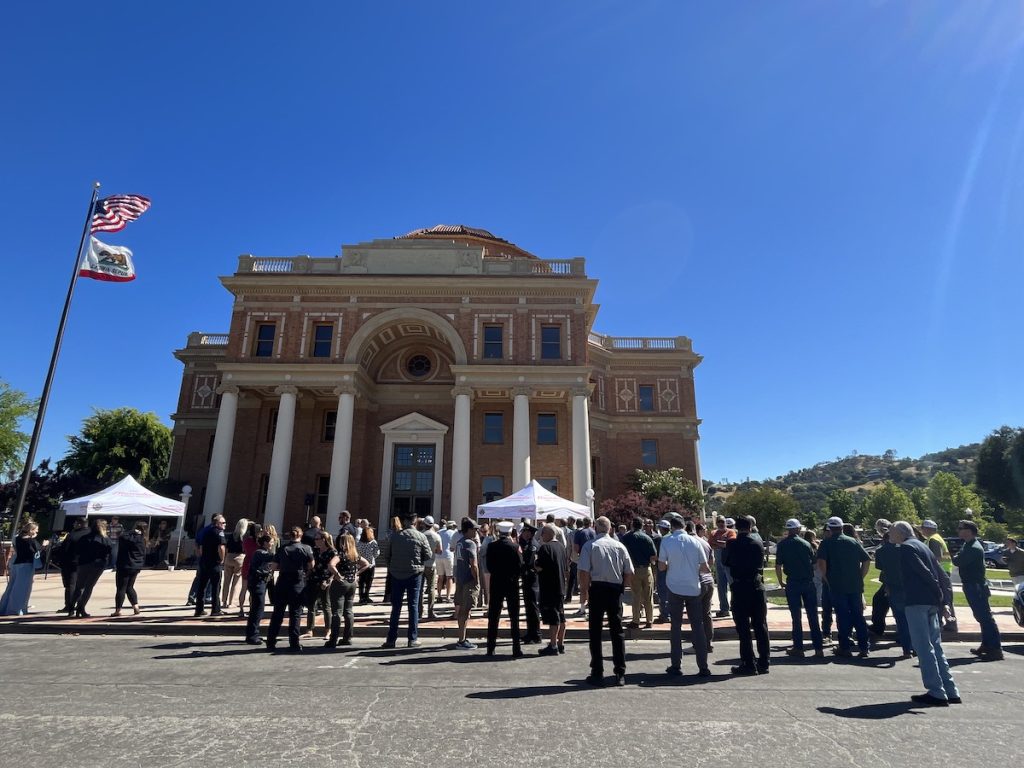 Lewis has formed a deep love and connection with Atascadero over the almost 20 years he's lived here with his wife and children, who currently attend schools in the Atascadero Unified School District. His connection to the city makes his return to working in the city's government even more special.
"As Atascadero's city manager, Mr. Lewis serves as the city's chief executive officer, and he will be responsible for carrying out the strategic priorities of the City Council, which includes delivering major capital projects, facilitating commercial development, enforcing city codes, ordinances, and regulations, managing financial accountability, and ensuring the efficient and economical delivery of city services," added Moreno.
On top of being Atascadero's new city manager, Lewis is currently on the League of California City's Board of Directors, where he represents city managers all over California. He is also on the California City Management Foundation Board of Trustees and is an International City/County Management Association credentialed manager. Additionally, he is a long-time member of Atascadero Kiwanis Club, Atascadero Bible Church, and a den leader for local Cub Scout Troup #51.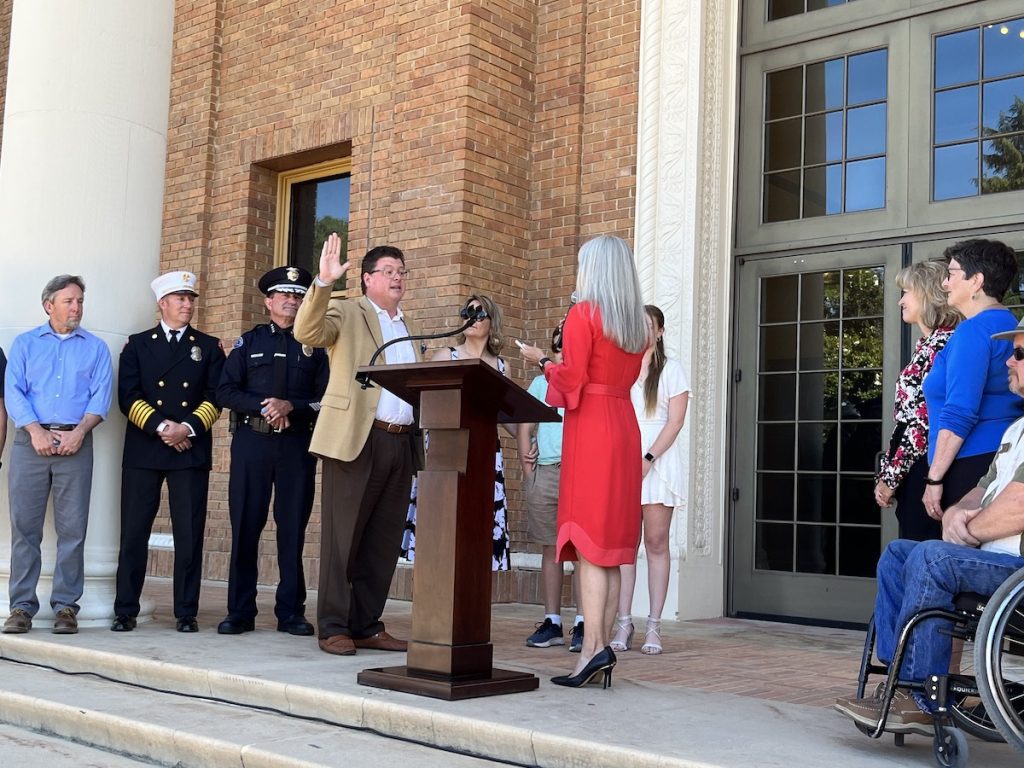 During that ceremony, which started with live music from local band, The Quadratones and included breakfast-style refreshments provided by the city, Moreno delivered the oath of office to Lewis.
"I want to thank the City Council for your confidence and your leadership," Lewis stated after completing the oath. "I've sat on the sidelines for 10 years watching what's happened in our community, and it's incredible. The trajectory is up and sharp, and I commit to you my passion and my hard work to take that even sharper. We will get you where you want to go as our leaders, and I submit to you as the City Council, and I'm grateful for your confidence in me."
He went on to thank the executive team, city staff, and the community groups and nonprofits that make Atascadero what it is.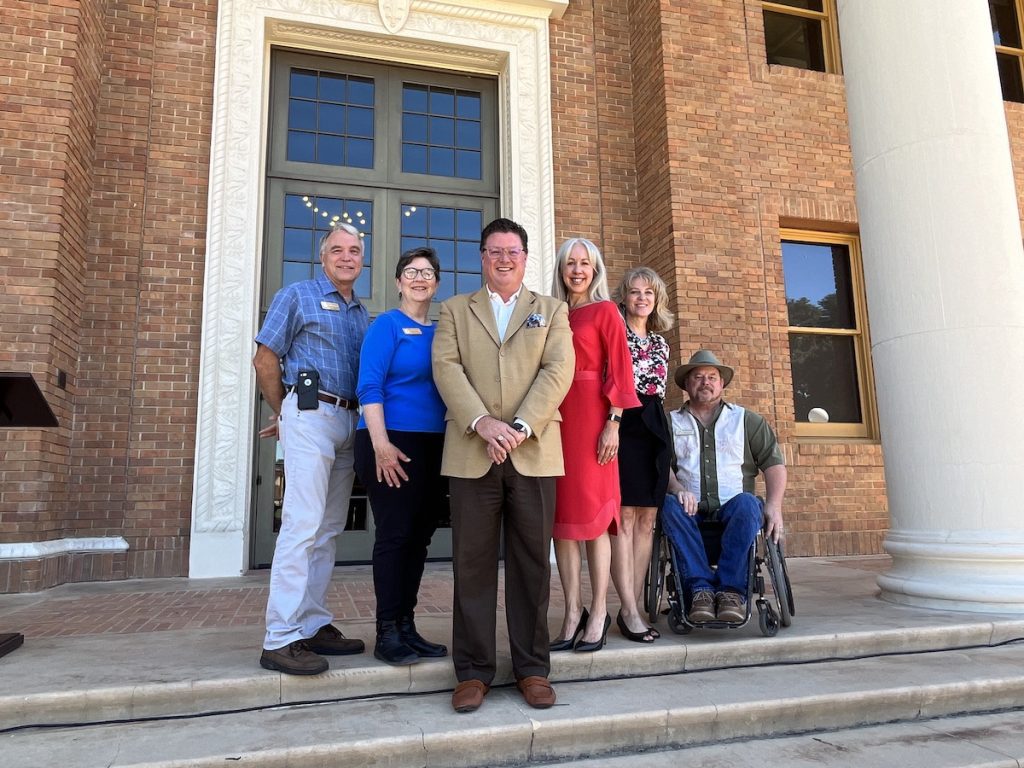 "It's really special when you have a city manager who's part of your community, and Jim [Lewis] has been that for nearly 20 years, and he brings not only the expertise of City Management and his executive management but his passion and enthusiasm for Atascadero and that combination makes him unstoppable," Moreno said excitedly.
Lewis is taking over the position from Rachelle Rickard, who announced her retirement earlier this year. Rickard worked for the city for 26 years, the last 10 as city manager.
"It's amazing to be able to return home to a place I'm passionate about and that I love," Lewis said. "I just can't put it in words how pleased I am to be here, and to be where my family is, and where I'm raising my kids. I just love Atascadero. We're on an upward trajectory, and we can only go higher and faster, and I'm thrilled to be part of this team that's doing that."
Congratulations to Atascadero's new city manager.
Feature Image: (From left) Councilmember Charles Bourbeu, Mayor Pro Tem Susan Funk, City Manager Jim Lewis, Mayor Heather Moreno, Councilmember Heather Newsom, and Councilmember Mark Dariz celebrate Lewis's appointment. Photo by Christianna Marks.