Award recipients will be recognized on Nov. 15 at CPRS Fall Forum
The City of Atascadero recently announce that the California Park and Recreation Society's (CPRS) District 8 selected Atascadero's Donn Clickard as Champion of the Community, and the Atascadero Joy Playground project for their Excellence in Design – Park Planning award. This year's award recipients will be recognized on Nov. 15 at the CPRS Fall Forum.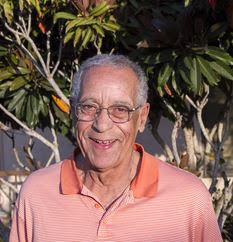 Clickard was nominated for the Champion of the Community award by the City of Atascadero. This award honors and recognizes individuals or organizations who have contributed significant effort to influence and improve the quality of their community through parks and recreation; and recognizes the contributions of those who volunteer and provide support and services in their community that furthers the mission and quality delivery of park and recreation services, programs and facilities in their community.
Clickard's nomination recognizes his many years of service and dedication to the youth of our community.
Following graduation from Cal Poly, he was hired in 1970 by the Atascadero Unified School District and dedicated his 30-plus year career in education to the District, until his retirement in 2004.
advertisement

Throughout his tenure, Clickard wore many hats, including that of teacher, bus driver, coach and Athletic Director. Since his retirement, Clickard continues to work as a volunteer and most specifically to benefit the youth of the community. His dedication is proven by the number of volunteer hours devoted to many of our local groups and organizations.
Clickard serves as the Executive Director of the Greyhound Foundation, which works to fund facilities and programs for students at Atascadero High School.
One of Clickard's key passions is the Foundation's Lighthouse Committee, a volunteer group dedicated to reducing drug and alcohol abuse by the youth in our community through awareness, prevention, intervention and education. He is also committed to assisting many other local events and community groups such as Hares & Hounds (a 5K and fun run event that supports the Greyhound Foundation); All-Comers track meets; Atascadero Chamber of Commerce including serving as a former Executive Board Member and being honored as a past Chamber Citizen of the Year; and as a long-term School Board member.
Due to his dedication, the Atascadero School District has submitted Clickard for this year's "Board Member of the Year" award for the State of California. The City was pleased to have Donn Clickard recognized by the CPRS District 8 for his lifetime of service to Atascadero and the youth of the community.
Beginning in early 2014, the City of Atascadero worked with the local Parents for Joy non-profit organization to develop an all-inclusive needs playground. Parents for Joy is a group of local parents, families and teachers who live with or are associated with children with special needs.
This group approached Atascadero City officials with the hope of building a playground that would enhance the safety and involvement of children with special needs, such as Autism Spectrum Disorders, Sensory Processing Disorders, Down Syndrome, Cerebral Palsy and Visual Impairment, just to name a few.
The vision of Parents for Joy and the City of Atascadero was to one-day see children of all abilities playing together, raising awareness and building friendships, as well as providing the ability for adult parents, grandparents and other adult loved ones with special needs to have access to their children while at play.
On May 1, 2018, the project broke ground and on April 5 the Grand Opening of the fully inclusive Joy Playground was celebrated. This project encompasses all aspects of the mission of Parks and Recreation including fostering human development, promoting participation in recreational experiences, promoting health and wellness, strengthening community image and sense of place and strengthening
safety and security.
The California Park and Recreation Society's Awards Program recognizes the outstanding achievements of agencies and individuals in the areas of community improvements and programming, facility design and park planning, marketing and communications, and professional and citizen leadership. CPRS District 8 is proud to recognize excellence in park and facility design, community initiatives, recreation programs, and marketing and communications. CPRS is a membership organization with just over 4,000 members representing the 535 local parks and recreation agencies throughout the state.
The mission of CPRS is to advance the profession and its members through education, networking, resources, and advocacy. More information about the society can be found at cprs.org.