Two top students separated by just a few decimal points
ATASCADERO — Atascadero High School (AHS) held its 100th graduation ceremony last Thursday afternoon at Memorial Stadium, honoring its 277 graduates for the class of 2021. The ceremony features music from the school band, performances by the choir, a speech by Moselle Stieler, and, of course, recognition of the class Salutatorian Sean Reagan and Valedictorian Aziz Basil.
Just a few moments after the graduates took their seats; Principal Dan Andrus asked the two top students at AHS to come to the stage to accept their awards and to be acknowledged by their peers. While the two boys ended up on the stage separated by just a few decimal points, they took different paths in the way they got there.
Basil, who finished as the top student at AHS with an overall cumulative grade point average (GPA) of 4.62, moved to the United States from Syria in sixth grade with an unquenchable thirst for knowledge. At first, earning the title of Valedictorian was not something Basil coveted but only because he didn't know that it existed. However, once he found out, he put it at the top of his list of high school accomplishments and worked towards it every day.
advertisement

"Honestly, it was a goal [Valedictorian]," Basil told the Atascadero News. "I came here from Syria in sixth grade, and I didn't really know what Valedictorian meant, so I was just getting into American culture because, in Syria, we didn't have Valedictorians. In high school, I started hearing people say stuff about Valedictorian, and I asked what it meant and was told that it meant that you are ranked number one in your class. From that point on, freshman year, I just tried to take as many classes as I could. I really tried; I would check my Aeries and check to see if my name is still at one, and, you know what, I did it. I kept my name at one all these years."
For one to earn a GPA over four, they must take Advanced Placement (A.P.) or Honors courses but to earn a GPA over 4.6; one must dedicate nearly their entire course load to the school's best and most challenging classes.
In his final two years at AHS, Basil only took two regular classes, one of which was still upper level in Spanish 3. However, even with the significant workload, Basil did not let that stop him from being an athlete as he also played three sports for the Greyhounds in football, soccer, and tennis.
Even with all his preparation and hard work, Basil was unsure he had earned the no. 1 spot and waited eagerly for the announcement.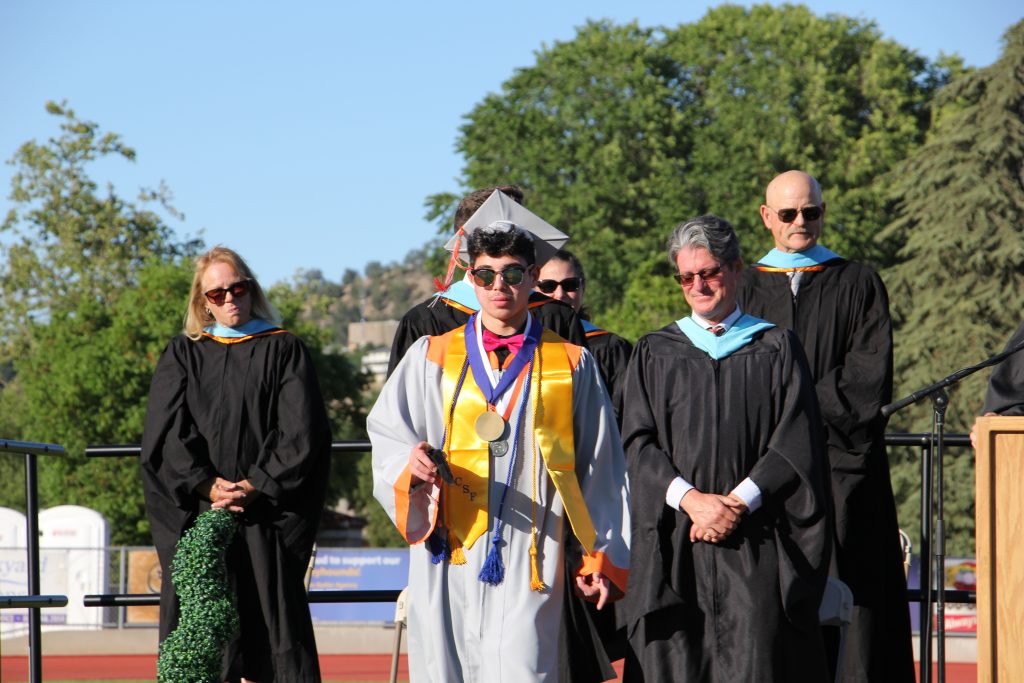 "I was so happy," Basil said on the moment he heard his name. "It was a moment of relief; I finally did it. I got into my college. I got Valedictorian. I really achieved what I wanted as a freshman. I remember in Health Science; actually, we had to write a note to our future self, and in my letter, I said that I hope I end up getting Valedictorian and I hope you got into a super good four-year university."
Basil could have chosen from several good schools, including Harvard, where he was waitlisted, but decided to become a Bruin and will attend the University of California Los Angeles (UCLA) in the fall in pre-med.
While Basil spent much of his high school years working towards and thinking about being the Valedictorian, the man right behind him was not as worried about it.
"I planned out all of my high school classes really early on because I knew what I wanted to do," Reagan told the Atascadero News. "I wasn't really focused on doing that; I just kind of wanted to take the hardest classes that I could."
Reagan finished his four years in orange and grey with an overall GPA of 4.59 and back-loaded his high school education with A.P. courses, including six in his senior year. Unlike many at the top of academia, Reagan has a more relaxed, calm demeanor, which explains his reaction to finding out he earned Salutatorian.
"I really just checked my Aeries one day and saw that I was number two and was like, 'What happened?'" He explained. "Then, I was talking to the guys, and they told me I was in second place now. When I heard that, I was like, that's cool, but it wasn't something that I focused on."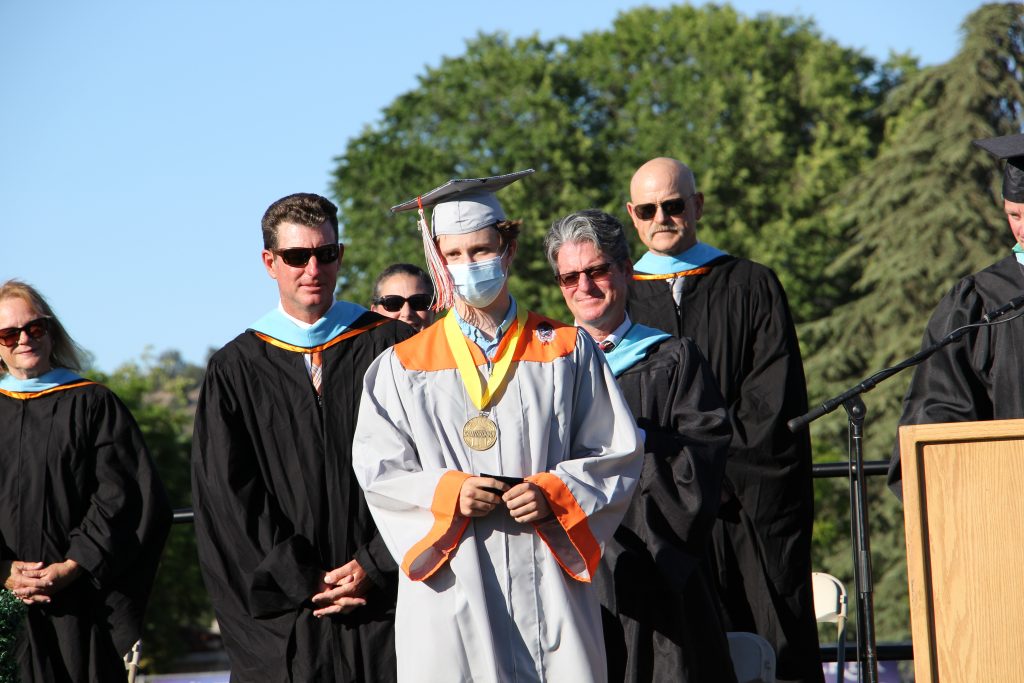 Like Basil, Reagan also participated in athletics and is still playing even though he has officially graduated from high school. Reagan played baseball and is still playing for the basketball team who is currently in the CIF Semifinals and could host a CIF Championship game this Friday.
When it came to choosing a college for Atascadero's Salutatorian, the choice was relatively easy and practical as options were narrowed down to just the state of California.
"I am going to UCSB, and I was deciding between U.C. San Diego and UC Irvine," Reagan said. "I decided to go to UCSB because it was closer, and I didn't want to drive all the way down to those schools when it is basically the same for all of those."
Next year Reagan will change from a Greyhound to a Gaucho and will study statistics and data science.