266 students get diplomas in commencement ceremony at Memorial Stadium
ATASCADERO — On Thursday, June 2, family and friends of the students in Atascadero High School's (AHS) graduating Class of 2022 filled the bleachers at Memorial Stadium.
As school's 101st graduating class, 266 seniors, wearing gray and orange, celebrated their graduation as they entered Memorial Stadium as the Class of 2022 to "Pomp and Circumstance" performed by Greyhound Band. The national anthem was then performed by the Senior Choir. The choir also sang the song "We'll Meet Again" later in the ceremony.
"Dear family and friends, on behalf of the class of 2022, I would like to welcome you to our graduation ceremony," said Senior Class President Haylee Masullo in her welcome speech. "We want to thank you for the role you've played in all of our lives and the love and support you have given us, which has helped us to reach this milestone. We truly appreciate it. And to the class of 2022, we've been through so much together, and I couldn't be more grateful to graduate alongside you all."
advertisement

AHS Valedictorian Kylie Sims and Salutatorian Alexander DeFraga were recognized during the ceremony. Sims graduated with a grade point average (GPA) of 4.59, while DeFraga graduated with a GPA of 4.53.
Following tradition, every year at AHS, the students in the senior class submit graduation speeches. Then one speech is chosen by the senior facility to be read at the graduation ceremony. This year, senior Kianna Lambert's commencement speech was chosen.
In her speech, Lambert compared the Class of 2022's time at high school to a myriad of classic high school movies.
"I try to focus on the range of genres you'd all have; from drama kids, to cheer, to water polo, even those of you who felt they have no group," Lambert said. "Despite the variety of everyone, there's something that unifies us. Our setting of AHS ranging from the bowl to the quad to all over campus. Here, our movies likely share scenes of driving to In-N-Out after a football game while exhausted, or going outside due to the 50th fire alarm in one semester."
"Our setting and characters of our movie sets us apart from the others," Lambert added later in her speech. "We were never going to be 'High School Musical' or 'Mean Girls,' but we created our own movie at AHS. Now, let's cut to the best part of our movie, the ending of our graduation. As the end credits roll, we'll say farewell to peers and teachers."
Principal Dan Andrus returned to the microphone.
"It's been my privilege to spend the last two years here as the principal of the school," he said. "Two years, during which time, over and over again, you have inspired me. This is a class of people who succeed. Among you are athletic champions, robotics champions, model United Nations champions, FFA champions. Experts in band, choir, and drama, and a lot of other things. Among you are people who have worked hard, competed hard, and who have tasted the sweet rewards of success."
More than two-thirds of the graduating class wore green and black chords that signified they also completed college courses while finishing high school with dual enrollment. And other students wore colored tassels to indicate that they had completed CTE pathways, providing them with job-ready skills.
"Some of you have been recognized as AP scholars and scholar-athletes," Andrus said. "All of you have succeeded in doing the work and demonstrating the learning and the growth to earn your diploma, to leave high school, and to go out into life. In short, you've already accomplished extraordinary things here in high school."
He went on to say that the students are supported by the local community, which in total donated $192,000 in local scholarships.
Andrus then certified that the graduating class had met all requirements to graduate, and Superintendent Tom Butler authorized the Class of 2022 to receive their diplomas of graduation. The diplomas were handed out by the Atascadero Unified School District Board of Trustees: Ray Buban, Donn Clickard, Tami Gunther, Corinne Kuhnle, Mary Kay Mills, George Shoemaker, and Terri Switzer.
"Mr. Andrus, Mr. Butler, and members of the Board of Trustees, on behalf of the Class of 2022, I accept the diplomas of graduation. Seniors, please rise, move your tassels from the right to the left," stated Masullo on her return to the stage.
The graduation ceremony concluded with cheers and fanfare from both the graduates on the field and the thousands and family and friends in attendance.
Hats off to Atascadero High School's graduating Class of 2022.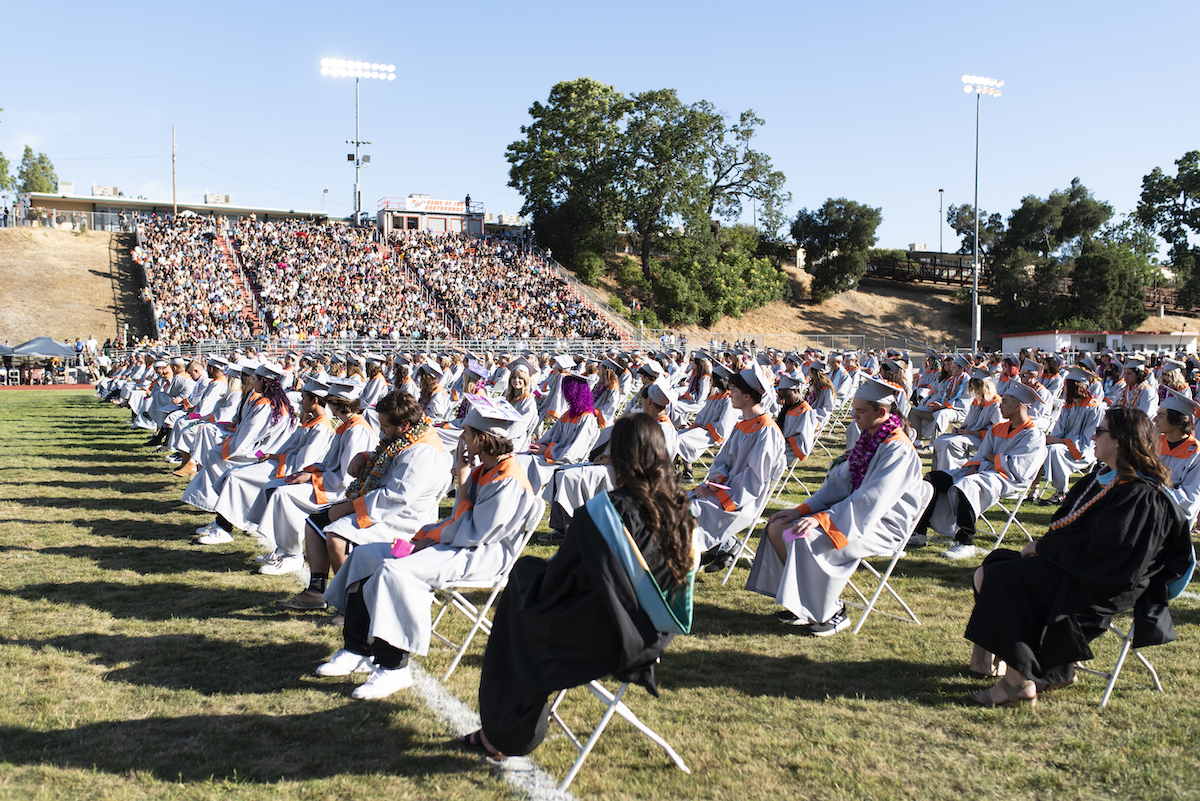 Photos by Kristin Raynor Evans/ATN