The team won the spot at the VEX IQ Robotics tournament in La Verne, CA, in February
ATASCADERO —The Atascadero Middle School Robotics Team competed in two recent state-wide robotics tournaments. On Saturday, Feb. 18, two of the middle school's teams attended the VEX IQ Robotics tournament in La Verne, California. Out of those two teams, one of them won a spot in the VEX IQ State Finals, which took place on Saturday, March 11, in Chatsworth, near Los Angeles. This year, the robotics class consists of 29 students and 14 robots.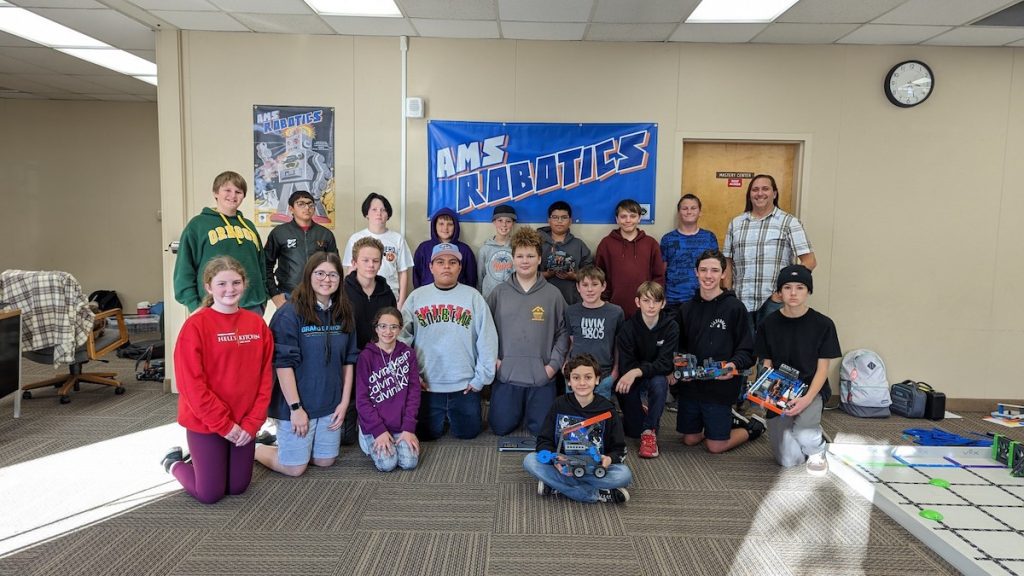 Prior to this year, under the direction of the middle school's robotics teacher/mentor Anthoney Hopper, the team had only competed in local tournaments. However, last year, Hopper's students asked him if he would make them a more competitive team with the goal of competing at a higher level. Hopper met his students' request and then provided his team with a free robotics class over the summer to prepare them for the 2022-23 school year.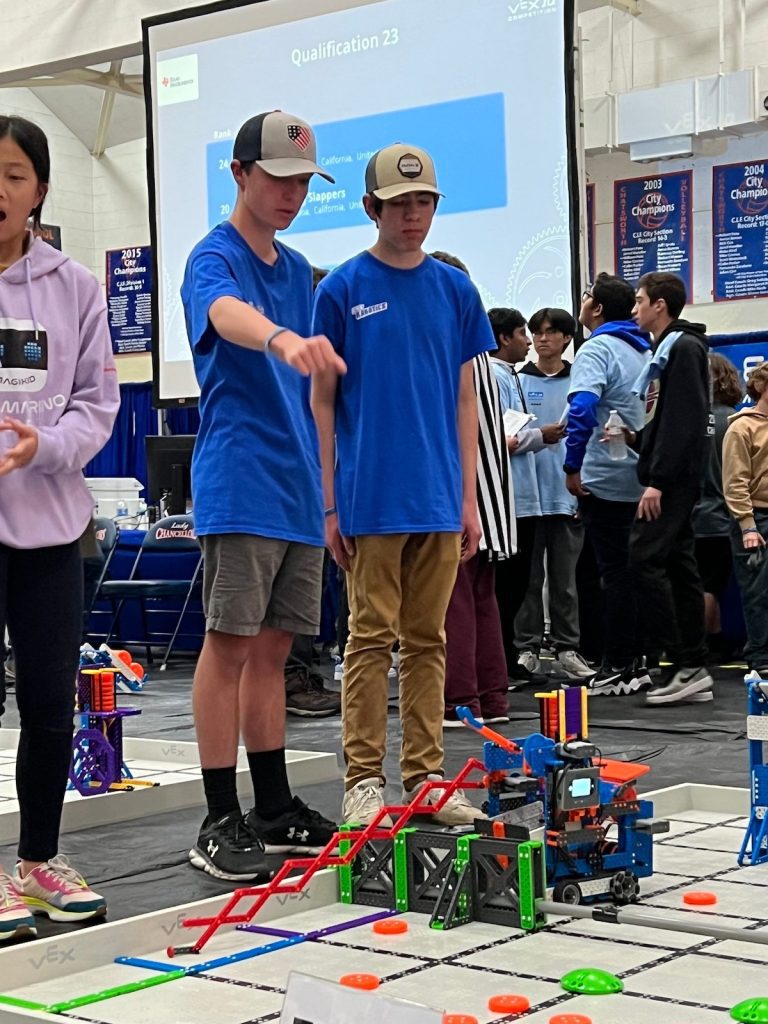 "My teams, they kind of worked ahead of schedule that way," Hopper said. "Come season, I made a more competitive team. If you didn't want to be a competitive team, you didn't have to be. If you just wanted to build to build and compete locally, that was fine."
advertisement

Two of the teams competed in the VEX IQ Robotics tournament in La Verne on Feb. 18: Team 93422A was Gavin Brown and Anthony Velazquez-Weems as designers, builders, and drivers with programmer Brooke Baldwin; and Team 93422G was Ben Barraza and Dane Mallory as designers, builders, and drivers with programmer Kiera Reardon.
The two teams competed on a 6-foot by 8-foot playing field, and the theme was Slap Shot, where the team needed to have their robot get plastic hockey pucks down from obstacles. VEX IQ robots are made of plastic and use plastic pieces and snap connectors to build them into whatever the students need.
"There's a lot of limits, you can only make your robot 11 inches wide by 15 inches tall by 19 inches long, so you have to be within all these limits," Hopper explained. "So it is pretty neat. They really make it challenging, and it keeps the kids thinking."
Two days later, on Monday, Feb. 20, Hopper was notified that team 93422G would be going to State. Hopper passed the good news onto the whole team via their team chat since it was President's Day and school was not in session.
"They lost it. They went crazy," he said. "I can honestly say that I can share their excitement because this is, for me, my seventh year doing this."
The atmospheric river and resulting storms over the weekend of March 11 almost got in the way of the team competing at State, but at the last minute, when the rain let up, the students, their parents, and Hopper rallied and made it to the competition in time.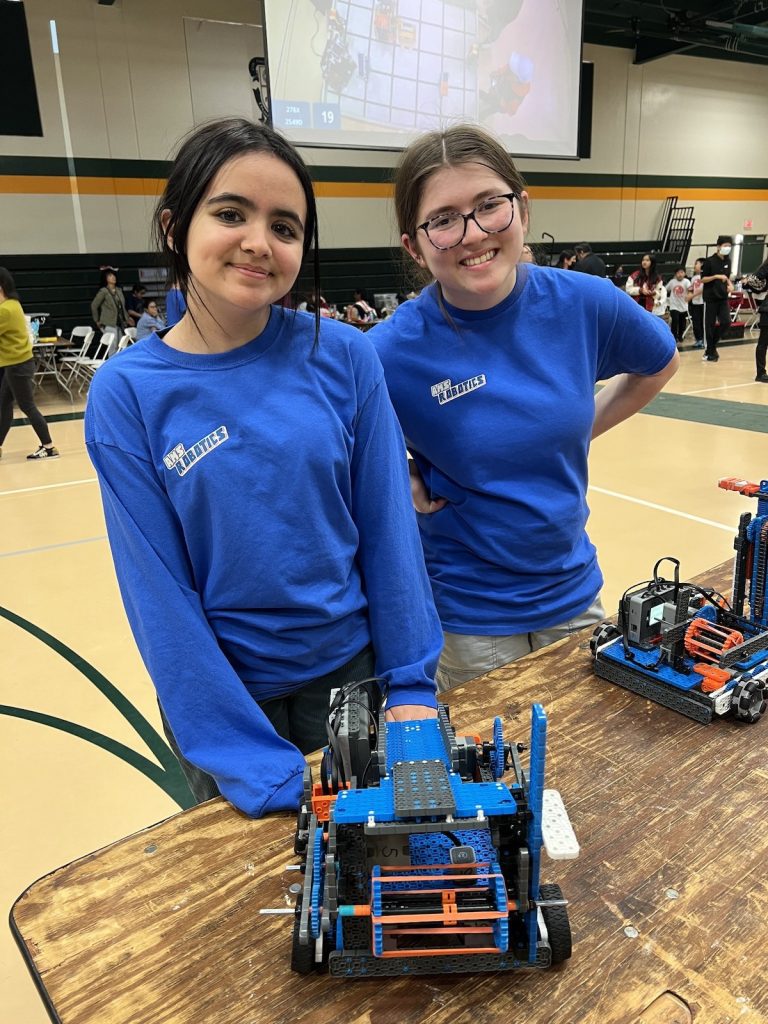 "They pulled together, and that evening they said, 'Mr. Hopper,' we want to do it. Which means we have to leave at 3:45 [a.m.]," Hopper said. "That decision wasn't made until sometime Friday evening. So it was a little chaotic and we got it. We pulled through."
The State team 93422G consisted of Ben, Dane, and Kiera continued their roles on the team, joined by Brooke and apprentice programmer CJ Black. The team finished in the middle of the pack of the 42 registered teams at the State Finals, and Hopper says it was a learning experience for everyone involved.
"Each team got to do eight rounds or eight qualification matches, and it's an all-day event. We checked in at 8 a.m., and the event started at 9:30," Hopper explained.
He went on to say that every round at State, you have a different alliance team you're working with. The teams work together with their robots and even get to practice with them before competing.
"That first round was funny because [of] our whole front right drive train, meaning the whole gear setup that holds our two right wheels together, on the right side," Hopper said. "The bell rang to start the tournament, we rolled a few inches, and the whole drive train just fell off on the right-hand side, and our robot tipped sideways."
Hopper also said that he and the rest of the team that will remain for the 2023-24 school year can't wait to see how their team does next year.
Currently, the Middle School Robotics Team is in the middle of coming up with fundraising ideas for next year's season, as the school district only pays for two competitions a year. To find out how you can help, contact Hopper via his phone number, (714) 501-2711.