Kindergarten through second-grade elementary students back in school
ATASCADERO — For the first time in the 2020-2021 school year, the classrooms and halls of Atascadero's public elementary schools were filled with the previously familiar echoing of children's laughter and occasional weeping. Parents that signed up for in-person education, under the hybrid model, in the Atascadero School District dropped their children off this morning, Nov. 2.
On July 29, San Luis Obispo County Health Officer Dr. Penny Borenstein alerted local districts that they could begin applying for the elementary school waiver that allows for in-person instruction to be provided to students in fifth grade and lower.
Waivers were issued based on the most current scientific data and a review of local epidemiological data, in consultation with the California Department of Public Health, along with other public health considerations. During a Sept. 15 School Board meeting, the Atascadero Unified School District announced it would be applying for the elementary waiver.
The return looked a little different for families depending on the school their child currently attends, with some returning for in-person education Monday morning, Nov. 2, and others opting for an afternoon return. The decision on mornings or afternoons was left up to the individual schools that factored in several different variables.
advertisement

"It [scheduling] was based on a couple of different factors. One is the results of the survey. I wanted to displace as few families' schedules as possible," San Gabriel Elementary School Principal Shauna Ames said. "We still have to change some, but the majority of our distance-learning students were morning and wanted to stay distance learning. The second reason is cleaning. We can use aids and other classified staff to help our custodians clean, but if you have it in the afternoon, everyone goes home, and we can really clean…The third reason was the temperature. We are going to be keeping doors and windows open, and we don't want our kids to be freezing since it is pretty cold in the mornings."
AUSD surveyed the parents of elementary students in recent weeks to find out which families wanted to return to in-person education and which desired to continue with distance learning. In the Oct. 20, School Board meeting, Superintendent Tom Butler revealed that 52% of parents chose to continue distance learning while 48% opted to return.
As far as COVID-19 protocols, the Atascadero District is putting the burden of preliminary testing on the parents, trusting them to check their children for symptoms before coming to school. The District sent home a checklist for each parent to run through with their child before coming to the campus.
The list, which has seven bulleted items, contains preliminary measures such as temperature checks, uncontrolled coughing or shortness of breath, sore throat, muscle fatigue, loss of taste or smell, diarrhea, vomiting, abdominal pain, or severe headache especially linked with a fever.
Students are also required to sanitize their hands each time they enter or exit the classroom.
As the community moves further into the flu season, schools also have to be prepared to deal with students dealing with symptoms while at school, which the District has done by preparing two medical staging areas on site. One is reserved for children experiencing potential COVID symptoms, while the other is dedicated to standard issues such as scrapes and medication.
"We used to have a health room, but now we have what is known as the roadrunner recovery room," Santa Rosa Academic Academy Nurse Dawn Lorenzen said. "Per county guidelines and county health guidelines, we would put students in there that have certain symptoms while we continue to evaluate and contact the family, public health, and our registered nurses."
Should a student start experiencing symptoms, they would be removed from class, and the diagnosis would begin. Nurses will see if the student in question has any documented conditions contributing to the situation, such as allergies or asthma, and continue the evaluation.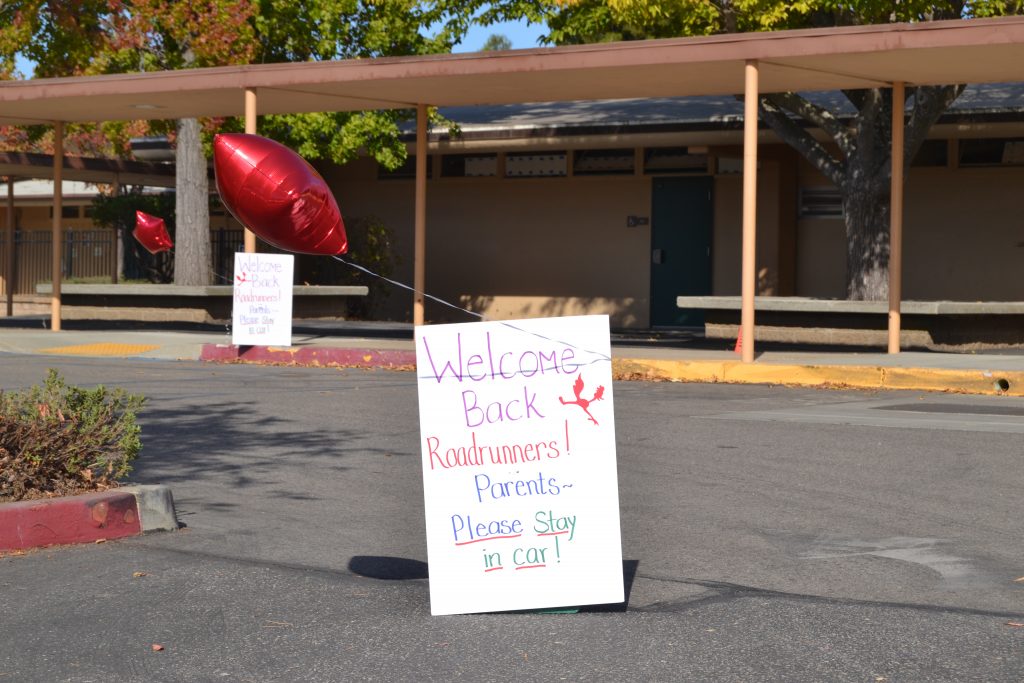 "If a student develops symptoms at school, not just COVID but anything, we have a policy where the teacher will call the nurse, we will triage the person near the classroom at first," Lorenzen said. "To decide if there might be factors that would allow a student to have certain symptoms and stay at school such as known allergies and having documentation of that or perhaps asthma, that is an ongoing condition that causes coughing, for example, that might not be related to an illness."
This week only students from transitional kindergarten through second-grade returned to school. On Nov. 16, students in grades 3-5 will join them on campus, with secondary school students set to return at the start of the new year on Jan. 5, 2021.