Over $4,000 available for local performers
SAN LUIS OBISPO COUNTY — Actor's Edge Studio in San Luis Obispo announced the launch of its second annual Central Coast Performing Arts Scholarships, offering over $4,000 in cash and tuition scholarships to performers of all ages and skill levels.
The scholarships are available to all local performers who demonstrate a passion or skill for the performing arts. The majority of the scholarships are cash scholarships designed to support the independent creative pursuits of the recipients, inside or outside of Actor's Edge.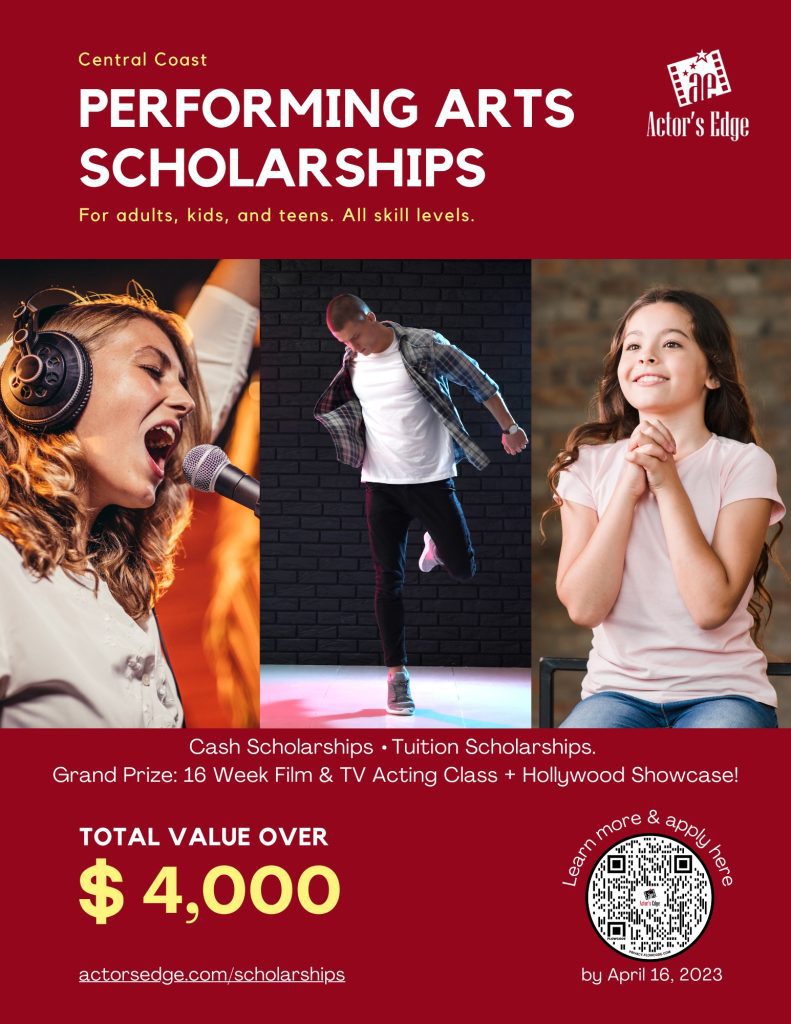 One grand prize winner will receive a full tuition scholarship to the Actor's Edge signature film and television acting training in San Luis Obispo as well as the opportunity to perform for Los Angeles-based film and TV talent agents at our upcoming Hollywood Showcase.
advertisement

The scholarship application process is fast and easy at actorsedge.com/scholarships. Application deadline is April 16.
"We are thrilled to be offering these scholarships to local performers," said Aaron Metchik, the founder and head instructor at Actor's Edge. "We know there are such incredibly talented and passionate performers here in the Central Coast. We also know that sometimes finding the funds to support creative passions isn't easy. These scholarships are our small way of helping people do that."
Actor's Edge Studio offers film and TV acting training to performers of all ages and skill levels in San Luis Obispo, plus the option to perform for talent agents at industry showcases. Actor's Edge central coast students have booked series regular roles on Netflix, HBO, Disney+, Hulu, and more.
One Actor's Edge youth student, Kenlee Townsend, plays a series regular lead on a Hulu series "Saint X," premiering April 26. Adult student Hudson Garland recently booked a speaking role in one of the biggest studio films of 2024 with a producer he met at our most recent Actor's Edge Showcase.
"If anyone is interested in acting or any other performing arts, we look forward to the opportunity to support you, and we encourage you to apply for these cash or tuition scholarships and hope you'll apply. It's fast and easy at actorsedge.com/scholarships," Metchik said.