Scott Killen and Holly Payne recognized with teaching awards
ATASCADERO — Capping the end of the school year, in May, the Atascadero District Teachers Association (ADTA) awarded teacher Scott Killen the WHO (We Honor Our Own) award. The Atascadero Unified School District (AUSD) honored teacher Holly Payne as Teacher of the Year. Both of these teachers work at Paloma Creek High, an alternative education campus.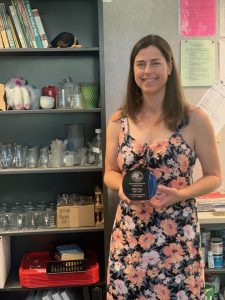 Holly Payne is the life science teacher at Paloma Creek High — teaching science by relating it to practical life applications for her students and providing hands-on experiences. Her students have raised chicks, built vegetable gardens, installed irrigation, built a chicken coop, built a garden shed, repaired drywall, and learned to use various power and hand tools. 
Payne's goal is to expose students to many career opportunities involving science and show students the relationship between life and life science.
advertisement

She said, "I suppose I wanted to be the teacher I never had – one who would understand the difficulties life brought to learning – and learning on my own at times."
Payne started teaching in 1998. After taking time off to raise her kids, she returned and has been teaching full-time for the past ten years.
Paloma Creek High Principal Dr. Libby Madding explains her joy at having Holly Payne as a teacher, "Ms. Payne encompasses the true essence of a teacher. Whether she is providing learning opportunities in science through the hatching of chicks or the construction of a shed, Ms. Payne is inspiring students to expand their thinking about what learning looks like. Her students thrive because she makes the learning applicable, accessible, and responsive. Ms. Payne's instructional style epitomizes the practice of creating a student-centered classroom environment. She is very deserving of the AUSD Teacher of the Year Award. "
The AUSD Superintendent Tom Butler has high praise for the 2022 Teacher of the Year, "Myself, and AUSD, appreciate the rare ability that Holly Payne has to balance passion for her students with high academic standards. She has the heart and mind for this incredible recognition."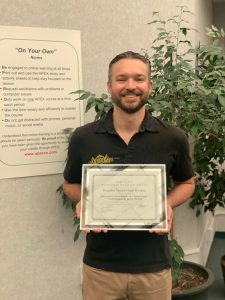 Scott Killen has been teaching for over 15 years after graduating from Notre Dame. He is currently at Paloma Creek High Alternative Education, where he teaches English and supervises the Lighthouse Coffee program, which teaches entrepreneurship, teamwork, and business.
He began his alternative education experience at Del Rio High School in 2014 when the AUSD alternative education program campus was on Del Rio Road. In 2017 the school was moved to its current campus at 10801 El Camino Real in South Atascadero.
When asked about his favorite moment for the school year, Scott said, "This past year, my favorite moment has been watching students graduate in-person rather than online."
Dr. Madding has the greatest admiration for Mr. Killen. According to her, "Mr. Killen not only drives learning in his classroom — he inspires thinking. Through his lessons, students explore their understandings of our world via the lens of literature and writing. Mr. Killen is appropriately celebrated with his WHO Award, as he is able to reach young minds by illustrating his own adoration of the study of English!"
Superintendent Butler approved of this award as well.
He said of Mr. Killen, "I have so much admiration for the respect and integrity shown by Scott Killen, who helped lead and guide the professional negotiations between AUSD and the Atascadero District Teachers Association. I also know that this same attitude is taught and modeled to his students at Paloma Creek High. This award is well deserved."
According to Dr. Madding, Paloma Creek High Alternative Education graduates 15 to 20 percent of all high school graduates in AUSD. This is significant as many of these students were not suited for effective learning in the education program at Atascadero High School and may not have been able to graduate there.
Paloma Creek High has been recognized by the California Continuing Education Association (CCEA) as not just a Model School but as an Exemplary Program. Paloma Creek High generally has 60 to 80 students enrolled, mostly Juniors and Seniors.