Students also donated 23 pints of blood in a recent blood drive
TEMPLETON — The Season of Giving is becoming more than just a season for Templeton High School students. After donating hair in October for children with hair loss, to last Thursday, Nov. 3, when they donated over 1,000 socks to the Community Action Partnership of San Luis Obispo (CAPSLO).
Organizer of the sock drive, Kahlea Ramos, told the Atascadero News that the students were looking for another way to give back to the community. Kahlea, whose father, Lawren Ramos, works with CAPSLO, knew that some of the most needed items in homeless centers are socks, underwear, and toiletries.
For their first sock drive, the Templeton High students collected 1,296 socks. Considering there were only 76 socks collected on the first day, Kahlea was surprised when by the end of the week, her classmates managed to collected over their goal of 1,000 pairs of socks.
advertisement

"It's impressive for our school, considering it's the first drive," said Kahlea of her classmates' efforts.
Socks were collected during the students' second-period class, which led to some friendly competition between classes. But, Amy Fraser's AP Calculus class came out on top, collecting 326 pairs of socks.
"I am blessed with delightful students who are generous and giving and care about others," said Fraser of her students efforts.
Fraser's student in the AP calculus class, Jordan Esquibel, explained a rivalry competition that started between her class and the AP European History class who did end up collecting 296 pairs of socks.
Esquibel added, "The competition definitely got the sock drive going."
Additionally, she explained why the class was inspired to collect so many socks for the drive, "Talking amongst ourselves and reaching the hearts of each other and other students … it just kind of snowballed."
The collected socks will be going to CAPSLO to be used in their outreach programs.
CAPSLO Community Services Program Director Lawren Ramos, said they are "Very, very grateful for this. You'll never know what a sock will do."
Lawren further explains that items like socks are often an olive branch used to build trust when reaching out to people and to offer CAPSLO's services. The nonprofit offers a variety of programs and services to help individuals and families achieve self-sufficiency and economic stability.
"It's actually an honor to receive the socks and be able to take them and serve people in our community that are less fortunate than all of us," said Lawren.
CAPSLO currently has warming centers open in SLO County through the colder weather. Lawren explains the nonprofit is always in need of volunteers and donations of various kinds.
Activities Director and Link Crew Advisor Matt Macfalene said of his students, "I am proud of the students and their ability to rally the rest of the campus to help people they will probably never meet."
Following the holiday season, the Templeton High students plan to hold a canned food drive to replenish supplies in the food banks.
The students continued their efforts to help the community last week, when on Friday, Nov. 4 they collected 23 pints of blood. The blood drive was in coordination with Vitalant of San Luis Obispo. Students and staff donated their time and blood to help alleviate the county's and country's current blood shortage.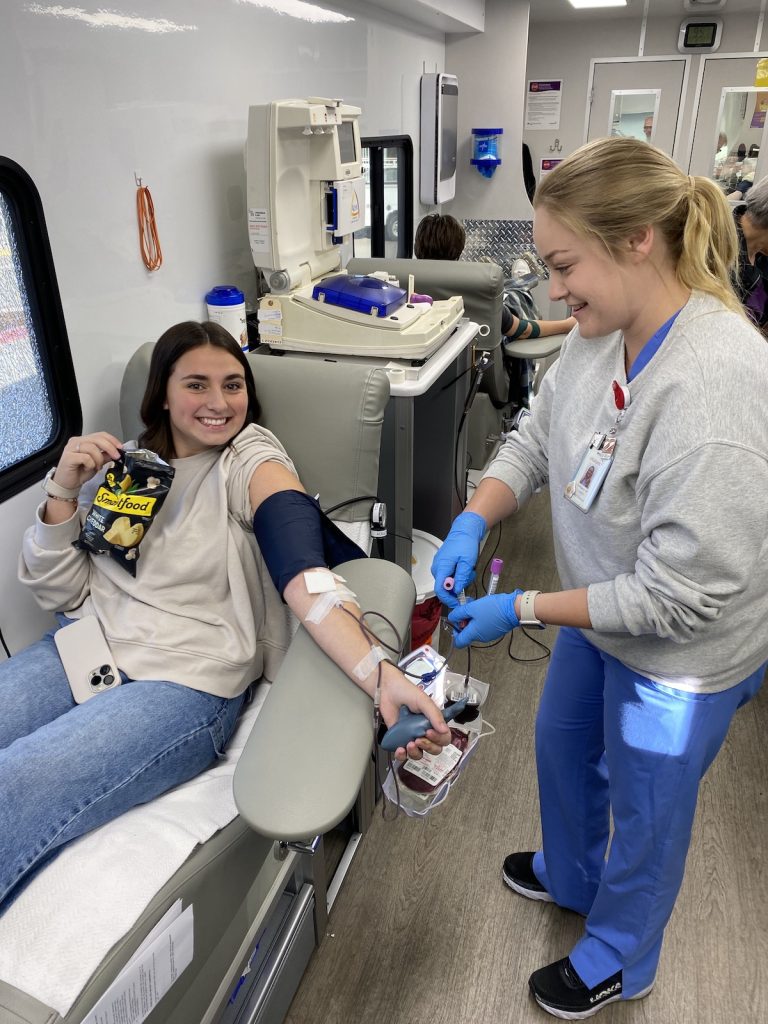 You can find more information on CAPSLO here capslo.org
Feature Image Caption: From left: Calculus teacher Amy Fraser, Evann Moore, Jordan Esquibel, Lawren Ramos with CAPSLO, Ryon Hodgson, Kahlea Ramos, Andi Shorrock, and Kaitlynn Kaseltionis. Photo by Camille DeVaul