Over 1,000 artisan bowls were available to choose from
ATASCADERO — On Thursday, April 28, from 11:30 a.m. to 1:30 p.m., community members headed out to Atascadero Bible Church to participate in the 11th Annual Empty Bowls luncheon, which benefits the El Camino Homeless Organization (ECHO) and all they do for the North County.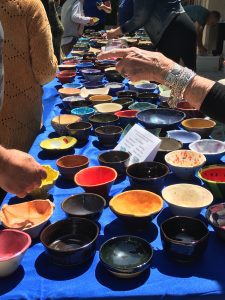 "This is great," said President and CEO of ECHO Wendy Lewis. "Empty Bowls 2022 has been amazing. The community supports ECHO, and today they really came out to support."
This year's Empty Bowls sold out the morning of the event, bringing community members out from all over the North County. Participants picked up their meal that served four people, including their choice of soup, bread, dessert, and two artisan bowls, for $75.
advertisement

"We're just so excited," Lewis added. "We can't thank the artist who made the bowls, the delicious soup restaurants that were donated, and the deserts. It's just a really special day."
There were over 1,000 beautiful artisan bowls for people to choose from provided by local artists, including Ariane Leiter, Barbara Schubert, Betsy Carter, David Pope, Heather Cruce, and Pamela Cavaliere. Students from Morro Bay, Atascadero, and Paso Robles high schools, as well as Los Osos Middle School and Cuesta College, also participated in making the bowls.
The meals, including seven specialty soups, were provided by: Street Side Ale House, Odyssey World Café, McPhee's Grill, Caliwala, Wild Fields, Red Scooter Deli, Pacific Harvest Catering, Rosine's Family Restaurant, Novo, Dans Grub Shack, Giovanni's Fish Market, Vic's Cafe, Pig Iron, Granite Ridge, Brian's Bread, and Back Porch Bakery.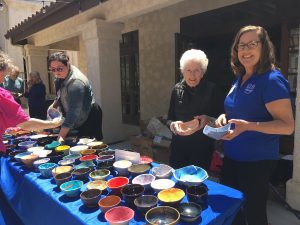 "We have kind of a back of the house going on like a restaurant would. The restaurants locally donated different flavors of soup, and we have volunteers packing it up with desserts and bread," continued Lewis. "People have a choice when they come out. We have a system down and celebrity servers out here making that possible too."
Celebrity servers included important members of the community: Mayor Heather Moreno, Supervisor Bruce Gibson, Don Idler, Chad Nicholson, Robert Masterson, Debbie Arnold, Barbie Butz, Casey Bryson, and Clint Weirick.
"Because of our sponsors and people who purchased tickets, we are exceeding our [fundraiser] goal," Lewis said.
This year's founding sponsor was Howard Products, with Specialty Constructions Inc as the presenting sponsor. Other sponsors included State Farm-Courtney Morrow, American Riviera Bank, Gerber's Automotive, Idler's Home, Solarponics, Steve Schmidt Topsoil, Atascadero 76, The Sandwich Truck, Bank of America, Tenet Health, Whitmer-Don & Elaine, Andros Engineering Corp, CenCal Health, Dignity Health-French Hospital, General Store Paso Robles, County of San Luis Obispo, Pacific Premier Bank, BHE Renewables, Mechanics Bank, North County Recycling, KSBY, Dimes Media, Charles Bourbeau, and Monica Financial and Tax.
"Our hearts are so full, and the fact that that funding will help us ultimately work with people that are unhoused and get them back into housing," said Lewis. "ECHO is all about providing resources and support when someone really needs it, and this is what the funds will be used for, especially with the two locations now. We have Paso Robles and Atascadero. The community coming out and doing this is needed now more than ever."
The over $83,000 raised at the event exceeds previous events by $30,000 and will be utilized to help unhoused residents all over the North County.
"This fundraiser was for North County, so it'll be utilized in both places [Paso and Atascadero], and we had people from everywhere come out to help today," added Lewis.
Visit www.echoshelter.org to volunteer, donate, get involved, or if you need help yourself.