Sewing professionals shift their focus to cover the gaps in PPE
As COVID-19 hit the Central Coast, frontline workers at hospitals were going face-to-face with the novel coronavirus and quickly called out to health officials about the need for personal protective equipment (PPE).
The owner of Birch Fabrics, Cynthia Mann, saw a need for the masks locally, and immediately put her employees to work donating their time and fabric to the cause.
"My store donated the fabric and the sewing groups made the masks and donated them," Mann said. "Ellie Kelley delivered a bunch to Twin Cities."
Mann was the lead supplier in getting the burgeoning industry up, and Kelley took it from there. Also joining the local ranks, Scissor Clothing owner Kate White fulfilled orders for local healthcare needs.
advertisement

"I jumped in on it and did some research with a friend's husband who is a molecular biologist," Kelley said. "We researched what kind of fabric to use and how to make the masks."
The knee-jerk reaction in defense against the spread of COVID-19 made personal protective equipment a family name, and people went DIY while waiting for orders for masks to ship. Everything from scarves to plastic cylinders were placed on heads. Kelley studied tutorials to make sure she had the right fit.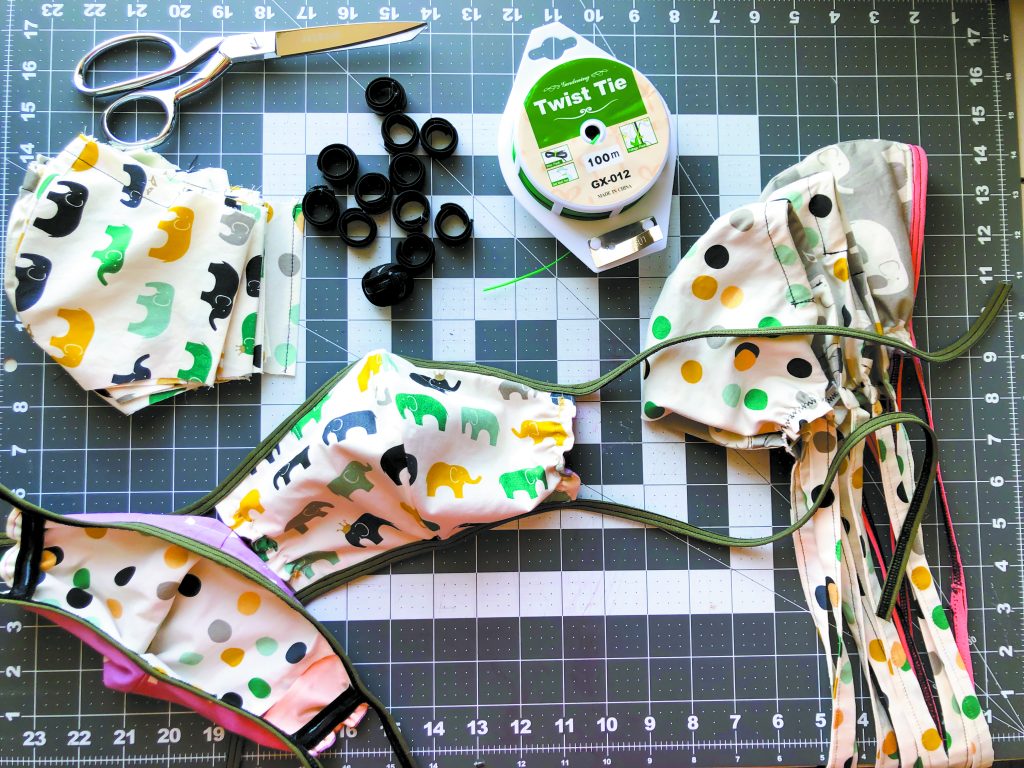 "If there is any gapping around the nose or the sides, it will not be as effective," Kelley said.
Local health officials encouraged the public not to purchase medical-grade N-95 masks, as those were needed by healthcare workers and in short supply.
Local sewing experts filled the gap with expertise and industry to supply the general public with PPE as they battle community spread of COVID-19. The locally-made masks are not medical grade but provide necessary protection for patients or other essential workers — like grocery store or postal service workers — where physical distancing becomes a challenge.
For Mann and Kelley, the project began in the last week of March and involved a group of crafters helping from Paso Robles to Nipomo.
Kelley, owner of The Breast Vest and mother of two small children, tasked herself with organizing the sewers and the effort to meet the local demand.
"In the beginning, I just had my friends," Kelley said. "I held some Zoom calls and made a PDF template. One particular family put out 60 masks, and some did five. But you add it all up, and it is really helpful."
Local demand for PPE at hospitals has reportedly waned, as SLO County continues to travel a mellow pace in terms of new cases, with about 80 percent of confirmed cases deemed fully recovered. Supply chains were reported to connect frontline workers with medical-grade PPE, and the local support from groups like Kelley's filling gaps for patients and others.
"We made about 225 masks," Kelley said. "They are going directly to the nurses. I have a nurse who takes them to Marian and one who takes them to Twin Cities."
While demand for PPE at the local level is met, the nation faces pocket surges, and local suppliers can donate across state lines.
"Eighty percent of everything we're producing will be kept here locally for the hospitals and supporting industries that relate to the care of these patients," Mann said. "The Assistant Director at Twin Cities has reached out to us with a request for masks. It's not just doctors and nurses on the front line that we're helping support. We're making masks for respiratory therapists, homebirth midwives, physical therapists, housekeepers, phlebotomists, cooks, administration, and more."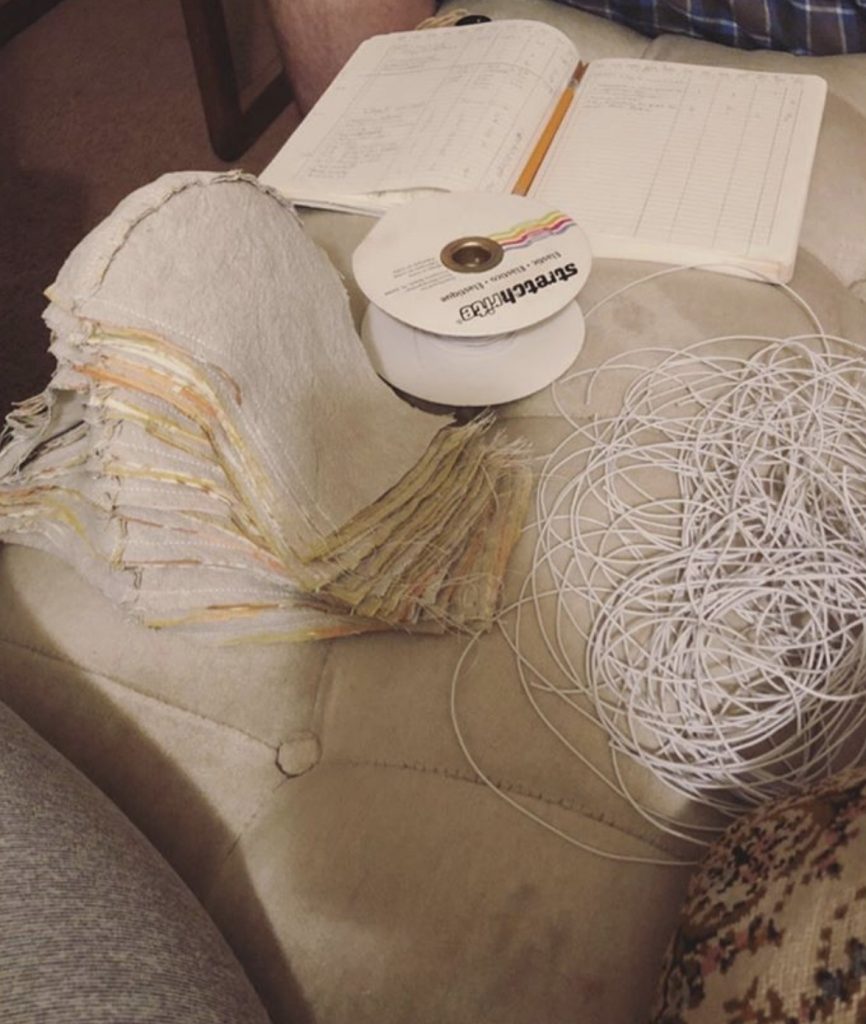 The demand for PPE came on strong over the past few weeks, and Kate White of Scissors Clothing began making masks for local healthcare workers before broadening her scope to include personal orders.
"My mom saw something on The View that said if you are a sewer that you should just start sewing masks." White said. "I reached out to a nurse friend of mine, and she got back to me that they were running low."
Like many retail stores, Scissors Clothing closed due to shelter-at-home orders by the County. White took that time to begin making masks for those on the frontlines.
"These are not medical grade masks," White said. "They are just personal-use masks."
Both Kelley and White began making masks to meet the need in hotspots around the healthcare community, but with national recommendations to use masks whenever venturing into public, demand has grown.
"About a week ago, when the CDC recommended masks, I started getting requests," White said. "At first, it was just for healthcare, but it turned into an opportunity to reopen our store."
White posted her local supply for PPE masks to her Instagram account, and demand skyrocketed. Her approach was to make a mask donation for every order.
"Pay what you want, but any mask order will get a donation match," White said. "In about three days, I had 400 orders. Because of this, I've been able to hire my employee back full time. She is at the store cutting, and I'm at home sewing."
White and Kelley provide unique styles. Kelley's masks wrap around the back of the head with ties, and White's attaches with elastic that wraps around the ears.
The two represent an enormous effort happening all over the country as the nation works to "flatten the curve."
"A lot of people are sewing masks," White said. "It is like a wartime effort. We are trying to remain community-oriented. There are so many hands on deck."
Kelley has also been able to fill the demand for healthcare and essential workers and turn attention to demand from the general public.
"With everyone needing masks now, I'll spend half my time making free masks and will begin to sell masks on my website," Kelley said.
Both Kelley and White are looking forward to getting back to life as "normal" as possible. Meanwhile, Scissor Clothing boutique will remain a part of a "warlike" effort to create protective gear.
"I have a waitlist that is pretty lengthy," White said, "but I'm confident we can get through it quickly."
To order from either Kelley or White, visit Kelley's website at elliekelley.com or call White at (518) 339-0394.