By Sheri Harrison
for the Atascadero News Magazine
Atascadero's peaceful Farmer's Market is a very different environment than the Triangle of Death in Iraq and the battlefields of Kandahar in Afghanistan. After witnessing so much death and destruction and sacrificing much, veterans like hometown hero Frank Wall are finding a new direction and solace from their war experiences by becoming farmers.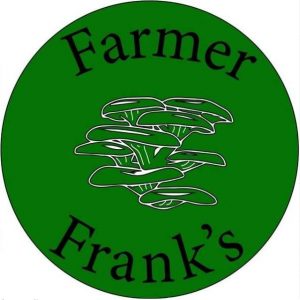 Wall, the creator of Farmer Frank's Mushrooms, has been working with the Homegrown by Heroes program and the Farmer Veteran Coalition to become Atascadero's latest gourmet mushroom farmer. He can be found at Farmer's Market in Sunken Gardens every Wednesday selling his exotic and brightly colored mushrooms: Pink, Golden, Blue Oysters, Lion's Manes, and Shitakes.
Wall moved to Atascadero as an adolescent and graduated from Atascadero High School in 2002, became an Army Infantryman at 18, and was initially stationed in Germany after training. A rapid deployment to the war in Iraq came soon enough, and on those battlefields, Frank earned the Combat Infantry Badge, a Purple Heart after taking mortar round in Iraq, and the Bronze Star for service in Afghanistan during his nearly 13 years of service, which included three tours into combat.
advertisement

Because of the injuries he received in the war, Wall had to leave the Army with a medical retirement after training other infantrymen at Ft. Hood, Texas, and Fort Lewis, Washington; he then returned to the Central Coast.
Upon retirement, he was looking to provide stability for his two children as a single dad and for a new professional direction. Wall used his vast military experience to accept a job at Fort Hunter Liggett as a civilian, thinking that his battles were behind him. But that was not to be.
Wall was about to go to war again, but not against a foreign enemy this time. This time his battle would be against cancer. However, the unexpected benefit of undergoing chemotherapy was that Wall noticed through his research that one of the medicines he was receiving was made from a fungus. That began a journey that has landed him in his new role at Farmer Frank.
"I started to investigate and discovered that mushrooms have all kinds of health benefits. I started growing them as a hobby, and love to eat them, of course. Oyster mushrooms have been shown to prevent tumors, and new studies are coming out all the time that show the health benefits of eating mushrooms." Wall shared.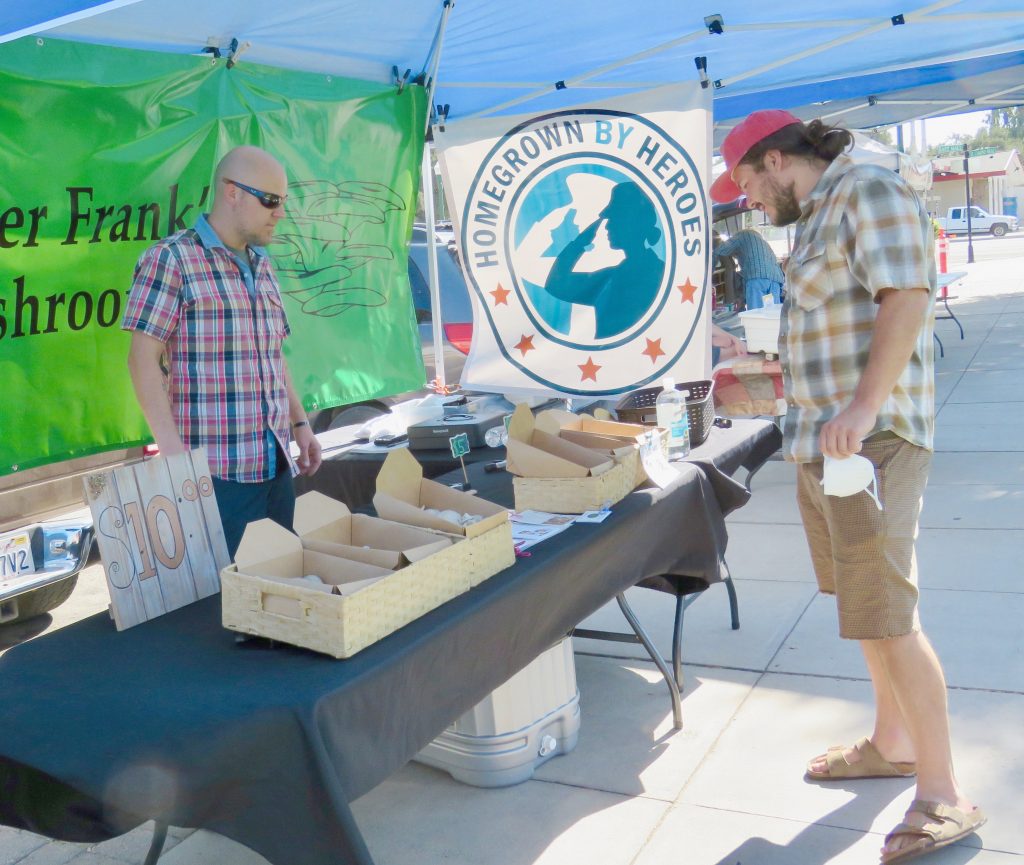 After reading a few books and watching some videos, Wall began farming mushrooms on a scale that allowed him to move beyond hobby farming to becoming a licensed commercial farmer and selling his products at local Farmer's Markets and supplying restaurants. Wall explained, "When I started growing, I converted an old fridge into a fruiting chamber. I would check on them several times a day, waiting for the pins to form. This led to my excitement one morning when I opened the fridge to see a beautiful Blue Oyster mushroom growing. At that moment, I knew what I would be doing for years to come."
Wall ditched the old fridge, built a grow tenet, and has since expanded his operation to grow enough to sell at the local Farmer's Markets and supply local restaurants and wineries. Joining the Farmer Veteran Coalition and the Homegrown by Heroes program has given him opportunities and shared expertise to keep growing his business. Visitors to his stall at the Farmer's Market can see his proudly displayed Homegrown by Heroes banner, identifying him as a veteran farmer.
"It's satisfying to hear how much people are enjoying the mushrooms I grow; they are so appreciative," Wall said.
Wall is excited to find varieties of mushrooms to grow and new recipes to share with his loyal customers, like Pan-Fried Oyster Mushrooms, Oyster Mushroom Soup, and Oyster Mushroom Pasta. He hands out those recipe cards to his customers. His mushrooms are in high demand, so he is looking to expand his operation even further.
Coming from a man who has faced down this country's enemies only to battle with his own injuries and cancer, Farmer Frank will likely not only find peace growing his mushrooms, but he will demonstrate the courage to make his fledgling business a big success.
For more information on Farmer Frank Mushrooms, you can visit him online at instagram.com/farmerfranksmushrooms.