ATASCADERO — For Atascadero residents, it is impossible not to notice the construction that has taken over the downtown area as the city slowly works its way through its metamorphosis amid the pandemic. The Atascadero News reached out to the Z Villages Development Company to find out what we know is coming and when we can start to utilize the new buildings that are already part of the Atascadero skyline.
Under construction across the street from the Sunken Gardens, the La Plaza Project broke ground early in 2019 and is now taking shape as the bricks have started being laid.
The name La Plaza is inspired by the first set of buildings that the town's founder, E.G. Lewis, erected in the early 1900s that served as one of California's first enclosed shopping malls. In 1917, when the original La Plaza building was finished, it not only serviced the people of Atascadero by providing a vibrant hub of retail but also included residential living on the upper floors, which is something Z Villages is hoping to recreate.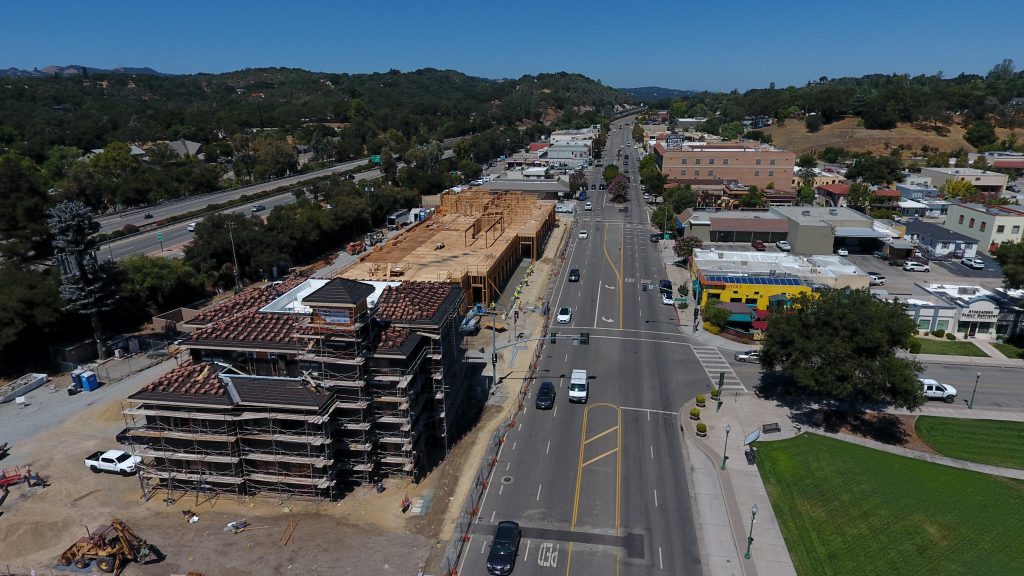 "We have two buildings. Building B and Building A," Z Villages CEO Max Zappas said. "Building B is the smaller building next to the tunnel that goes under the freeway. You can see brick going up on that building already, a lot of the roofing materials are up there. We are just about to begin drywall."
advertisement

Building B also contains the clock tower that will have two faces. One will face oncoming traffic heading North on El Camino Real while the other will sit on the adjacent side facing the Sunken Gardens and City Hall. The clock faces are in Atascadero and could be up as early as the end of the year. Building B is expected to be complete by March of 2021.
The top of Building B will contain four high-end condos all over 2,000 square feet on the second and third floors, while Building A will have 38 conventional condos.
The bottom floor of both buildings is dedicated to retail and restaurants and creating an environment that will hopefully drive business.
"We have considered doing something like a market walk. There is a section in the building that would be perfect for it. We have the ability to have multiple restaurants sharing a kind of small area where there could be some little shops," Zappas explained. "We have thought about that to get some more retail interest, but our big thing was bringing a big building to downtown. It's that downtown massing that you look for in a downtown with three stories, shops and restaurants on the bottom, and then something else on top. People expect a big building and kind of a downtown feel rather than the separate stand-alone structures that have traditionally been in Atascadero."
Building A will also have three towers that will reach 65 feet up into the atmosphere, adding to the downtown feel and making itself visible from the freeway. Building A is expected to be finished in the second or third quarter of 2021.
While the large buildings might be getting all the attention, construction is also underway in the open lot next to Colony Market and Deli, which Z Villages is also developing. Coming soon to the Atascadero downtown area will be a new beer garden, a creamery and a hat store in the "Block Shops."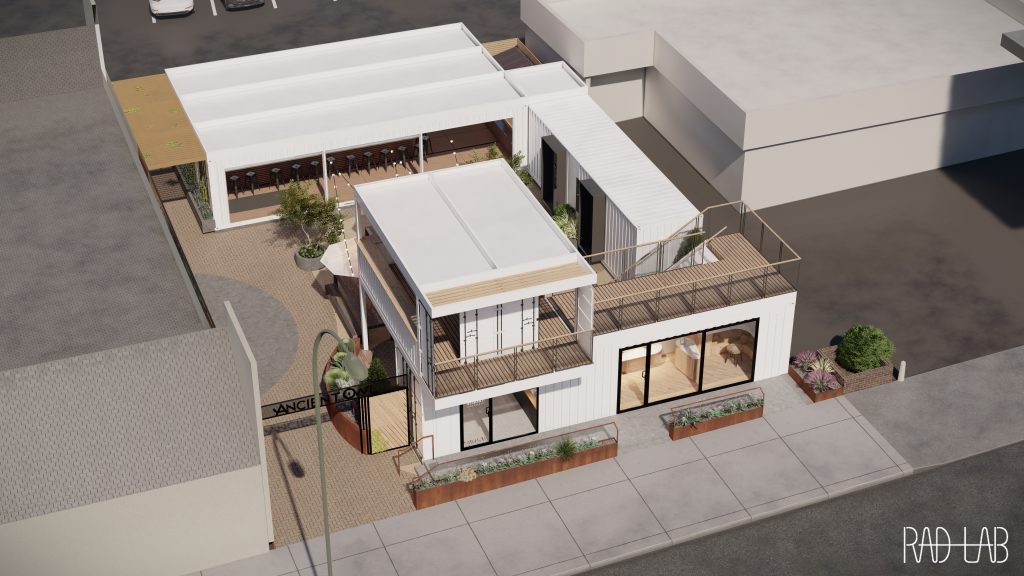 The Block Shops, which will be created through the use of a new architectural style using shipping containers, will contain Ancient Owl Beer Garden and Bottle Shop, Negranti Creamery, and Stellar and Sun. The Beer Garden is being opened by two local brewers, Marcin Andruszkiewicz and Laurence Duterte, who have spent time working with BarrelHouse Brewing Co. It will have anywhere from 20-25 taps with craft beers from not only California and the United States but the entire world.
Ancient Owl will be in the back of the lot with plenty of space to sit and drink a beer, seltzer or occasional kombucha with both Negranti and Stellar Sun up front facing El Camino Real.
"Our thinking was that we have this little lot here between Colony Market and Deli and La Plaza," Zappas said. "Let's see what we can do here with some shipping containers and making an affordable project to get somebody cool into the downtown area."
While the containers' exterior will look like something one might see stacked like lincoln logs on the back of a freight ship, the inside will be fully functional with power and customized to create an open atmosphere.
The project began in 2019 when Z Villages came across Fieldwork Brewing Co. in Northern California, who used the shipping container concept and began working with their architect to bring the idea to downtown Atascadero.
The Block Shop area is expected to be finished around the same time as Building B, in early 2021.
For those interested in La Plaza or looking for more information, go to atascaderolaplaza.com.