One of the county's first confirmed cases of COVID-19 was Atascadero local Carmen Ybarra. After the fight of her life, she has committed to bringing hope to her neighbors in the community, one beautiful sign at a time.
Through the "Hope Project," Carmen provides custom-built and painted signs that display the word "Hope" somewhere in the design for local businesses to exhibit for free. Her only agenda is to spread hope and positivity to those that might be stuck in the dark, searching for a light to lead them out.
"It got to a point to where I had given up, and I just felt like I couldn't fight this virus anymore," Carmen shared.
"I had every symptom on the list, I am going to be 68 years old, and I have underlying health issues. My husband was my caretaker, and he was the one that told me — convinced me — not to give up hope. So that word resonated with me through everything."
In the early stages of her recovery after a long and traumatic bout with the coronavirus, Carmen found herself grateful and passionate in giving back to the community and started looking for ways to help.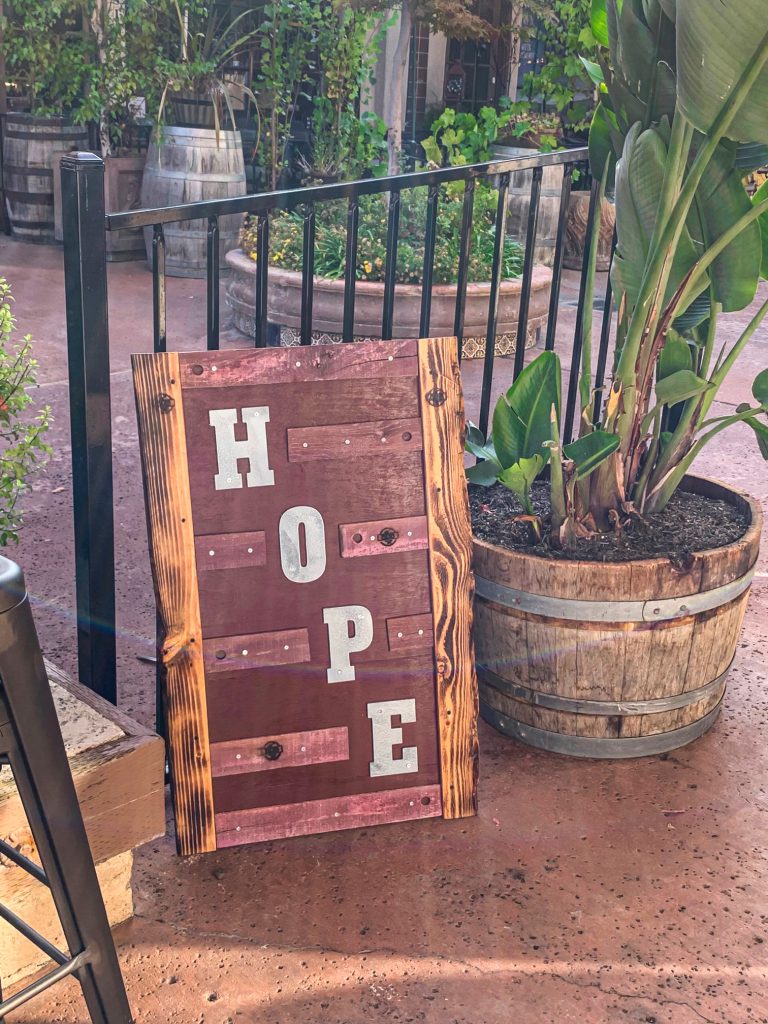 "I was elated, and I just made a promise to myself and to my faith that I would give back to the community," she said. "I want to pay it forward. The first thing I did was create a group of sewers to make masks to give to the community, most to elderly homes, but to whoever needed them."
The local group made up of five ladies called themselves the "Sewing Angels." So far, they have donated over 600 masks to the community, including retirement communities and the El Camino Homeless Organization.
Once healthy enough to get up and move around, Carmen painted a big colorful "Hope" sign and displayed it proudly in her front yard for months until it one day disappeared.
"I shared that story with Farron Elizabeth, and she asked me to create a Hope sign for her, and that sparked the vision of having the Hope signs everywhere," Carmen proclaimed.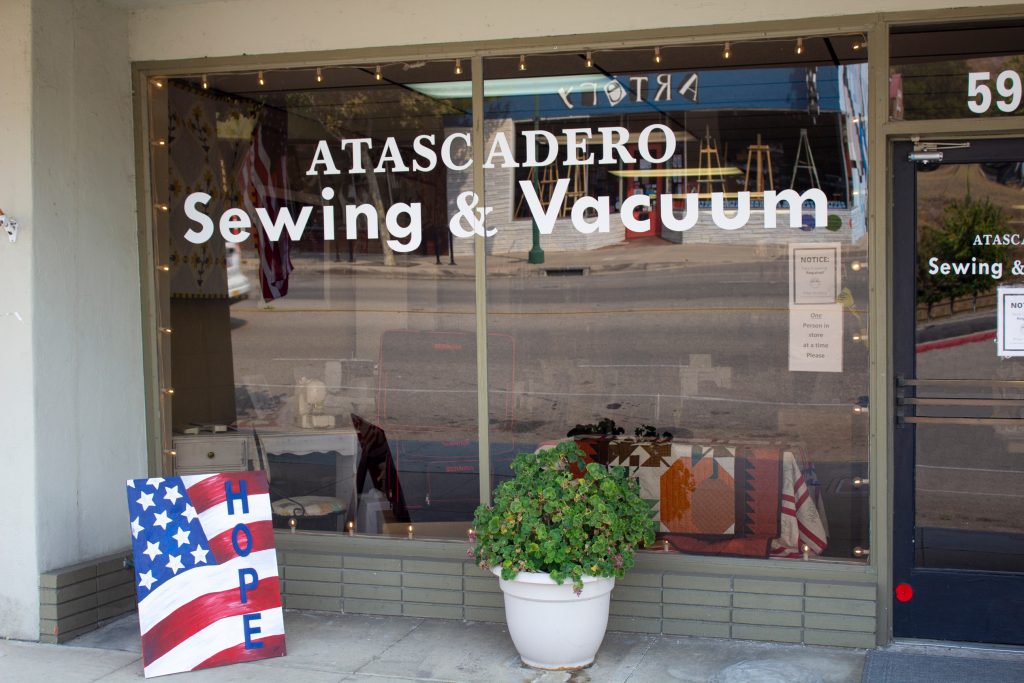 Carmen has begun finding local artists as well as residents that just want to inspire others. Each of the signs donated to local businesses is wholly unique and up to the artist's interpretation of what hope means to them.
"Hope means a lot of different things to a lot of different people. My message is hope for our community and for all communities and for prosperity," Carmen explained. "Hope for strong living, hope for getting through this very challenging year. Lighting the torch of hope here in our little quaint town."
Each of the signs are free for not only the businesses but also for the artists. Carmen's husband builds the signs himself with a kickstand in the back so they can stand alone out front or even in the window. The Hope Project is currently displayed in front of nine local businesses in the art district and on Entrada.
Those wanting to check out the signs can drive by Atascadero Sewing & Vacuum Center, Scissor Clothing, Central Coast Distillery, Book Odyssey, RoCoco Luxe Resale Boutique, Dark Nectar, Farron Elizabeth, Edward Jones, and Bee's Blossoms.
If interested in painting a sign or getting one out front of your store, email Carmen at coasting123@att.net.