Parents are encouraged to speak to their teens about dangers of drug use
ATASCADERO — Two Atascadero men have been arrested for several violations, including selling controlled substances to minors.
While investigating a gang-related shooting in January, Atascadero Police Department (APD) Detectives found information about a male adult selling marijuana to teens in Atascadero. Detectives then served a search warrant in February to a home on the 7500 block of Decon Court where they seized a large quantity of marijuana and other evidence of marijuana sales to minors. 
advertisement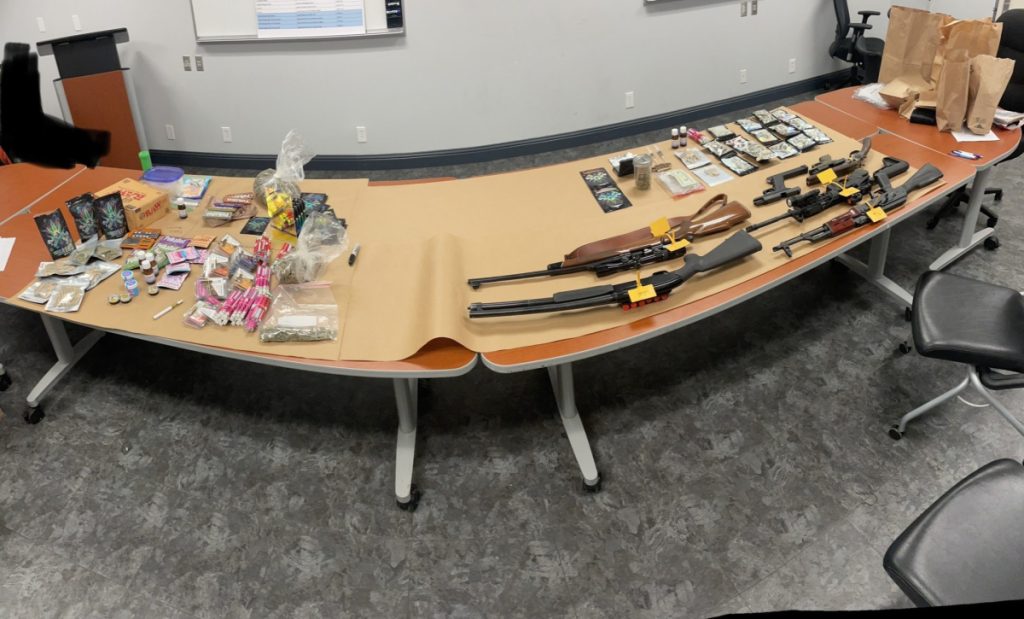 According to detectives, they learned the suspect was working with two other adults to sell marijuana, psilocybin, and Lysergic Acid Diethylamide (LSD) to teens between the ages of 14-17 years of age. It was discovered the three suspects together were using social media applications to communicate and coordinate sales under the username "Masterpuffz." 
With assistance from the San Luis Obispo County Sheriffs Special Enforcement Detail, APD served another search warrant on March 30 at two apartments in the 7900 block of Santa Ysabel in Atascadero. A search of the apartments yielded large quantities of marijuana, psilocybin, THC vape products, and custom packaging with the "Masterpuffz" logo. In one apartment, several firearms were located in a safe amongst the controlled substances.
Connor Edward Winter (23) years of Atascadero, was arrested for violation of HS 11353(c) — Adult selling Controlled Substances to Minors, HS 11360 — Adult Selling Marijuana to a Minor, PC 182 — Conspiracy to Commit a Felony, and PC 12022 — Commit a Felony While Armed.
David Javier Mendez (26) years of Atascadero, was arrested for HS 11353(c) — Adult Selling a Controlled Substance to a Minor, HS 11360 — Adult selling Marijuana to a Minor, and PC 182 — Conspiracy to Commit a Felony.
Mendez and Winter have since posted bail and were released from San Luis Obispo County Jail. APD reports the social media accounts connected to this investigation appear to have been deactivated.
APD encourages parents to talk to their teens about the dangers of using drugs, especially at a young age. They encourage parents and guardians to closely monitor their teens social media usage and encourage open communication regarding their teen's personal experiences with potentially dangerous or harmful activities.
This is an ongoing investigation and anyone with information on the illegal activities of the named suspects or the screen name/logo "Masterpuffz" should contact Detective Rodriguez at (805) 461-5051 or srodriguez@atascadero.org.
For more information or resources on how to talk to your teens about the dangers of drugs and alcohol, please contact the Atascadero Police Department or Lighthouse Atascadero at lighthouseatascadero@gmail.com, facebook.com/LighthouseAtascadero, or call (805) 462-4350.