The Lights, Sights, and Frights Show runs from the middle of October through Halloween from 7 p.m. to 10 p.m.
ATASCADERO — Starting in the middle of October, families can visit the Halloween Spooktacular Lights, Sights, and Frights show at the Russo's Home in Atascadero.
For the past six years, Mark Russo has transformed his home into a Halloween display with one goal in mind: to put a smile on the kids' faces.
Russo says, "I always enjoyed Halloween–we love seeing the big smile and sparkling eyes and not just the kids but on the parents' faces too. They relive their childhood."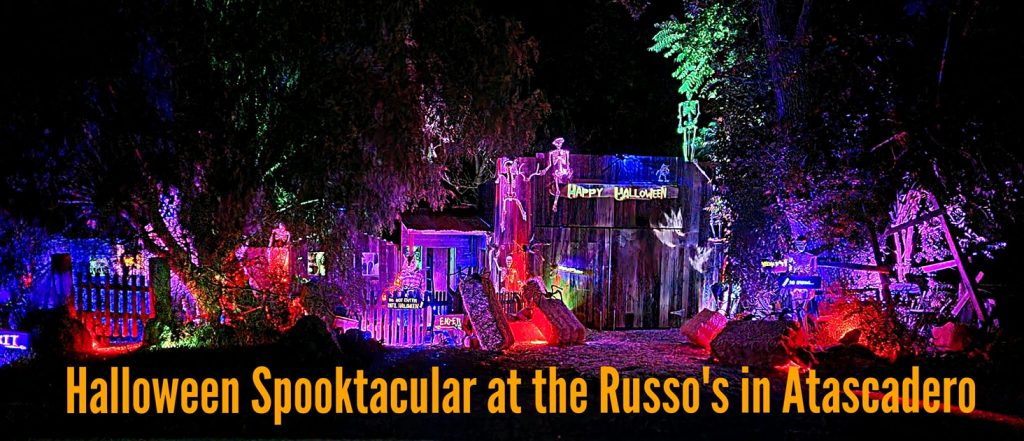 Starting in August, Russo begins building the display. Using his construction background, Russo creates Disney-esque ghost towns and spooky scenes. He has always loved to create and learns new skills each year.
In the end, he and his family and friends put about 650 hours into the display. Everything going into the Spooktacular comes out of Russo's pocket. He says this year is set to be his best one yet!
"These are challenging times between politics and health and this and that. Kids don't know anything about that kind of stuff. They don't understand that. This is part of their building blocks as they grow up, so you have to put as many positive [thoughts], colors, smiles, and laughter in these kids while you still have them," says Russo.
Visitors are welcome to drive by his home or park and walk up to watch the lights and special effects. On Halloween night, visitors can walk through the haunted towns and scenes. To add to the fun, Russo and his family and friends dress up on Halloween night.
Russo's Halloween Spooktacular is created with young ones in mind, so all frights and sights are children friendly.
"My wife Linda has been helping me along with my sisters and friends who assist as actors during the event. I would like to be sure to thank them for also being part of this Spooktacular event each year. I could not do this without their help," said Russo.
Finally, Russo says, "The only requirement here is that you bring your Halloween Spirit!"
Russo's Halloween Spectacular is located at 7720 Cortez Ave in Atascadero, and the Lights, Sights, and Frights Show run the middle of October through Halloween from 7:00 p.m. to 10:00 p.m.
To keep up on the Halloween Spooktacular's updates, follow Mark Russo Sr. on Facebook.