Atascadero is the only school to offer girls wrestling in North County
ATASCADERO—Atascadero High School's girl's wrestling team has been excelling at their sport. At their last tournament, which took place on Friday, Jan. 7, and Saturday, Jan. 8, the team took 8th place. 
"Most of the girls placed at the last tournament, so that was awesome. There was a tournament at the beginning of the year where we had a few girls place as well. When they go out there, a lot of them are winning matches," said coach, Sohrab Movahedi.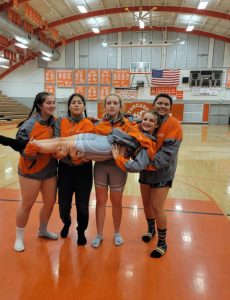 At the Jan. 7/Jan. 8 tournament, Isabell Nunes placed 5th, Lillie Brander placed 5th, Ana Garcia-Delgado placed 4th, Skylar Pisor placed 6th, and Adeline Vert placed 4th.
advertisement

"We have a good core of girls, that's for sure," added Movahedi.
Movahedi's current team is primarily made up of Freshmen and Sophomores, with a few Seniors and Juniors added to the mix.
"We have a really good young group because we have a youth program as well, and they include all boys and girls, so that really helps introduce the sport [wrestling] to kids when they're young, elementary school, middle school. That's where I got a lot of these kids from," he stated.
This is Movahedi's third year coaching wrestling at Atascadero High School, which has included girls' wrestling with the boy's program for a long time.
"We include girls wrestling with our boy's program. So anyone's welcome to join," Movahedi added when asked about coaching the girls. "The girls are very fun to coach because they're just really excited about the sport. It is kind of unique that girls are doing it, but it's honestly the fastest growing sport in California, from what I hear. So many girls are becoming a part of it."
The girl's wrestling team is made up of the following athletes: Isabell Nunes, Aubrey Andreoli, Sterling French, Ana Garcia-Delgado, Lillie Brander, Adeline Vert, and Skylar Pisor.
"I treat my girls pretty much the same way as I treat my boys. I just include them in the same exact practice. I don't even differentiate varsity and JV, really. They're all just a part of the same practice. They can handle it just as well as the boys, if not better sometimes. They're really tough," added Movahedi. "It's something that girls are realizing they can be a part of; it's not just something that boys can be a part of. I think a lot of girls have that instinct to want to fight too, and wrestling is essentially fighting. So, it's cool that we have a program where we're very open. We're hoping to spread that to the school, have more people and more girls be a part of it. If our girl's program grows, then our whole program grows. I'm hoping that we can be very successful with it."
The team is working its way towards CIF, where the whole team will compete, with the hope of making it to Masters (Feb. 18) and State (Feb. 24).
"It's the same for boys and girls, in that everybody qualifies for CIF. If you're the starter on your team in that weight. So everyone gets to go to CIF. And then a certain amount of people advance to what we call Masters like a section tournament. So that's like the big deal. And then if you get past Masters, then you go to State," Movahedi explained.