SAN LUIS OBISPO — Beau Baldwin, who coached Eastern Washington to the 2010 NCAA Division I Football Championship Subdivision national title and has served as offensive coordinator and quarterbacks coach at Cal the last three seasons, became Cal Poly's 17th head football coach Wednesday.
Mustang director of athletics Don Oberhelman and Cal Poly President Jeffrey Armstrong made the announcement inside the Recreation Center's Multi-Activity Center.
"I'm delighted to introduce Beau Baldwin as our head football coach," said Oberhelman. "Beau is someone I have known and respected for a very long time, and I am so pleased that he is now a member of the Mustang Family.
"His desire to lead and mentor young men, and be an educator is something that is a 'must' at Cal Poly," Oberhelman added. "In addition, he has a proven track record of winning Big Sky and national championships, recruiting top-notch student-athletes, graduating his students, and creating NFL opportunities for many.
"Beau just seems to fit perfectly with Cal Poly." 
"We are thrilled to welcome Coach Baldwin to Cal Poly," said Armstrong. "Coach Baldwin's winning record and many accomplishments on the field are impressive, but equally impressive is his history of developing young men of character and supporting high academic achievement.
"His passion for winning is complemented by his commitment to winning the right way and upholding the same values we hold dear at Cal Poly," Armstrong added.
Baldwin is returning to the Big Sky Conference after a three-year absence, compiling a 58-14 record in Big Sky Conference games and 85-32 overall from 2008-16 as head coach at Eastern Washington with five Big Sky titles, six FCS playoff berths and the national championship nine years ago.
"More than anything, I am just humbled and honored to be a part of the Mustang family and to be a part of a culture of commitment and history that is rich both on and off the field," said Baldwin. "With the coaches and former student-athletes who were here before me, they set an amazing foundation that allows for the opportunity for myself and the program to keep moving in a great direction.
"I'd like to thank Don Oberhelman and President Armstrong. I just appreciate so much their vision and what they see in myself in being the next leader of Cal Poly football," Baldwin added. "I have so much respect for Don over the years, what he's done here, and President Armstrong, not only for his vision of what we can be on the field, but who Cal Poly is as a university and community. I am very humbled that I was chosen as the next leader and I can't wait to get going and get to work."
Baldwin's 85 wins at Eastern Washington are tied for No. 5 in the Big Sky and his .726 winning percentage is No. 7. In conference games only, Baldwin's 58 victories are No. 4 in the Big Sky while his .806 winning percentage is No. 5 all-time.
Among head coaches with five or more years of experience in the Big Sky, Baldwin is the second-winningest coach with his .806 percentage in conference games only, behind Montana's Bobby Hauck and his .826 percentage (57-12). Both have coached in the conference for nine years.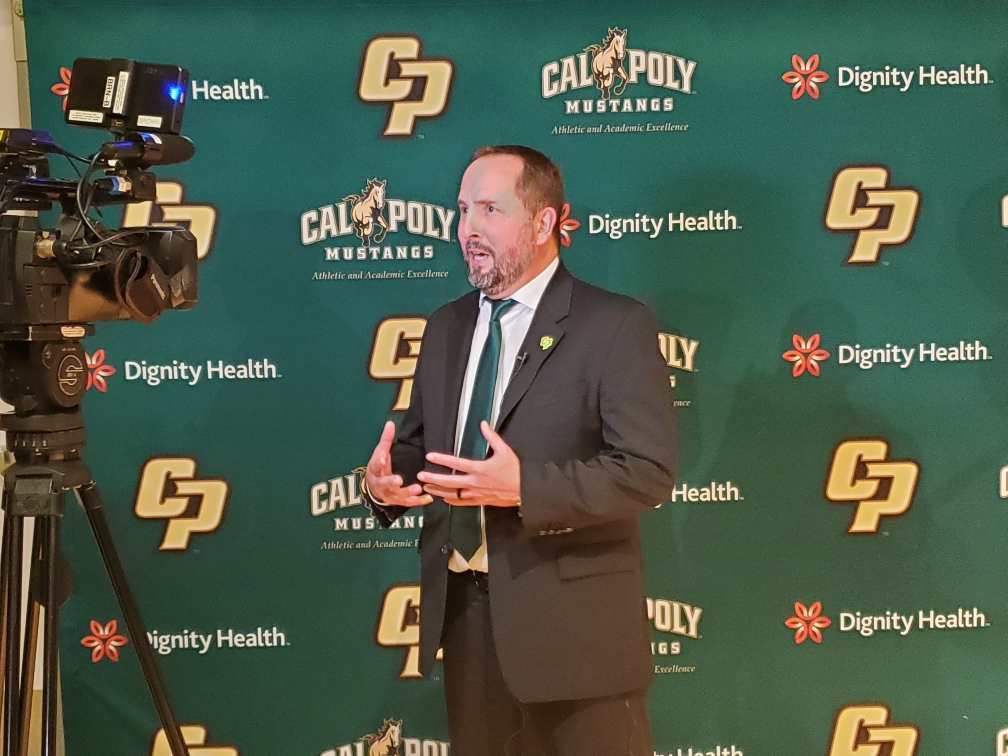 Named Big Sky Coach of the Year in both 2012 and 2013, Baldwin also was head coach at Central Washington in 2007, winning 10 of 13 games and guiding the Wildcats to the NCAA Division II quarterfinals, after serving as offensive coordinator and quarterbacks coach at Eastern Washington for four seasons (2003-06). 
During Baldwin's three seasons at Cal, the Bears won 19 of 37 games with appearances in the 2018 Cheez-It Bowl and, on Dec. 30, the 2019 Redbox Bowl versus Illinois at Levi's Stadium in Santa Clara.
Baldwin's offenses during his first two campaigns at Cal were highlighted by the play of Patrick Laird, the Mission Prep graduate who finished his Golden Bear career with 2,153 yards rushing and 14 touchdowns on the ground. Laird also caught more passes in his Cal career than any running back in school history with 99 receptions for 608 yards and five touchdowns. Laird's 51 receptions as a 2018 senior campaign were also a single-season school record for a running back. Laird is now playing for the NFL's Miami Dolphins.

Cal was 7-5 during the 2019 regular season, finishing with wins over Stanford and UCLA to earn a berth in the Redbox Bowl (formerly the Emerald Bowl). Quarterback Chase Garber, who missed four midseason games due to injury, has completed 109 of 184 passes for 1,500 yards and 10 touchdowns so far this season while Christopher Brown Jr. has rushed for 794 yards and eight scores in 12 games.
Baldwin will be on the opposite sideline of Cal Memorial Stadium when he returns to Berkeley on Sept. 12 as Cal Poly plays Cal for the first time in football. It will be the Mustangs' third game ever against a Pac-12 school.
"I just have a passion for being a head coach," Baldwin said of his decision to coach at Cal Poly. "My experience in the last year at Cal was amazing and I owe a lot to Coach (Justin) Wilcox and the knowledge that I was able to gain, the experience I had and the student-athletes who I was able to be around in the last three years.
"At the end of the day, I wanted badly to have another opportunity to lead a program," Baldwin added. "With that being said, it had to be right. It had to be the right fit, the right community with the right people and that's what drew me to Cal Poly. It just felt like the right fit at the right time."
Prior to his arrival at Cal, Baldwin spent the previous 10 seasons as a collegiate head coach, the last nine campaigns at Eastern Washington following his first head coaching job at Central Washington in 2007. Baldwin compiled an overall record of 95-35 (.731) and a 64-16 (.800) mark in conference play in those 10 years.
"It's great to welcome back to the Big Sky Conference such an accomplished coach like Beau Baldwin," said Big Sky commissioner Tom Wistrcill. "I know the future is very bright for Cal Poly football!"
Baldwin led his Eastern Washington squad to a national FCS title and was named College Sporting News Coach of the Year in 2010. He won 11 or more games five times and captured five league championships over his final seven seasons as the school's head coach. Eastern Washington annually had one of the top offenses in the NCAA Football Championship Subdivision during Baldwin's tenure as head coach, with the Eagles ranking among both the top 10 in passing and total offense eight times.
Baldwin's last team as the head coach at Eastern Washington in 2016 compiled a 12-2 overall record with one of the victories against Pac-12 opponent Washington State. The Eagles reached the semifinals of the NCAA FCS playoffs and were a perfect 8-0 in the Big Sky Conference to win their third outright league title in the last four years.
Eastern Washington was also the Big Sky champion in 2014, finishing 7-1 in league play and 11-3 overall en route to a quarterfinal appearance in the FCS playoffs. Baldwin was named American Football Coaches Association Region 5 Coach of the Year in the FCS in 2014.
Baldwin's 2013 squad advanced to the semifinals of the FCS playoffs after going a perfect 8-0 in the Big Sky for the first time in school history to capture a league crown. The Eagles finished 12-3 overall after starting the campaign with a season-opening 49-46 win at No. 25 Oregon State, which was only the fourth time a FCS team has ever defeated a ranked NCAA Football Bowl Subdivision (FBS) team.
In 2012, the Eagles finished 11-3 overall and 7-1 in the Big Sky to share the league title with Cal Poly and Northern Arizona.
Baldwin took a perennial playoff participant and honed it into a national champion in 2010. The 13-2 season had a storybook ending with a 20-19 come-from-behind victory over Delaware in the title game on Jan. 7, 2011, in Frisco, Texas.
Baldwin was also 6-5 in 2011, 8-4 in 2009 and 6-5 in his debut season as the Eastern Washington head coach in 2008.
Before becoming a head coach, Baldwin spent 13 seasons as an assistant beginning with nine years as the quarterbacks coach at Central Washington (1994-2002) before four campaigns as the offensive coordinator and quarterbacks coach at Eastern Washington (2003-06).
Baldwin coached several players who earned national honors, including quarterbacks Bo Levi Mitchell, Gage Gubrud and Vernon Adams along with wide receiver Cooper Kupp, now a member of the Los Angeles Rams after being selected by the team in the third round of the 2017 NFL Draft.
Baldwin has been a part of playoff runs at three collegiate levels – NCAA Football Championship Subdivision, NCAA Division II and NAIA. His 24-season collegiate coaching résumé includes two national championships, 10 conference championships, 12 postseason appearances and most recently a bowl game with Cal's appearance in the 2018 Cheez-It Bowl.
Seven of his 10 seasons as head coach – and two more at Eastern as an assistant – ended with playoff berths. He had three more playoff appearances as an assistant at Central Washington, including the 1995 NAIA title.
Baldwin played collegiately as a quarterback at Central Washington from 1990-93 and earned his bachelor's degree from the school in 1996. He also spent one season in Sweden playing semi-pro football in 1993.
Baldwin and his wife, Nicole, are the parents of two daughters, Mia and Macie.
Season tickets for the 2020 Cal Poly football season, which includes home games against San Diego, Weber State, UC Davis, Idaho State and Northern Arizona, went on sale Wednesday. Click here (https://tickets.calpoly.edu/Online/article/football) to order.