Atascadero competes in the State Finals against Lakewood, winning 63-49
ATASCADERO — On Wednesday, Feb. 23, the Greyhound Boy's Varsity Basketball team won their CIF semifinal on their home court. They beat Fresno's Roosevelt Rough Riders 68 to 47.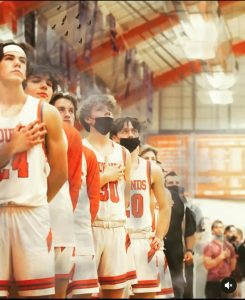 The Greyhound's semifinal win guaranteed them a spot at the CIF Central DIII Championship game in Bakersfield against the Golden Valley Bulldogs. The game took place on Friday, Feb. 25, at 6:30 p.m. Unfortunately, The Greyhounds lost against the Bulldogs 87 to 73.
On Mar. 1, the Greyhounds competed in the State Finals against Artesia High School from Lakewood. The game took place at Atascadero High School at 6 p.m. The final score came in 63-49, with the Greyhounds taking the win!
advertisement

The Golden Valley Bulldogs played their own game on Mar. 1 against the Anaheim Western Pioneers. They took the win with a score of 50-34. This means the Greyhounds and the Bulldogs will play a rematch at Golden Valley High School in Bakersfield on Thursday, Mar. 3.
This year, the Greyhound Varsity players are Kaiden Abma, Logan Reyes, Michael Porter, Riley Coalwell, Levi Meeks, Jarred Fischer, Steven Waiters, Max Bagby, Noah Abma, CJ Bell, Logan Daves, Corban Rossi, and Benjamin Strohl.
Go Greyhounds!