The girls' volleyball team was undefeated in Ocean League
ATASCADERO—The female athletes at Atascadero High School (AHS) have been racking up the league championships at the end of their perspective seasons. The girl's volleyball team even came home undefeated when the last Ocean League game had been played.
It was fun and exciting to watch the girls do so well this year," said girl's volleyball head coach Christina Silva. "Coming into the year, we coaches definitely felt that we had a good chance to win our league, but we knew it would not be easy. We finished league play in third last year behind Nipomo and Righetti, and we had most of our starters returning, so we knew we were going to be able to be competitive."
There were nine teams playing in the Ocean League this year, and the volleyball teams knew going into the season that coming out undefeated was going to be a challenge, but it was one they were willing to accept.
"Our returners and starters all continued to improve, and our new players this year gave us a great level of depth when anyone was sick or injured, as well as raising the level of competition in practice," Silva said. "After winning our first-round match against Nipomo, I think that was when most of the team started really believing that a league championship was ours to win, and that we also had a great chance to end league play undefeated.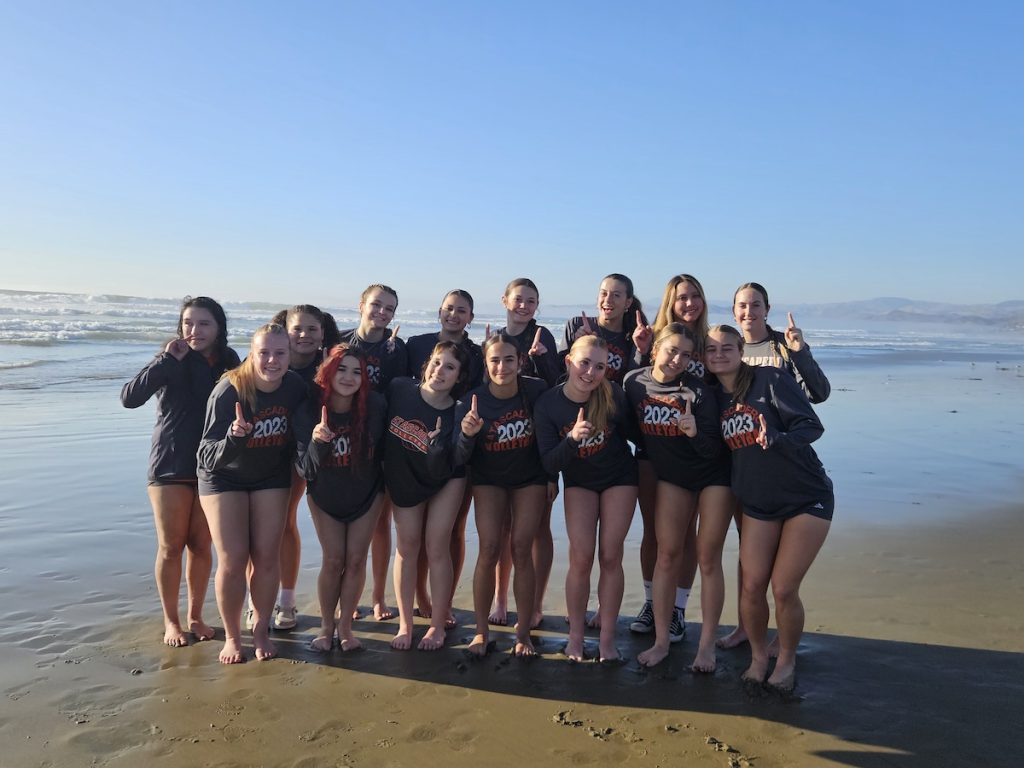 "This team was magical and so fun to watch when they were clicking on the court and was talented enough to make things work even during the games where they weren't connecting very well. What was so great was that even when they lost a set or two, they always played like they believed they could and would win the match."
On Oct. 17, the volleyball team played their second-to-last league match against Righetti, a 3-2 win.
"Our second-to-last league match, which clinched the league title, was against a very strong Righetti team, and was a tight match all the way through, so that win was a really special and celebratory moment," Silva added. "At that point, all of us knew that we had achieved our goal, and that our accomplishment would be celebrated in the gym with a banner forever."
The AHS volleyball team finished out its undefeated Ocean League slate with a win over Morro Bay on Oct. 18.
This season's roster was made up of seniors Clara Haungs, Katie Hesch, Bella Moen, Rori Perry, Trinity Silva, and Kiera Taylor; juniors Corrinne Davis, Dayzee Davis, Scarlett LaDuque, Amanda Torres, Aly Watty, Georgia Wagner, and Abby Winslow; and sophomores Kiera Armstrong and Hailey Talley.
Three female tennis players at AHS also came out on top as Ocean League champions at the end of the season. Evie Billes became the Ocean League singles champion, while Taytem Ferrell and Salena Sanchez became the doubles champions.
"We are very proud of all of our girls this year, but having Evie [Billes], Salena [Sanchez], and Taytem [Ferrell] sweep league finals was the cherry on top," said AHS girls tennis head coach Mallory Miller. "They worked really hard this year, and it paid off. They truly are a joy to coach, and I can't wait to see where tennis takes them in the next few years."
All three girls put in lots of hard work, and it's obvious that it paid off with their big wins.
"Evie has been our top player for two years now, but her results this year were a great demonstration of her continued growth in the game," Miller said. "Salena and Taytem were a brand new team for league finals, but Salena's power with Taytem's consistency worked really well. Watching them compete, you'd think they had played all year together."
Congratulations to all the female league players who brought championship wins back home to Atascadero.
"I hope spotlighting several successful female athletes this year at AHS will continue to motivate and inspire young women in our community to join the different athletic programs or keep working towards their goals," concluded Miller.
Atascadero girls VB.jpg: 
Feature Image: (From left) Ocean League singles champ Evie Billes is shown with Salena Sanchez and Taytem Ferrell, who are the Ocean League doubles champs. Photo courtesy of Mallory Miller.