Three school records were broken in the championship meet by the team and Kylie Bell
TEMPLETON — Records were broken when the Templeton High School's (THS) girls swim team took home the CIF Central Section Division 2 championship over the last weekend.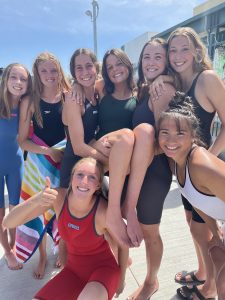 Eight swim teammates from THS competed in the Division 2 CIF Championships at Sierra Pacific High School in Hanford on May 6 and 7. The team broke three school records in the process while competing against 33 other qualifying teams.
Swim Coach Karen Neil, who's the co-coach with Katie Tucker, expressed her pride in the team.
"They swam so well together," she said. "They performed fantastically as a team. I am so proud of them."
Also a club swim coach, Coach Neil has known many of the teammates since they were little.
Despite not having a dive team, the girls managed to earn enough points through the other events to earn the number one spot.
The eight swim competitors in CIF were:
Kylie Bell — Freshman
Brianna Griffiths — Sophomore
Jenna Sanders — Junior
Elyse McIntyre — Senior
Abby Money — Senior
Claire Oppedahl — Senior
Jenna Shapero — Senior
Kate Thompson — Senior
The swimmers were successful this season despite being one of the few schools without a school pool. In fact, their season almost didn't happen: Following a season away from COVID-19, the team had to find a new pool to accommodate it. Luckily, the team was able to find accommodations at the Paso Robles Sports Club.
"We owe them a lot because they really stepped up for us," said Neil.
Notable finishes made by the team include:
Girls 200 Yard Individual Medley — Freshman Kylie Bell took second and broke the school record 
Girls 100 Yard Back — Bell took first and broke the school record (59.59). Claire Oppedahl placed third
Girls 400 Yard Free Relay — Second in finals, .14 seconds behind the winner.
Girls 100 Breaststroke — Griffiths placed second, .70 behind the winner and broke the school record.
Girls 100 Yard Fly – Oppedahl finished fourth and Kate Thompson fifth
Girls 200 Yard Medley Relay – First place in finals; in prelims, the relay team broke the school record
Girls 200 Yard Free Relay – 11th place
Girls 500 Yard Free – McIntyre finished in ninth place
Girls 100 Yard Free – Sanders finished in ninth place
Girls 50 Free – Sanders finished in 13th place
The team's final team score was 238, with Nipomo finishing second with 179 and Redwood High (Visalia) third at 138.