Atascadero received over 5 inches of rain within a 48-hour period
By Camille DeVaul and Christianna Marks
SAN LUIS OBISPO COUNTY — An atmospheric river was promised for California, and it delivered plenty of rain and destruction throughout San Luis Obispo County on Monday, Jan. 9.
Due to the rain storm, Atascadero was also put under a Severe Weather Shelter-in-Place Advisory on Monday, Jan. 9, that was then lifted to a Weather Advisory on Tuesday, Jan. 10. While many of the road closures were opened back up on the 10th, a handful of those roads were still deemed unsafe to drive on due to flooding, mudslides, and erosion, with the city stating that some of those roads will not be fixed for weeks at the Jan. 10 City Council Meeting.
advertisement

As of Tuesday, Jan. 10, Halcon River Crossing was closed, Santa Ana was closed to through traffic just east of Garcero Road, Los Altos was closed to through traffic midway between Hwy. 41 & San Marcos Road, and Hwy. 41 was closed between San Gabriel & Los Altos.
Over a 24-hour period, Atascadero received 5.24 inches of rain, creating fast-rising creeks and rivers and flooding areas and roads throughout town. Mexican restaurant El Taconazo on Morro Road was flooded with approximately two to three feet of water but reopened on Wednesday, Jan. 11, for normal hours. The Atascadero Lake and Sunken Gardens also sustained amble flooding, as well as many other spots throughout the city.
Design de Cuisine 805, Traffic Records, Raconteur Room, Totum, Gordon's Good Games, and Andy's Awesome Arcade on Traffic Way all sustained flooding of 2 to 3 inches when the parking lot behind their businesses became a small lake, leaking into their establishments.
"I sustained heavy flooding through our back door as did many of the businesses we share the block with," stated Traffic Records owner Manuel Barba. "Due to the unusually large amounts of cardboard and wood crates along with the records themselves, we sustained heavy damage and are working to save all the inventory we are able. Several hundred of our many thousand of LPs were wet along with our racks and bins. We will likely be closed for up to one week to ensure that we can abate any potential mold or mildew and will have to toss a considerable amount of damaged product."
In the face of so much damage, the community came together and offered support where they could.
"Everyone banded together; [it was] pretty cool to watch," said Specs by Kyla owner Kyla Skinner, who spotted the flooding in the back parking lot and alerted the other business owners on her block.
Due to the upcoming weather front that is expected to hit us the end of this week and continue through the weekend, as well as the flooding sustained during Monday and Tuesday's storm, Atascadero has officially rescheduled its 7th Annual Tamale Festival.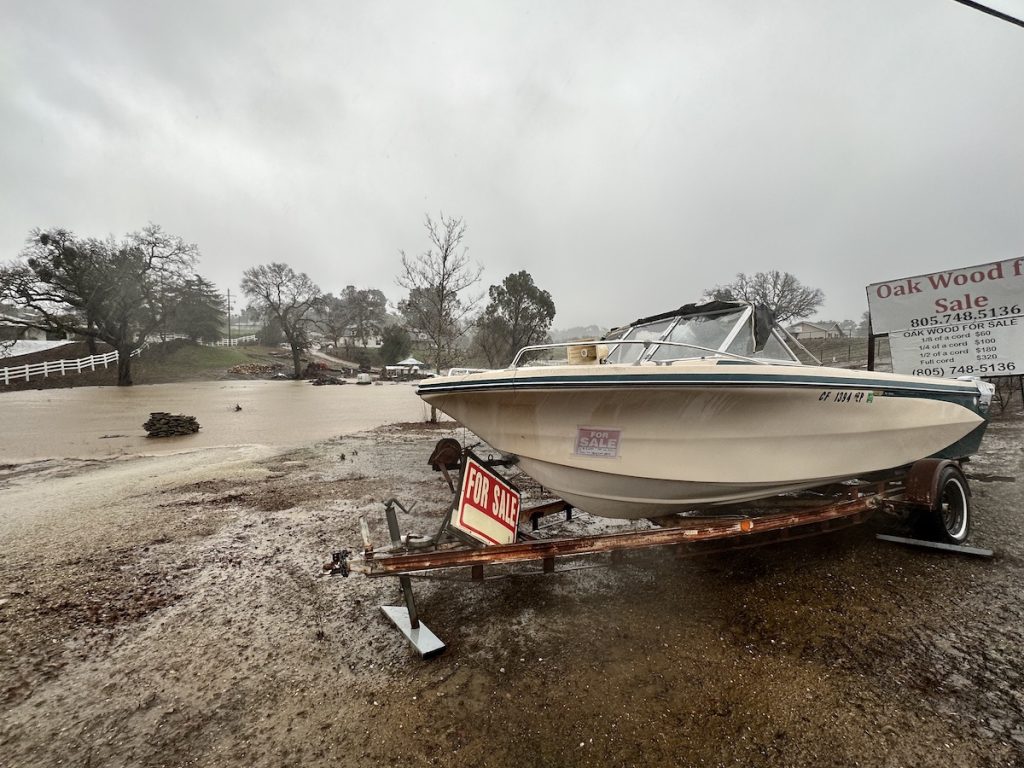 As of Wednesday, Jan. 11, the search continues for 5-year-old Kyle Doan, who was swept away on Monday morning by raging floodwaters near San Miguel. It was reported by Cal Fire that on Monday morning, the area the car was trying to cross was impacted by a downed tree. A neighbor tried to help rescue those inside, and while Kyle's mother was pulled to safety, he was unable to be rescued. 
The SLO County Sheriff's Office USAR (Underwater Search and Rescue) Team, air operations, drone team, detectives, and deputies were deployed to search for Kyle, and after about five hours of searching on Monday, crews had to cease the search due to hazardous weather. However, with a break in the severe weather, the search was continued on Tuesday.
Paso Robles City Manager Ty Lewis told Paso Robles Press, "Our hearts go out to the family of the missing little boy. The city stands ready to help in any way needed. There are no words that would adequately describe how heart-wrenching this loss is. We pray the family gets closure; that he is found and brought back home to his family."
Unfortunately, there have been no signs of Kyle, and the search efforts continue by both the county and volunteers.
Within 24 hours, regions in the county saw over 2 inches of rain and some up to 10 inches. Paso Robles Airport even beat its 1995 record of 1.18 inches. The amount of flooding and rising water levels in the Salinas River led to the Paso Robles Police Department issuing several evacuation warnings and orders for areas near the Salinas River, which were all lifted by the afternoon on Tuesday, Jan. 10.
During the evacuations, the American Red Cross manned an emergency shelter at the Paso Robles Event Center.
"City crews have worked around the clock to triage storm damages," said Paso Robles City Mayor Steve Martin of the recent storm surge. "The local Emergency Operations Center was activated, and continuous messaging provided vital information to those weathering the deluge. Evacuation orders and warnings were issued in a timely fashion, and staff assisted with the operation of the emergency relocation center at the Mid-State Fairgrounds."
Here are some of the 48-hour rainfall totals for San Luis Obispo County, according to the Weather Service:
Rocky Butte: 10.48 inches
West Santa Margarita: 9.24 inches
Northern Lake Nacimiento area: 7.37 inches
Santa Margarita Lake: 6.66 inches
Templeton: 5.78 inches
Atascadero: 5.24 inches
Shandon: 2.6 inches
Paso Robles Airport: 2.1 inches
Carrizo Plain: 1.79 inches
Mayor Martin warns residents to remain vigilant and safe in the aftermath of Monday's rainfall as well as the upcoming rain that is expected this weekend, "Staff continues to evaluate and triage damage services including flooding, landslides on North and Sound River Roads. As the storms continue, people should stay off roads unless absolutely necessary and avoid flooded areas and rapidly moving water."
Rural residents in the county have been facing their own challenges, with roads blocked by severe flooding and bridges collapsing like the one at El Pomar and Creston Road.
Commenting on the damage throughout the city, Lewis told Paso Robles Press, "This storm event caused much damage that the city is still assessing. Even though there was much damage reported by various community members and city, I think we faired fairly well considering. We are confident in the resilience and resolve of our community and our ability to rebuild/repair quickly."
For more emergency information in Paso Robles, Mayor Martin reminds residents to monitor local media and check the city's website, prcity.com.
He adds, "Now is the time to protect our families, our neighbors and ourselves. Stay strong Paso Robles."
In a county update regarding the storm on Tuesday, County Administration Officer Wade Horton stated the county received over 230 calls for service in 30 hours. Additionally, Cal Fire performed 19 swift water rescues in 24 hours throughout the county.
"We have a very caring county, and I'm very appreciative of all the phone calls and emails we've gotten from people who just want to come out and help, and that's fantastic," Horton said of the many residents and nonprofits ready to lend a hand.
Horton explained with the break in the rain, we are now seeing the amount of damage it caused. The county proclaimed a local emergency on Monday evening allowing them to access local and federal funding and assistance.
Finally, Horton's main advice to the public was, "It's dangerous [out there], so if the road is flooded, turn around."
After a short break, more rain is expected to return on Friday, Jan. 13, and last through the weekend.