Local event has reached worldwide attention with 16 countries
UPDATED April 11, 2020:
Facebook Group Members: 9125
Eggs on map: 2096 locations worldwide
43 states
16 countries
Like much of life in the time of COVID-19, or what might be later classified as the Zoom Era, otherwise normal activities find themselves in peril as physical distancing orders and prohibition of in-person gatherings put a cramp on seasonal plans.
One of those seasonal activities, Easter egg hunts, has been reborn online.
Atascadero resident Shauna Soltero organized a Facebook page around a virtual Easter egg hunt to fill the gap, and the community joined in on the fun to share.
advertisement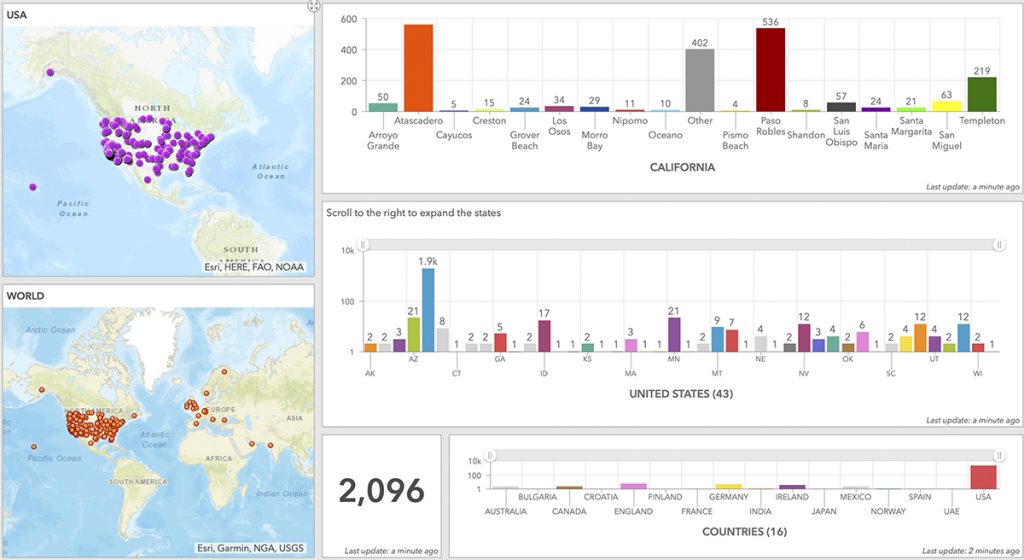 "Times are so hard and uncertain," Soltero said. "I wanted to help spread positivity, and give people light and hope. People are hurt and scared."
The premise is to create a large cutout, about three or four feet tall, in the shape of an egg, and to decorate it. The materials of the egg are anything from paper, to cardboard, to plywood, so far, and the way it is going, creativity could produce a greater variety in the near future.
Some of the decorated eggs include Toy Story, Marvel Avengers, bunnies, and even Joe Exotic of Tiger King. Pandora's box is open on this one, and anything goes.
As the group grew from a few members, to a few hundred, to now a few thousand, the event — collecting photos of the eggs and posting them with the hashtag #virtualegghuntsloco — gained a lot of attention. Both the Atascadero and Paso Robles police departments have posted photos of their officers with eggs.
The idea was hatched, and started multiplying like spring bunnies.
"It was in the course of eight days, it grew by 500 people per day," Soltero said. "Now different states are popping up. Georgia, Minnesota, Boston, Idaho, Utah, New Jersey … it is really amazing to watch."
The growth of the group and the event brought people together to share in a positive activity around creation of the eggs and pictures of the eggs around the city, county, and further. The big question was, "where are the eggs?"
That question was partially answered with the addition of an arcGIS map (geographic information system, view here) with an opportunity for user-input of locations that are mapped for all to see.
"The map is something I threw together," Lorraine Halderman said. "I do mapping for the water company. I have time off right now so I thought I would jump in and contribute."
Soltero and Halderman took advantage of their skills and inspiration to embrace a moment where there is such a loss of control due to the pandemic, and used their abilities to create and share community positivity.
"This something I did because we feel helpless," Halderman said. "This was a cool way to use my skills to help people see where this is. It is cool to be part of something bigger."
The map provided an opportunity for countless people to get involved with the egg hunt without needing to drive around the countryside.
"What is hard is there are some rural areas," Halderman said. "It is not easy to go out and find them."
With shelter-at-home orders in place that add restrictions, many participants are able to add to a growing number of mapped locations by street, all over the world, and join in something fun without ever leaving the home.
With a "quick and easy" form, available on the arcGIS map website, users can provide their street, as well as post pictures of their eggs to the Facebook page.
The map gives an impressive visual of the extent of the Virtual Easter Egg Hunt.
"It is getting crazy where there is more cities and now we have other states," Halderman said, "it is getting to be far reaching."
Thousands of people traveling around the county to take pictures of hundreds of eggs in hundreds of locations presents a potential risk to the community as shelter-at-home orders remain in place. Soltero said she is trying to keep the contest organized and encourages people to stay safe and healthy.
"We are trying to promote this is about being in your community," Soltero said. "Don't travel to the other cities. Just stay in your own neighborhoods. We are also promoting that people stay in their vehicles."
While the need for a virtual egg hunt is forced on the community during the COVID-19 pandemic, the success of the event proves that it may likely become an annual event. It has provided a connection for elderly, sheltered, and otherwise shut-in people to interact with a larger community — something that most people can now relate to, but for many who are convalesced it is an everyday experience.
From 76-year olds joining the fun, to the delivery of American flag-colored eggs to veterans, the event has allowed people to connect.
"There is already talk about doing this again next year," Soltero said. "This could actually be an annual event. It is wonderful, and a lot of people are enjoying it."
Best practices while participating in the Virtual Easter Egg Hunt:
Be safe and healthy

During this time of shelter-at-home, share the experience of creating the eggs with those you live with and share online
When making eggs, use caution when cutting with sharp tools
When driving around, make sure the driver is driving and the passengers are looking for eggs
Don't get out of the car; take pictures from inside and don't touch anything in other people's yards; don't take selfies with the eggs you did not make

Get creative

Show your personality in your decorations
Think about how to make someone laugh or smile and make it happen
Stretch the imagination — eggs don't all need to be perfectly shaped
Have fun enjoying the process

Enjoy with family you live with

It is a great time to play together
Everyone is cooped up waiting for this pandemic to get resolved, discover new things about the people you live with every day
Above is what NOT to do when going virtual egg hunting. Below is better, but avoid touching other people's property when virtual egg hunting, or best yet, stay in your vehicles and take pictures from a safe distance as recommended by the event organizer. Remember to make the eggs the stars of the show!
Below: The right way to participate in the virtual egg hunt.
To get involved and more directions or inspiration, go to the Easter egg hunt Facebook page
Click here to view the map, and here to register your egg on the map