January storm brings Atascadero some much needed rain
Updated 01/28/2021:
Atascadero Mutual Water Company reported at 8 a.m. rain totals for the last 24 hours of 3.81″
Rainfall collection is located at 6575 Sycamore at the confluence of Atascadero Creek and Salinas River
Rainfall measurement recorded at 8 a.m. for the previous 24 hours.
Season Total so far of 5.32″
Atascadero Average Rainfall 17.53″
advertisement

2019-2020 Rainfall Season Totals were 13.5″
2018-2019 Rainfall Season Totals were 24.87″
Read Atascadero Annual Rainfall Seasons report here.
Updated 4/4/2020:
March rainfall brought 3.92″ of much-needed rain to Atascadero. The annual rainfall average for Atascadero is 17.53 inches, and the 2019-2020 season is inching that direction. Currently, seasonal totals are reported as 11.21 inched by the Atascadero Mutual Water Company. The upcoming storm, expected Saturday evening, is projected to bring almost two inches over four days.
Previously:
Through December, strong rainfall of 4.96″ brought levels up to 6.51″ by the end of 2019.
As with the rest of California, Atascadero has seen a rise in rainfall totals since the end of the last drought cycle — which was so extreme, it dried up the entire Atascadero Lake by 2015, before record rainfall replenished our local jewel.
Since then, all of California has seen healthy seasonal rainfall, with reservoirs at or near capacity, and signs of drought all but a memory. On the heels of a short but severe fire season, statewide rainstorms complicated Thanksgiving travel but brought more than two inches of rain to Atascadero in just a few days of downpour.
As of Sunday, December 1, 2019, the County of San Luis Obispo currently records a seasonal total of 1.97 inches with the National Oceanic and Atmospheric Association calling for rain through Wednesday.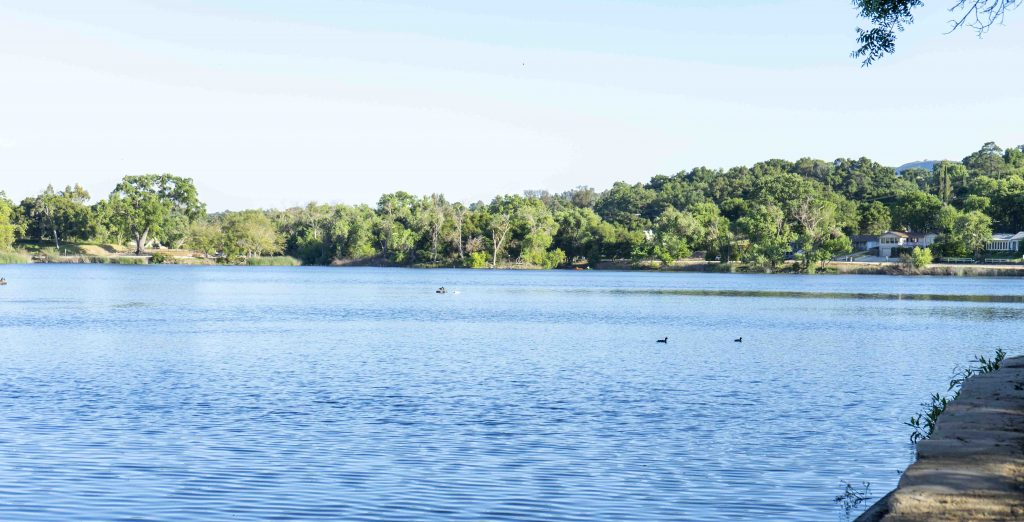 Atascadero Average Rainfall Totals
Report from 2019
Average rainfall is impacted each year by the volume of rain received, and by the location at which it is collected — the Atascadero Mutual Water Company collects measurements at 6575 Sycamore at the confluence of Atascadero Creek and Salinas River, and the County of San Luis Obispo collects measurements from a source on private property at the northeast of Heilmann Regional Park.
The two locations record very different measurements, with AMWC measuring a consistently higher volume.
San Luis Obispo County:
For the past 20 years, the County of SLO has measured an average of 12.56 inches of rainfall in Atascadero, with a high of 24.95 inches. Last year, between July 1, 2018 and June 30, 2019 (2018-19 season), the county measured 18.87 total inches.
Atascadero Mutual Water Company:
Atascadero's water company has a recorded historic seasonal average of 17.53 inches, with a total of 24.72 during the 2018-19 season and an Atascadero rainfall record of 29.8 inches in 2016-2017.
Five or six inches in annual measurement is a significant difference, which can be explained by elevation or other geological factors.
---
Historic Totals from Atascadero Mutual Water Company
| | | | | | | | | | | | | |
| --- | --- | --- | --- | --- | --- | --- | --- | --- | --- | --- | --- | --- |
| 18-19 | Jul | Aug | Sep | Oct | Nov | Dec | Jan | Feb | Mar | Apr | May | Jun |
| Total | 0.00 | 0.00 | 0.00 | 0.16 | 3.58 | 1.24 | 5.82 | 9.12 | 3.75 | 0.07 | 0.98 | 0.00 |
| Cum. | 0.00 | 0.00 | 0.00 | 0.16 | 3.75 | 4.98 | 10.80 | 19.92 | 23.67 | 23.74 | 24.72 | 24.72 |
| | | | | | | | | | | | | |
| --- | --- | --- | --- | --- | --- | --- | --- | --- | --- | --- | --- | --- |
| 17-18 | Jul | Aug | Sep | Oct | Nov | Dec | Jan | Feb | Mar | Apr | May | Jun |
| Total | 0.00 | 0.00 | 0.14 | 0.07 | 0.11 | 0.11 | 2.62 | 0.29 | 8.53 | 0.30 | 0.00 | 0.00 |
| Cum. | 0.00 | 0.00 | 0.14 | 0.21 | 0.32 | 0.43 | 3.05 | 3.34 | 11.87 | 12.17 | 12.17 | 12.17 |
| | | | | | | | | | | | | |
| --- | --- | --- | --- | --- | --- | --- | --- | --- | --- | --- | --- | --- |
| 16-17 | Jul | Aug | Sep | Oct | Nov | Dec | Jan | Feb | Mar | Apr | May | Jun |
| Total | 0.00 | 0.00 | 0.00 | 2.36 | 2.19 | 2.02 | 12.74 | 7.51 | 1.32 | 1.38 | 0.28 | 0.00 |
| Cum. | 0.00 | 0.00 | 0.00 | 2.36 | 4.55 | 6.57 | 19.31 | 26.82 | 28.14 | 29.52 | 29.80 | 29.80 |