With these recent donations, the club's total contribution exceeds half a million dollars
STAFF REPORT
ATASCADERO — In a display of community support, the Atascadero Kiwanis Club continues to make a positive impact on the lives of residents by contributing to local programs aimed at enhancing the well-being of those in need. The club's most recent act of generosity involves a $1,000 donation to the Partners in Equestrian Therapy program, an established nonprofit that offers equine-assisted therapy to individuals with special needs.
Celebrating its 30th year of operation, Partners in Equestrian Therapy (PET) has been a beacon of hope for children and adults with disabilities, as well as veterans and individuals seeking support through Transitions Mental Health. The program, guided by dedicated instructors and volunteers, centers its efforts around the therapeutic connection between humans and horses, a bond known to bring about transformative change.
advertisement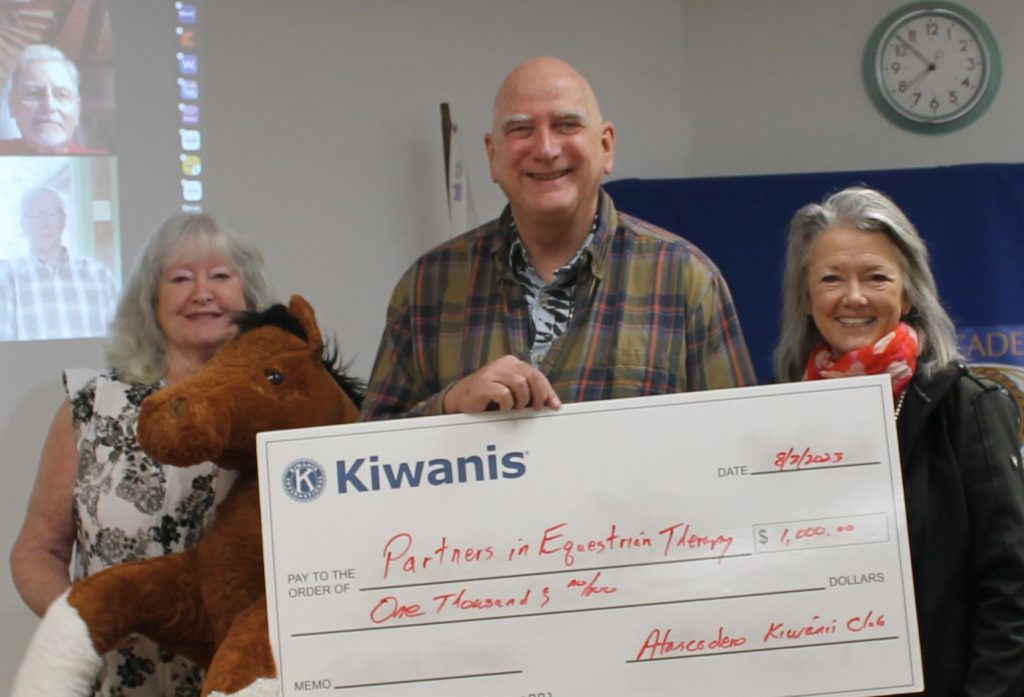 The Atascadero Kiwanis Club's donation represents more than just financial support; it signifies a commitment to fostering a stronger, more inclusive community. At the forefront of this initiative is Dan Chinn, president of the Atascadero Kiwanis Club, who believes in the power of collaboration and giving back.
"We're proud to stand alongside organizations like Partners in Equestrian Therapy that are making a real difference in the lives of our neighbors," Chinn stated. "It's heartwarming to witness the impact of equine-assisted therapy and the dedication of the PET team. We're privileged to contribute to their ongoing efforts."
The check presentation took place amidst a backdrop of appreciation and enthusiasm. For those interested in learning more about Partners in Equestrian Therapy, volunteering, or providing support, you can contact them at (805) 235-2787 or visit petslo.com.
In a separate endeavor, Atascadero Kiwanis Club also recently donated a remarkable $55,000 to ALFS — Food Pantry, a local nonprofit committed to tackling food insecurity in the region. The substantial contribution, a result of the club's 13th annual Winemaker Dinner held in June, showcases the Kiwanis Club's ongoing dedication to supporting vital community initiatives.
The Atascadero Kiwanis Club has, over the course of 13 years, demonstrated an unwavering commitment to improving lives and fostering a strong sense of community. With these recent donations, the club's total contribution exceeds half a million dollars, serving as a testament to the power of collective action and altruism.
As the Atascadero Kiwanis Club continues to lead by example, its contributions remind us all that it's the collective efforts of dedicated individuals and organizations that create resilient, thriving communities.
For inquiries, donations, or to learn more about the Kiwanis Club's ongoing initiatives, visit atascaderokiwanis.org.
Feature Image: (From left) Tim Ecceles, ALFS; Dan Chinn, Kiwanis president; Cyndi Workman, Kiwanis vice president and chairman of this year's dinner; and Bill Kneeland., ALFS pose with the check representing a $55,000 donation to the ALFS Food Pantry. Photo by Lon Allen