Capper was over 100 years old at the time of his passing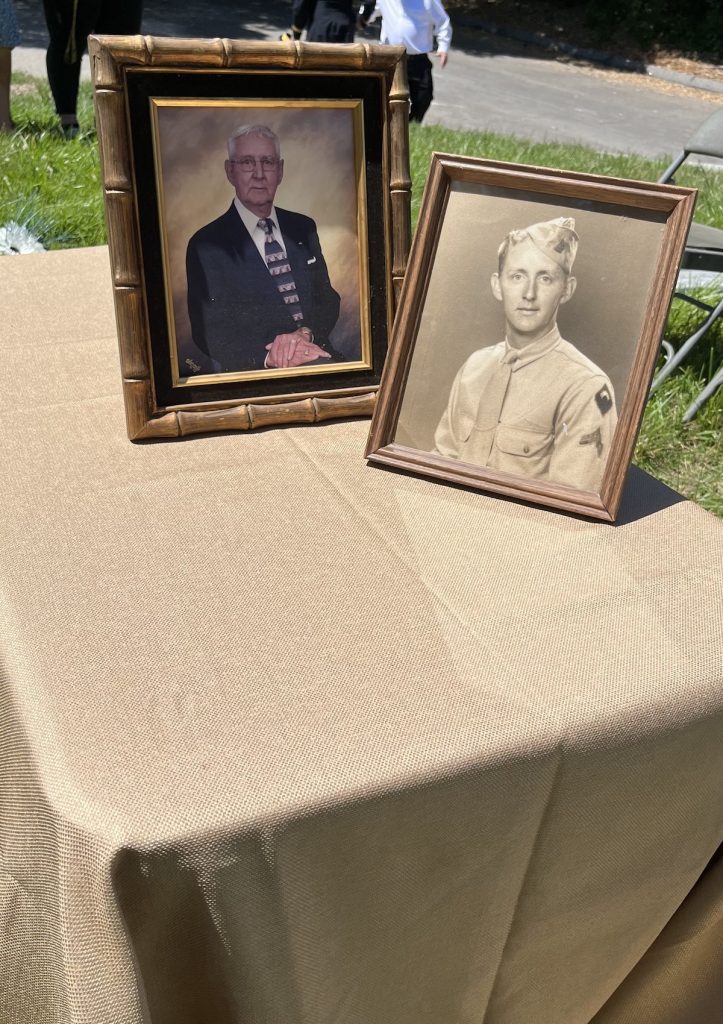 ATASCADERO — At Atascadero Cemetery on Saturday, June 17, at 11 a.m., Charles 'Cap' Capper received full military honors. His four surviving grandchildren and six surviving great-grandchildren were in attendance as well as a group of his neighbors and friends from the community.
Capper was born in Illinois on Sept. 2, 1922, and passed away 100 and a half years later on March 6, 2023. Capper, a staple in the Atascadero community for the last 51 years, devoted his life to the city and his friends and family here.
"Ladies and gentlemen, my fellow soldiers and I are here to render final military honors to the following comrade. Military honors will consist of the playing of taps, unfolding/refolding, and presentation of the flag," said the the sergeant of the guard after the Invocation was given by Chaplain Jesse Sykes.
A moving and emotional rendition of taps was then played in memory of Capper and all he did for the U.S. military when he fought overseas as an Army corporal in World War II. The honor guard and sergeant of the guard then unfolded and refolded an American flag in Capper's memory to continue the beautiful ceremony. The flag was then presented to Capper's great-granddaughter Genesis Stanley, who accepted it with tears in her eyes.
Capper's neighbors, who lived around him in Rancho Del Bordo Mobile Home Estates, spoke about how caring and fun he was.
"His kindness and what he did for our Atascadero community was absolutely wonderful," said one neighbor. "My husband and I are involved with, it's not called Meals that Connect, but it was Meals on Wheels then, and we always got to see him [Capper] before he took off to Templeton [to deliver food]. He was wonderful."
Don Luce, who helped Capper's granddaughters Jennifer Pederson and Christina Stanley put on the military honors memorial for Capper, was also there. Luce was Capper's best friend, neighbor, and fellow military veteran who served in the U.S. Army for 28 years.
"In the last three years that Cap was with us on this earth, I spent a lot of time with him. He shared his whole life story with me, going all the way back to when he was a child in Illinois and all of his journeys. He even told me about his courtship with his wife," said Luce at the service. "Cap did a thousand things, if not more, to make sure that others were well and taken care of. He did not take anything like recognition or any of his attributes lightly. He shared them regardless of who you were. Today this ceremony is a way for us to not say goodbye but say, 'hello, Cap, and I'll see you on the other side.'"
Sykes returned to conclude the funeral after people shared their stories of a well-lived life for Capper.
"It would be an impossible task to sum up such a man and such a life he has led," added Sykes before he read the words to taps. "For his years of service in our country, serving during World War II in five theaters of war and after his demobilization in the Ohio Army National Guard and obtaining the distinguished rank of U7. One hundred years, while truly a remarkable accomplishment, is made more remarkable when you consider who Charles Capper was to each of you here gathered today."
A beautiful bouquet of flowers adorned what will be Capper's final resting place, where he will be laid to rest next to his late wife of over 50 years, Betty. The flowers represented the red, white, and blue of the flag Capper loved so much, while the rifle, boots, bayonet, and hat symbolized his time as a combat veteran.
"There were so many memories with my Grandpa that were popping up in my head," added granddaughter Jennifer Pederson. "I couldn't pick just one to talk about."
Capper, who was also a Freemason, had a second service held in his honor at the Cypress Mountain Masonic Lodge in Paso Robles at 12:30 p.m. that same day.
"I feel like everyone who knew Grandpa knew what kind of person he was," stated granddaughter Christina Stanley. "He wasn't a different person. He treated everyone the same. I can really say that. He's a very … we were very lucky to have him for 100 years. He was good with my children. Those were his babies, you know. Just the kind of man he was throughout his whole entire life was amazing and inspiring."
To learn more about Capper's extraordinary life, see Atascadero News's article covering Capper's 100th birthday at atascaderonews.com/lifestyle/atascadero-resident-charles-cap-capper-turns-100-years-young