By Blake Ashley Frino-Gerl
Photos by Becca Sligh
Jewelry is personal. That is the philosophy that Atascadero native Angela Cisneros lives by. As a graduate Gemologist and an all-around jewelry enthusiast, she has 26 years of experience.
While Angela earned a B.S. in child development and a minor in psychology from Cal Poly, that ended up not being the career she would dive into. By the time she graduated from Cal Poly, she was the manager of K. Jons Diamonds & Gems. While her employers, Stan and Mary, "were amazing mentors … and taught me every aspect of the business, and I am so grateful to them," Angela says she "had some ideas on how to do retail differently because over the years" she "could see how traditional retail could hinder jewelry shopping."
advertisement

With her passion in full force, she decided to go to the Gemological Institute of America (GIA), where she earned her Graduate Gemologist degree, which made her more experienced to open her own business, Angela Cisneros Jewelry Concierge.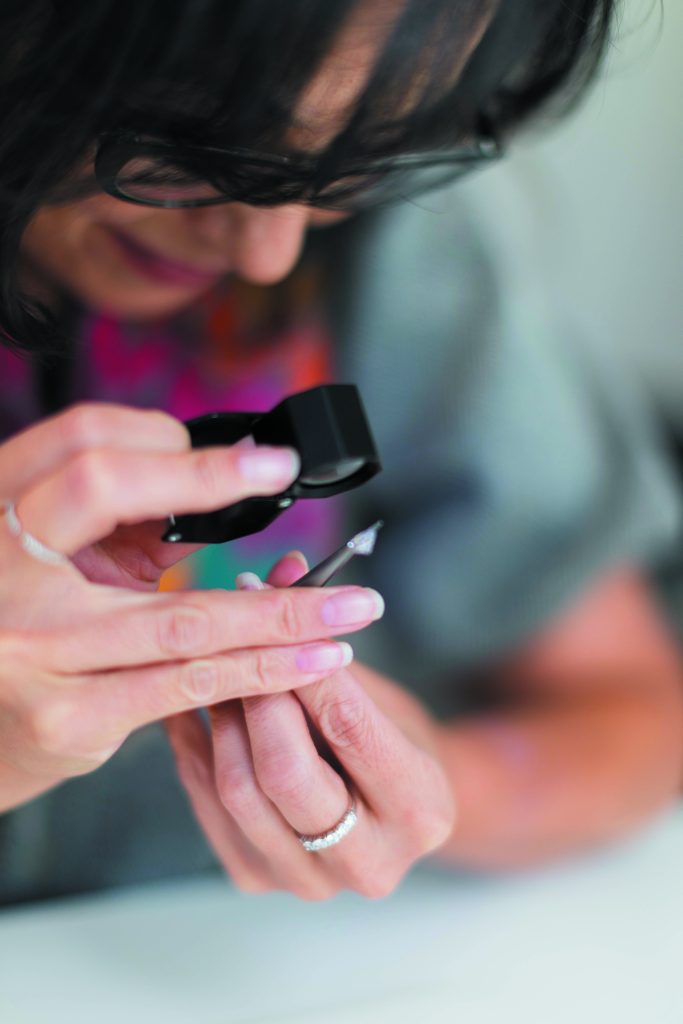 As a jewelry concierge, she has created a space that brings the enjoyment of jewelry shopping where the environment is relaxed yet interesting and fun. Sitting down and connecting with her clients is her favorite part of her work.
"Even when they don't know what they want, I can tease out their style and curate design options that fit them specifically," Angela says.
She notes that jewelry is not like other investments but something much more personal.
"Always go with the pieces that you love," says Angela for anyone looking to begin building a bejeweled wardrobe. "Jewelry is personal. Jewelry means something more. It connects the individual to their own sense of style, what they think they deserve, and how they feel about themselves. All those things that connect you to who you are."
Since Angela works by appointment to fit with the client's schedule, there are no distractions, and she "can listen and make their jewelry dreams come true," she exclaims. That is the aspect that sets her apart from other jewelers, including wrapping and delivering items in North County.
Angela also connects with the community as she is on the board of several community organizations, which includes the Atascadero Chamber of Commerce, National Association of Women Business Owners (NAWBO), the North County Economic Foundation, and most recently, Friends of the Charles Paddock Zoo. She takes time to volunteer at each of the organizations' events and is always ready with a warm smile.
She specializes in engagement rings but also jewelry re-stylings, where Angela uses the diamonds and gemstones from jewelry her clients already have to create a new piece. "Oftentimes, my clients have jewelry from family that is special, but they don't love the style, so we turn it into a piece where the style and sentiment are equally loved," she says. She feels that "jewelry is all about connection" as "it connects you to yourself, a loved one, and your future generations."
With Angela, jewelry is always meant to be an experience for men and women who want to be helped and not sold — where you can let your personality sparkle.
Angela Cisneros Jewelry Concierge, angelacisneros.com, (805) 674-6580.
ATASCADERO NEWS MAGAZINE
Copies of Atascadero News Magazine are directly delivered to 11,500 readers in zip codes 93422, 93432, and 93453 and 1,500 dropped with support from advertisers and subscribers. Together, we are Making Communities Better Through Print.™
To subscribe or advertise, click here.