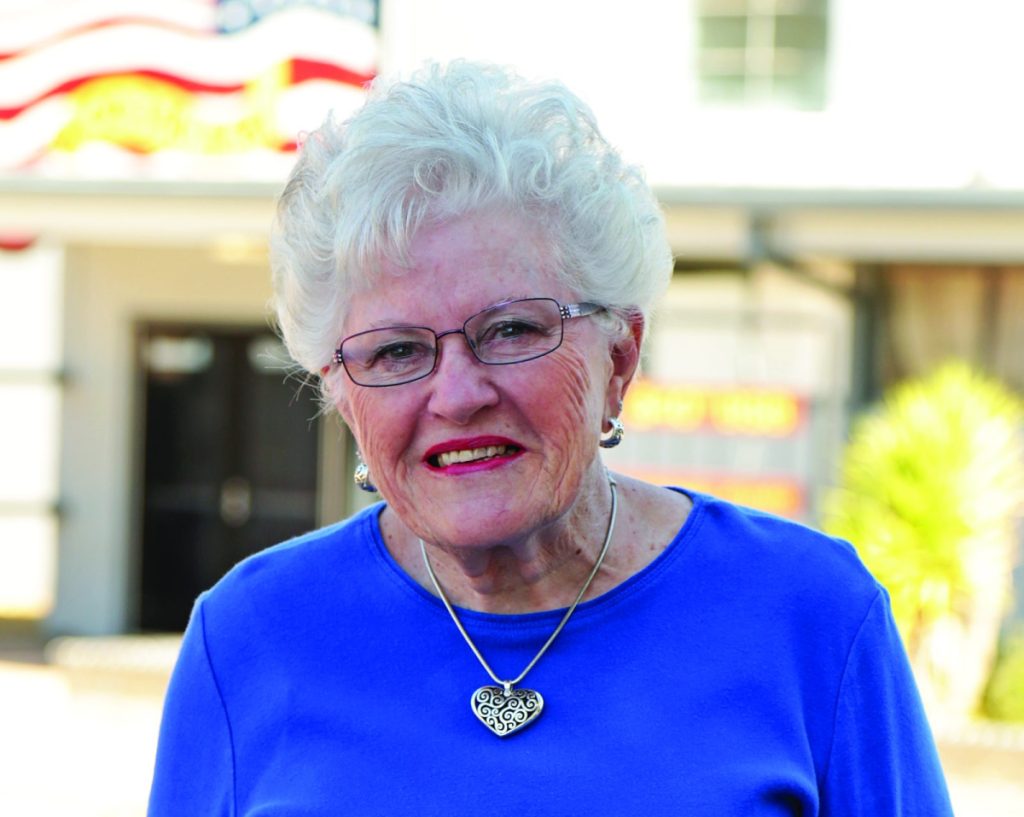 Peaches are one of my favorite fruits, and fresh ones are available at our local Farmers' Markets, usually from May through October.  
Along with September, we are blessed with another favorite of mine, the apple. They're available year-round but are at their best in the autumn when newly harvested. A trip through See Canyon here in San Luis Obispo County is a must for some of the best apples I've ever tasted.
I mention these fruits because this month's recipes use both. Our weather in September still allows us to use the grill for barbecuing, and some days are just right for using the oven for baking.
advertisement

If you plan a Labor Day picnic (September 4), these ribs will be perfect. Bake them first in the oven so the pork gets tender, then finish them on the grill with the peachy basting sauce.
Peachy Pork Ribs
Ingredients:
2 racks pork baby back ribs (4 pounds), cut into serving-size pieces
1/2 cup water
3 medium ripe peaches, peeled, pitted, and cubed
2 tablespoons chopped onion
2 tablespoons butter
1 garlic clove, minced
3 tablespoons lemon juice
2 tablespoons orange juice concentrate
1 tablespoon brown sugar
2 teaspoons soy saucepan1/2 teaspoon ground mustard
1/4 teaspoon salt
1/4 teaspoon pepper
Directions:
Place ribs in a shallow roasting pan; add water. Cover and bake at 325 degrees for 2 hours. For sauce, place peaches in a blender; cover and process until blended. In a small saucepan, saute onion in butter until tender. Add garlic; cook for 1 minute longer. Stir in the lemon juice, orange juice concentrate. Brown sugar, soy sauce, mustard, salt, pepper, and peach puree; heat through. Remove ribs from oven and drain off drippings. Spoon some of the sauce over ribs. Grill ribs on a lightly oiled rack, covered, over medium heat until browned, 8-10 minutes, turning occasionally and brushing with sauce.
Note: While you have the ribs on the grill, consider throwing a few peach halves on the grill at the same time, brushing them with some of the sauce. Use the halves to garnish the platter of ribs when serving.
Strudels are those popular baked goods whose fillings can be sweet or savory. Probably the most familiar filling in this area calls for apples, and this next recipe is a revised and easy version of an Apple Strudel, perfect for this time of the year.
Easy Apple Strudel
Ingredients:
1/3 cup raisins
2 tablespoons water
1/4 teaspoon almond extract
3 cups coarsely chopped peeled apples
1/3 cup plus 2 teaspoons sugar, divided
3 tablespoons all-purpose flour
1/4 teaspoon ground cinnamon
2 tablespoons butter, melted
2 tablespoons canola oil
8 sheets phyllo dough (14×9-inch size)
Confectioners' sugar, optional
Directions:
Preheat oven to 350 degrees. Place raisins, water, and extract in a large microwave-safe bowl; microwave uncovered on high for 1 1/2 minutes. Let stand for 5 minutes. Drain any liquid. Add apples, 1/3 cup sugar, flour, and cinnamon; toss to combine.
In a small bowl, mix melted butter and oil; remove 2 teaspoons mixture for brushing top of strudel before baking. Place 1 sheet of phyllo dough on a work surface; brush lightly with some of the butter mixture. (Keep remaining phyllo covered with a damp towel to prevent it from drying out.) Layer with 7 additional phyllo sheets, brushing each layer with the butter mixture. Spread apple mixture over phyllo to within 2 inches of 1 long side. Fold the short edges over the filling. Roll up jelly-roll style, starting from the side with a 2-inch border. Transfer to a baking sheet coated with cooking spray.
Brush with reserved butter mixture; sprinkle with remaining 2 teaspoons sugar. With a sharp knife, cut diagonal slits on top of the strudel. Bake in preheated oven until golden brown, 35-40 minutes. Cool on a wire rack. If desired, dust with confectioners' sugar before serving. Makes 6 servings
Enjoy September. Cheers!
ATASCADERO NEWS MAGAZINE
Copies of Atascadero News Magazine are directly delivered to 11,500 readers in zip codes 93422, 93432, and 93453 and 1,500 dropped with support from advertisers and subscribers. Together, we are Making Communities Better Through Print.™
To subscribe or advertise, click here.