Volunteers have served Santa Margarita Fire Protection District since its inception 
It's morning; there's a bit of that early fall chill in the air, a rooster is crowing in the distance, and people are starting out with their daily lives, breakfast, coffee, getting the kids off to school, driving to work…
The news has been filled with COVID stories, world drama, city trauma, climate change and fires, seemingly endless fires. As the rest of us go through our regularly scheduled days there are those who rise to the occasion, jumping into action at a moments notice when suddenly life takes a turn and first responders are needed. As of August, the Santa Margarita Fire District volunteers have been heeding that call for over 100 years.
The town of Santa Margarita officially came into being with the sell-off of lots from Patrick Murphys Santa Margarita Rancho lands at a Grand Auction on April 20, 1889. However, over the years, as the town grew in population and filled in with homes and businesses, it became apparent that emergency response was not possible from the cities of San Luis Obispo or Atascadero, and on August 2, 1921, the formation of the Santa Margarita Fire District was officially declared in a Resolution adopted by the County Board of Supervisors. Being surrounded by the Santa Margarita Ranch, the special Fire Protection District is funded by and designated to serve the properties on the 307 acres within the boundaries of the town proper.
advertisement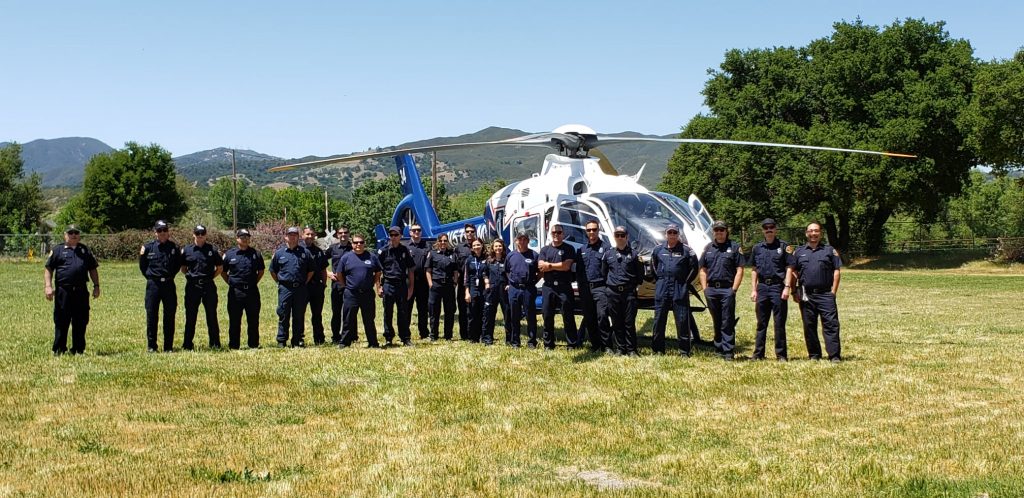 Since its inception, the Santa Margarita Fire Protection District has been served by volunteers in the community willing to come to the aid of those in need. It has evolved throughout the years from neighbors helping neighbors to the days of the "Claud Proud Fire Department" in the late 1950s and early 1960s to its current configuration spearheaded by Mr. Vernon Stewart and Mr. Herb Brazzi in 1963 to establish a Fire Board, build the Santa Margarita Fire Station located in the heart of downtown and recruit volunteers to fill staff positions.
Recent years have seen a significant turnover of the town's population with the loss of old-timers and an influx of many new young families from larger cities attracted by Santa Margarita's small-town atmosphere and friendly community. However, many may not realize that the Santa Margarita Fire Department (SMFD) is still an all-volunteer organization.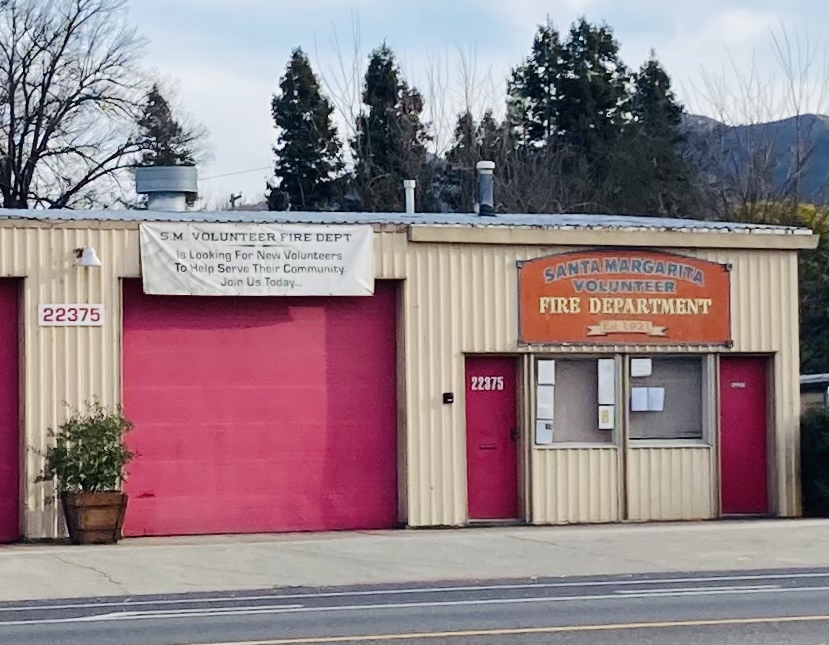 A visit to the website at santamargaritafiredept.org explains, "All firefighters are volunteers and are trained in techniques including fire suppression, search and rescue, and BLS emergency medical skills. "The primary mission of SMFD is to "provide safe, effective and timely service to the citizens of Santa Margarita, including but not limited to: emergency medical aid, wild-fires, structure fires, and large-scale emergencies such as natural and man-made disasters."
Response time matters, and with Santa Margarita Fire Department located in the heart of town, volunteers with prompt turnout time are able to respond to any number of emergency situations within its district in a 7 minute response time in addition to providing automatic aid with Cal Fire and providing mutual assistance to outside areas as needed such as seen with a crew sent to help battle the recent Caldor fire in the Tahoe area.
Being members of the community, Santa Margarita Fire Department volunteers are actively involved in many community events. Notably, with their participation in 4th of July Parades, putting on an annual Easter Egg Hunt for the town children, participating in the Friends of the Library "Evening in Santa Margarita" event, and providing Fire Safety public outreach to the school, among other things.
To commemorate its centennial of existence, the Santa Margarita Volunteer Fire Department is planning to hold a 100 Year Celebration Event on Sunday, October 24.
This fun, family-friendly, and informative event will start at 4 p.m. at the Santa Margarita Fire Station at 22375 El Camino Real in Santa Margarita. It will include a barbeque, music, and tours of the station and its equipment. Meet Fire Chief Bob Murach or talk to Santa Margarita's firefighters to see what it's all about. Commemorative 100 Year T-shirts will be available for purchase, and donations will be accepted to help fill department needs.
SMVFD staffing generally consists of 1 part-time Fire Chief, 1 part-time Deputy Chief, 1 Paid Call Firefighter (PCF) Captain, 1 PCF Lieutenant, Paid Call Firefighters, and new recruits. Chief Bob Murach says they always need new volunteers who must go through the Firefighter Academy, taking a one-year minimum of training before becoming a PCF. Volunteers from all walks of life are welcome to show up and go through a drill held at the station every 2nd and 4th Wednesday of the month at 7 p.m. You must be 18 to join and 21 to drive.