The Equality Mural Project is working to bring art back into the thriving community
ATASCADERO — Historically, downtown Atascadero, specifically the Traffic Way area, used to be a well-known Arts District. The Equality Mural Project is working hard to bring art back into our thriving community.
"We have three [murals] right now, in the works, getting finished up," said project committee member and volunteer, Victoria Carranza. "I would think that those three are gonna be ready to be viewed in completion [by the first week of March]."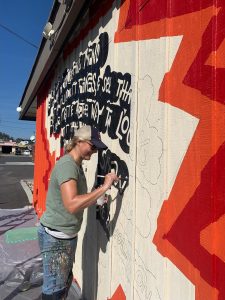 Artists; Rachel Hamann, Sally Lamas, and Mia Franco have been painting their murals the whole of February and will join Brandy Pippin and Isaac Yorke with their completed pieces in early March. The goal is to have ten completed murals, so the Equality Mural Project is almost halfway there. The project was sparked in 2017 with the Woman's Equality murals painted on the wall inside Ancient Owl Beer Garden and on the backside of Colony Market and Deli, both walls owned by Z Villages and the Zappas Family.
advertisement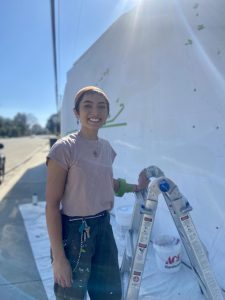 "Fast forward to 2020, and little rumblings in 2019, one of the members of the Z Villages company, Zoe Zappas, had said, "I'd really like to expand some of the public art opportunities here, and why don't we continue that thread of equality," added Carranza. "We said, okay, let's go ahead and try to fundraise and do ten murals focused in the downtown Atascadero region. That was started in early 2020."
The Mural Development Committee is comprised of local business owners, developers, and artists. "There's a photojournalist on our committee, Richard Facillo. Jenny Ashley she's a professor of Liberal Arts at Cal Poly. So, a little range of folks that have a love for not only Atascadero but the arts and community planning," continued Carranza.
The current version of the project has opened itself up to being about equality for all.
Local Atascadero mural artist, Sally Lamas's mural features different hands, including a few paws and even an alien hand, all reaching up towards the words 'universal needs are what connect us as family' on the Monarch Behavior Specialist building.
"Each hand is reaching up. There'll be different shadings of the skin to represent all the different peoples of the world. But on them are tattoos, rings, things we embellish ourselves with, bracelets, and things like that, and each of these will have a word in them. And the word is a universal human need, but also a universal need of life to survive and thrive in the world," said Lamas.
While Mia Franco was born and raised in Santa Barbara, she grew up coming to visit her cousins in Atascadero. Her Aunt was the one who saw the call for mural artists in 2020, which was Franco's last year of art school.
"The design is sort of like a landscape, somewhat abstracted, and very stylized. Bright, cheery colors. It starts out with a wave, and then it goes into a sunset, and then there's a bunch of crashing waves, and then there's a line of blue herons in different stages of flight. As you're walking along, the birds will open up their wings, and you'll fly with them as you're walking right by them," said Franco of her mural, which covers a 100 feet private retaining wall. The wall is across from Colony Park of Traffic Way.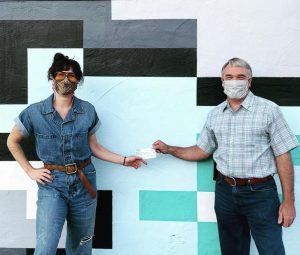 Los Osos artist, Rachel Hamann is known around the area for her painted signs featuring text and hand-lettering for local North County businesses and beyond. So it's no surprise that she chose to feature those skills on her mural, located behind the Ancient Owl Beer Garden.
"I came across this quote by Gil Scott-Heron, who is a beat-poet, an author, he's a musician from the 1970s from the original Black Power movement, and it just rang so true," Hamann said of picking what words she wanted to paint. The quote reads: "The first revolution is when you change your mind about how you look at things, and see that there might be another way to look at it that you have not been shown. What you see later on is the results of that, but that revolution, that change that takes place, will not be televised."
The Equality Mural Project is also partnering with Atascadero High School, which is helping sponsor a mural in the tunnel. The artist helming the project is High School teacher, Clarke Andros. Painting on the project is set to start in the Spring/Summer of this year.
"Everyone's definitely very excited that Atascadero is going to be seeing some more beautification," said Carranza.
The Equality Mural Project is looking for contacts, leads, or interest in the project from the community. They're searching for sponsors for the last four walls they have planned. They're also looking for walls to host the murals. The Equality Mural Project is raising $5,000 per artist, with all the funds going to the painter, as the project committee gets none of the proceeds raised.
If you're interested in sponsoring a project, offering up a wall to be painted, or would like to help The Equality Mural Project by volunteering, head to equalitymuralproject.com