There's hope that construction will begin as early as the summer of 2023
ATASCADERO — On Friday, Jan. 28, Cal Coast Development announced on social media they had completed the acquisition of the largest mixed-use commercial property in San Luis Obispo County after two years of negotiations. Which means the Del Rio Ranch Project has officially begun.
"The property has been quietly on the market for a couple of years, and a private development firm, Cal Coastal, was successful in finalizing the purchase of the land a couple of weeks ago. We are very happy to see that the potential opportunities of this important site are coming a little closer to reality," said Atascadero's Community Development Director, Phil Dunsmore.
While there are no specific dates on when the individual projects will start, there's a hope that activity will begin as early as the summer of 2023. "The applicants must first get final concept plans approved by the City, then pursue construction documents," Dunsmore continued.
advertisement

The construction of the Del Rio Ranch project will be done in phases. The project will include 80 affordable-by-design homes, a commercial retail center, a 200 person resort pool, pedestrian trails, an RV resort, an event space, a butterfly garden, as well as, an entertainment center, and an open-air amphitheater and pavilion.
"The approved concept plans include an RV lodging facility with both RV parking spaces and fixed RV lodging units, a small amphitheater, a retail component with retail stores, restaurants, and potential entertainment/conference venue, a hotel, and a residential district with multi-family housing," confirmed Dunsmore. "The commercial portions of the site nearest Del Rio and El Camino are the first phases of the project, followed by the RV lodging park and finally the residential project near the rear of the site."
The Del Rio Ranch project has been in motion for the last one to two years, and the phased project is likely to take two to three more years to complete. But once it is, it will bring considerable benefits to the community.
"Del Rio Ranch proposes to bring an experiential land use to a key commercial property in the City that will allow for lodging, entertainment, dining, and a residential neighborhood. This mixture of uses will enhance the synergy of other nearby businesses and create a new vision that will anchor the Del Rio Specific Plan while reducing neighborhood impacts when compared to a large retail use such as a Walmart store with a massive parking lot," added Dunsmore.
The Del Rio Ranch project will blend all of the community's favorite things; food, drinks, shopping, and also offer multiple places to live and stay on a 28-acre parcel right above El Camino Real.
"The "experiential" land use term is a new trend in land use that blends eating and drinking establishments with retail and lodging uses. Attractions such as wineries, breweries, entertainment venues, and gathering spaces are common features of experiential land use. This site, with its good access, ample views, and prime location, is likely to be a successful location for such land uses," concluded Dunsmore.
We look forward to seeing the progress on the Del Rio Ranch project.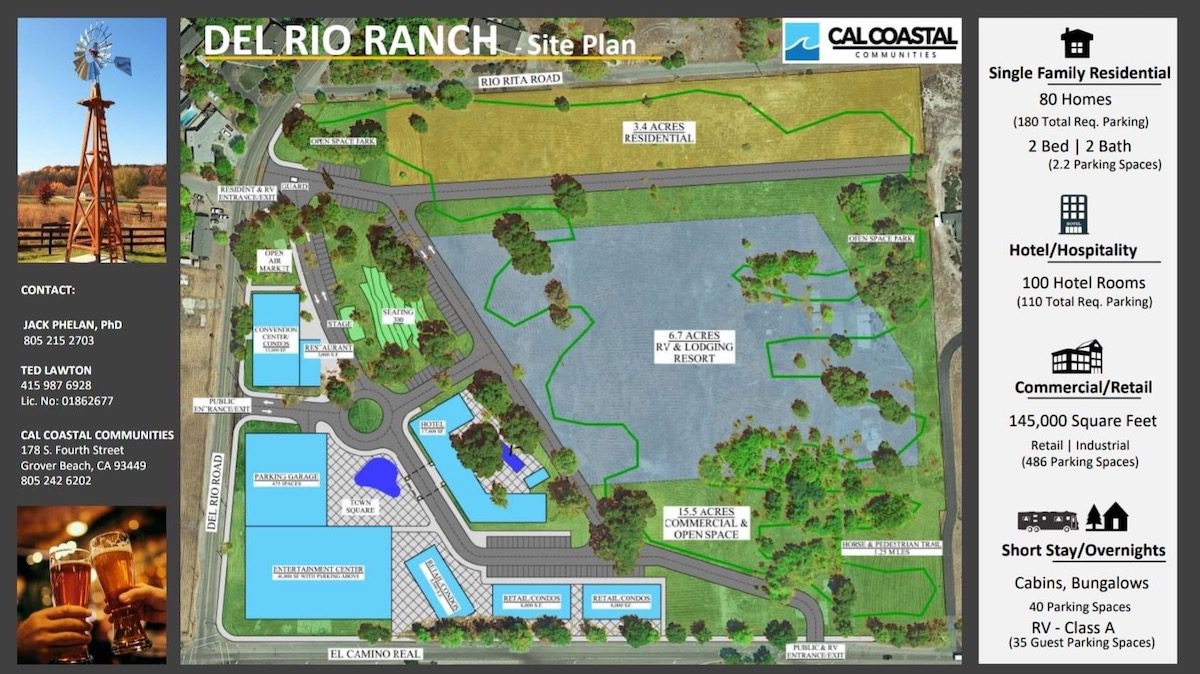 Editors note: The main image has been changed at the request of Cal Coastal Properties on March 7, 2022