First concert will be on Saturday, June 17, at 6:30 p.m. at the Atascadero Lake Park Bandstand
ATASCADERO — The City of Atascadero is kicking off the "Saturdays in the Park" Summer Concert Series to be held nearly every Saturday evening throughout the summer. The first concert will be on Saturday, June 17, at 6:30 p.m. at the Atascadero Lake Park Bandstand with The JD Project.
Food and beverages will be available for purchase from Paradise Shaved Ice and Zen Dog (gourmet hot dogs) selling their delicious concert fare.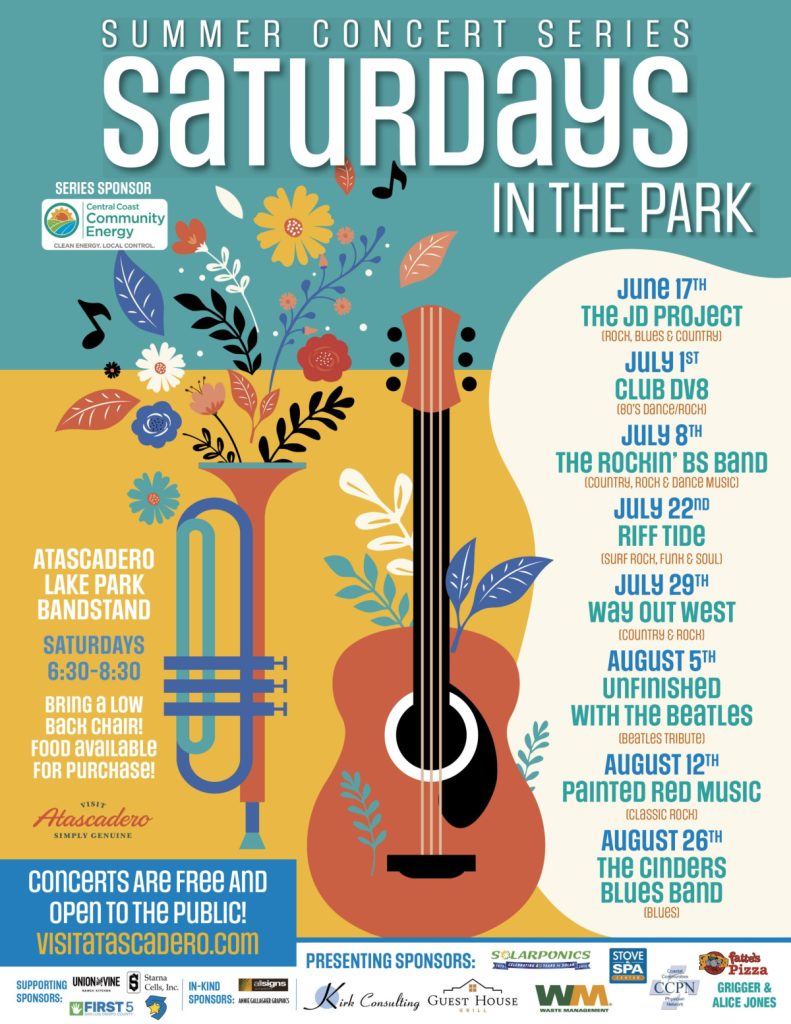 Here is the summer's concert lineup:
advertisement

June 17: The JD Project (rock, blues & country)
July 1: Club Dv8 ('80s dance/rock)
July 8: The Rockin' B's Band (country, rock, and dance music)
July 22: Riff Tide (surf rock, funk, and soul)
July 29: Way Out West (country and rock)
August 5: Unfinished with the Beatles (Beatles tribute)
August 12: Painted Red Music (classic rock)
August 26: The Cinders Blues Band (blues)
All concerts are planned for the Atascadero Lake Park Bandstand from 6:30 to 8:30 p.m. Concerts are free to the public and everyone is encouraged to bring a blanket, low-back chair, and the entire family to relish the warm summer evenings in Atascadero.
The Saturday in the Park Summer Concert Series is brought to you by the City of Atascadero and its sponsors, including their Concert Series Sponsor: Central Coast Community Energy; Presenting Sponsors: Grigger & Alice Jones, Solarponics, Stove & Spa Center, Guest House Grill, Fatte's Pizza, Kirk Consulting, Coastal Communities Physicians Network (CCPN) and Waste Management; Supporting Sponsors include Starna Cells, Inc., and Union & Vine Ranch Kitchen; Friend sponsors: First 5 San Luis Obispo and Five Star Rain Gutters; In-Kind sponsors: All Signs & Graphics, and Annie Gallagher Graphics. Special thanks to all of you for your support in helping us put on these concerts.
For more information, go to VisitAtascadero.com/events, or give us a call at (805) 470-3360.